Fillable Printable Proposal Letter to a Friend Sample
Fillable Printable Proposal Letter to a Friend Sample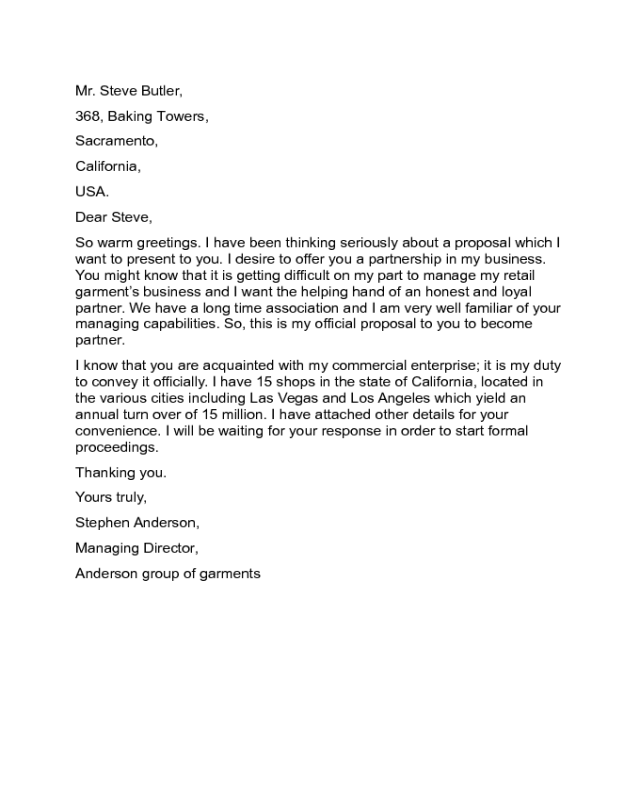 Proposal Letter to a Friend Sample
Mr. Steve Butler,
368, Baking Towers,
Sacramento,
California,
USA.
Dear Steve,
So warm greetings. I have been thinking seriously about a proposal which I
want to present to you. I desire to offer you a partnership in my business.
You might know that it is getting difficult on my part to manage my retail
garment's business and I want the helping hand of an honest and loyal
partner. We have a long time association and I am very well familiar of your
managing capabilities. So, this is my official proposal to you to become
partner.
I know that you are acquainted with my commercial enterprise; it is my duty
to convey it officially. I have 15 shops in the state of California, located in
the various cities including Las Vegas and Los Angeles which yield an
annual turn over of 15 million. I have attached other details for your
convenience. I will be waiting for your response in order to start formal
proceedings.
Thanking you.
Yours truly,
Stephen Anderson,
Managing Director,
Anderson group of garments