Fillable Printable Proposal Letter to a Principal Sample
Fillable Printable Proposal Letter to a Principal Sample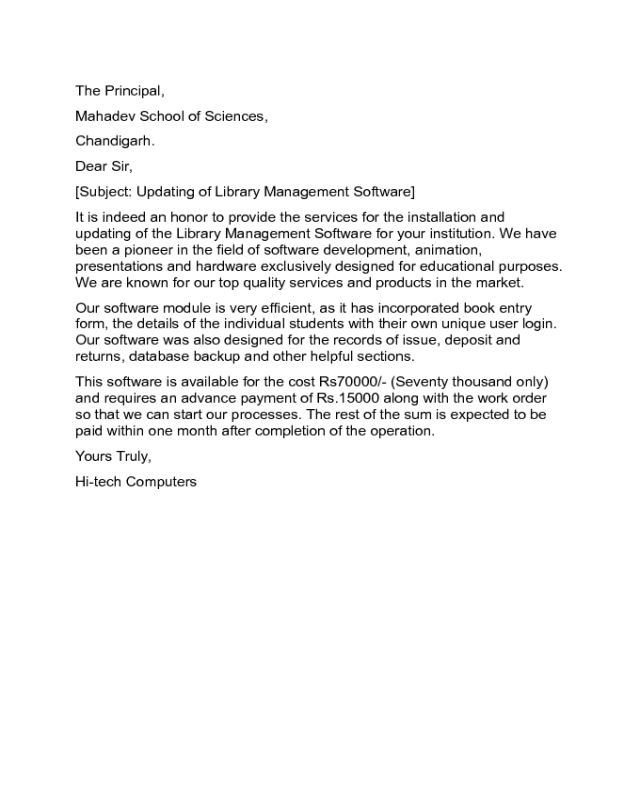 Proposal Letter to a Principal Sample
The Principal,
Mahadev School of Sciences,
Chandigarh.
Dear Sir,
[Subject: Updating of Library Management Software]
It is indeed an honor to provide the services for the installation and
updating of the Library Management Software for your institution. We have
been a pioneer in the field of software development, animation,
presentations and hardware exclusively designed for educational purposes.
We are known for our top quality services and products in the market.
Our software module is very efficient, as it has incorporated book entry
form, the details of the individual students with their own unique user login.
Our software was also designed for the records of issue, deposit and
returns, database backup and other helpful sections.
This software is available for the cost Rs70000/- (Seventy thousand only)
and requires an advance payment of Rs.15000 along with the work order
so that we can start our processes. The rest of the sum is expected to be
paid within one month after completion of the operation.
Yours Truly,
Hi-tech Computers