Fillable Printable Sales Letter - Used Car Sales Letter Sample
Fillable Printable Sales Letter - Used Car Sales Letter Sample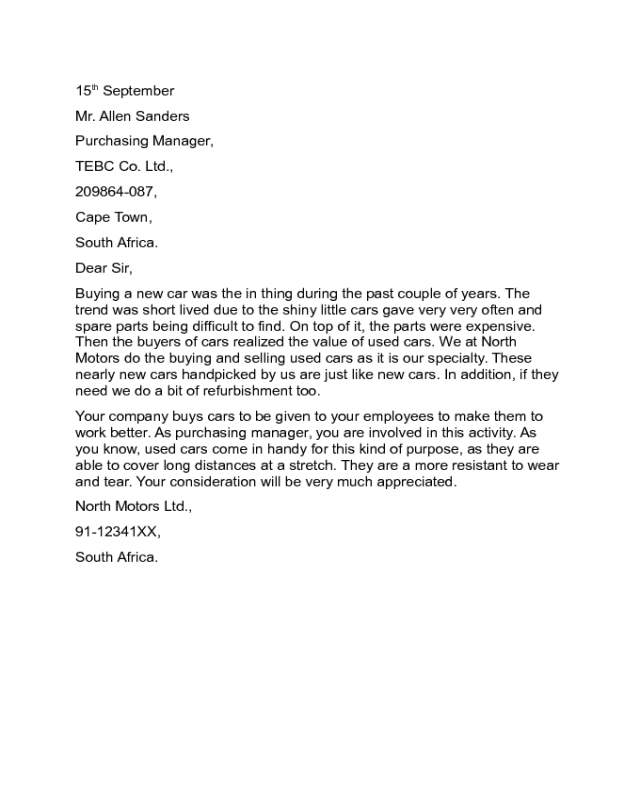 Sales Letter - Used Car Sales Letter Sample
15
th
September
Mr. Allen Sanders
Purchasing Manager,
TEBC Co. Ltd.,
209864-087,
Cape Town,
South Africa.
Dear Sir,
Buying a new car was the in thing during the past couple of years. The
trend was short lived due to the shiny little cars gave very very often and
spare parts being difficult to find. On top of it, the parts were expensive.
Then the buyers of cars realized the value of used cars. We at North
Motors do the buying and selling used cars as it is our specialty. These
nearly new cars handpicked by us are just like new cars. In addition, if they
need we do a bit of refurbishment too.
Your company buys cars to be given to your employees to make them to
work better. As purchasing manager, you are involved in this activity. As
you know, used cars come in handy for this kind of purpose, as they are
able to cover long distances at a stretch. They are a more resistant to wear
and tear. Your consideration will be very much appreciated.
North Motors Ltd.,
91-12341XX,
South Africa.