Fillable Printable Travel Sales Letter Sample
Fillable Printable Travel Sales Letter Sample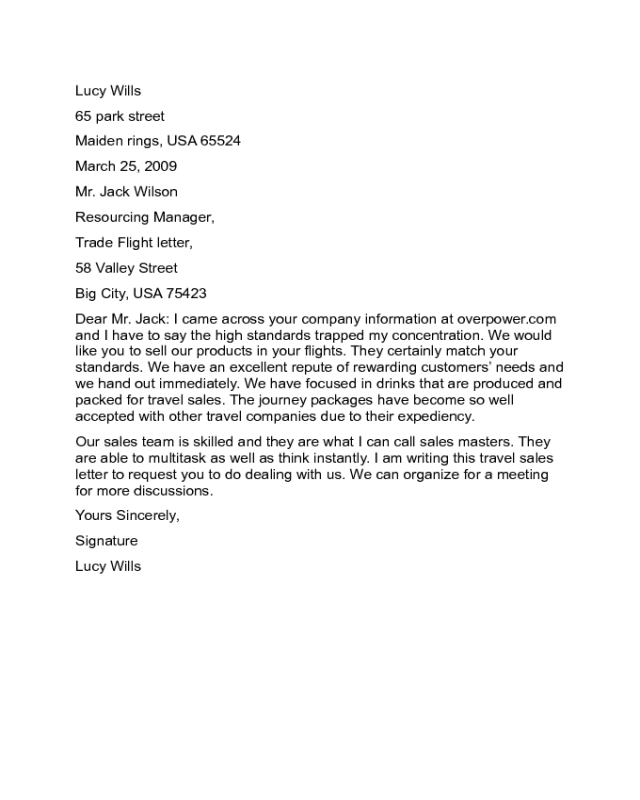 Travel Sales Letter Sample
Lucy Wills
65 park street
Maiden rings, USA 65524
March 25, 2009
Mr. Jack Wilson
Resourcing Manager,
Trade Flight letter,
58 Valley Street
Big City, USA 75423
Dear Mr. Jack: I came across your company information at overpower.com
and I have to say the high standards trapped my concentration. We would
like you to sell our products in your flights. They certainly match your
standards. We have an excellent repute of rewarding customers' needs and
we hand out immediately. We have focused in drinks that are produced and
packed for travel sales. The journey packages have become so well
accepted with other travel companies due to their expediency.
Our sales team is skilled and they are what I can call sales masters. They
are able to multitask as well as think instantly. I am writing this travel sales
letter to request you to do dealing with us. We can organize for a meeting
for more discussions.
Yours Sincerely,
Signature
Lucy Wills