Fillable Printable Sample Summary of Qualifications
Fillable Printable Sample Summary of Qualifications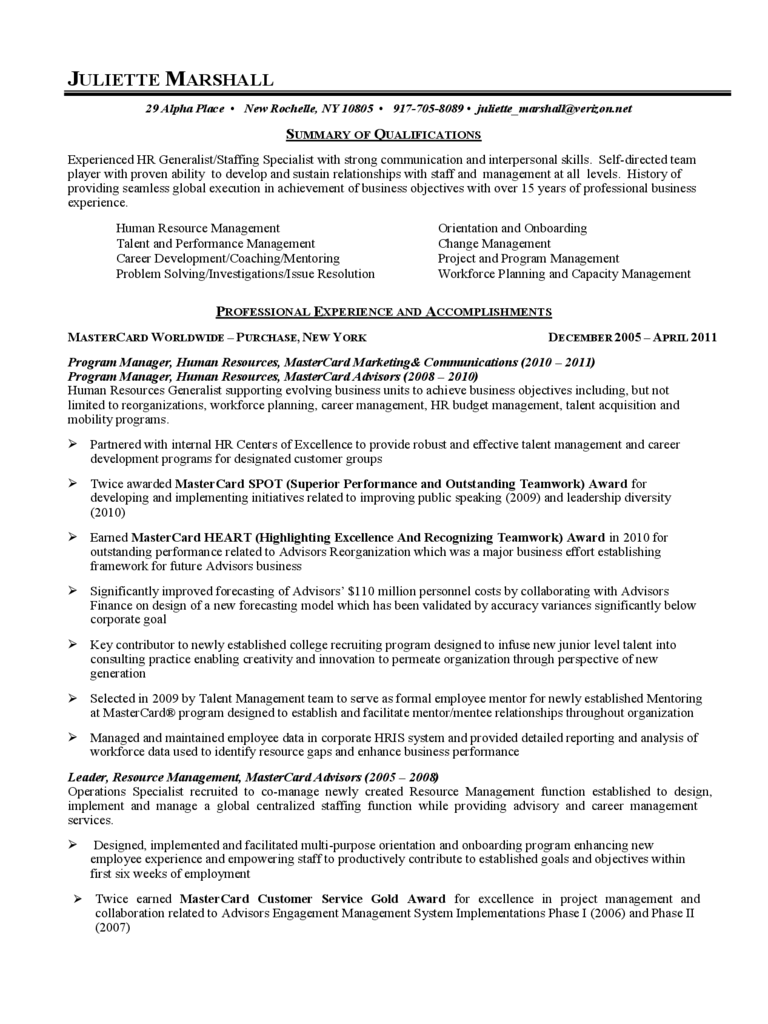 Sample Summary of Qualifications

J
ULIETTE
M
ARSHALL
29 Alpha Place • New Rochelle, NY 10805 • 917-705-8089 • juliette_marsha
[email protected]
verizon.net
S
UMMARY OF
Q
UALIFICATIONS
Experienced HR Generalist/Staffing Specialist with strong communication and interpersonal skills. Self-directed team
player with proven ability to develop and sustain relationships with staff and management at all levels. History of
providing seamless global execution in achievement of business objectives with over 15 years of professional business
experience.
Human Resource Management
Talent and Performance Management
Career Development/Coaching/Mentoring
Problem Solving/Investigations/Issue Resolution
Orientation and Onboarding
Change Management
Project and Program Management
Workforce Planning and Capacity Management
P
ROFESSIONAL
E
XPERIENCE AND
A
CCOMPLISHMENTS
M
ASTER
C
ARD
W
ORLDWIDE
–
P
URCHASE
,
N
EW
Y
ORK
D
ECEMBER
2005
–
A
PRIL
2011
Program Manager, Human Resources, MasterCard Marketing& Communications (2010 – 2011)
Program Manager, Human Resources, MasterCard Advisors (2008 – 2010)
Human Resources Generalist supporting evolving business units to achieve business objectives including, but not
limited to reorganizations, workforce planning, career management, HR budget management, talent acquisition and
mobility programs.

Partnered with internal HR Centers of Excellence to provide robust and effective talent management and career
development programs for designated customer groups

Twice awarded
MasterCard SPOT (Superior Performance and Outstanding Teamwork) Award

for
developing and implementing initiatives related to improving public speaking (2009) and leadership diversity
(2010)

Earned
MasterCard HEART (Highlighting Excellence And Recognizing Teamwork) Award

in 2010 for
outstanding performance related to Advisors Reorganization which was a major business effort establishing
framework for future Advisors business

Significantly improved forecasting of Advisors' $110 million personnel costs by collaborating with Advisors
Finance on design of a new forecasting model which has been validated by accuracy variances significantly below
corporate goal

Key contributor to newly established college recruiting program designed to infuse new junior level talent into
consulting practice enabling creativity and innovation to permeate organization through perspective of new
generation

Selected in 2009 by Talent Management team to serve as formal employee mentor for newly established Mentoring
at MasterCard® program designed to establish and facilitate mentor/mentee relationships throughout organization

Managed and maintained employee data in corporate HRIS system and provided detailed reporting and analysis of
workforce data used to identify resource gaps and enhance business performance
Leader, Resource Management, MasterCard Advisors (2005 – 2008)
Operations Specialist recruited to co-manage newly created Resource Management function established to design,
implement and manage a global centralized staffing function while providing advisory and career management
services.

Designed, implemented and facilitated multi-purpose orientation and onboarding program enhancing new
employee experience and empowering staff to productively contribute to established goals and objectives within
first six weeks of employment

Twice earned
MasterCard Customer Service Gold Award
for excellence in project management and
collaboration related to Advisors Engagement Management System Implementations Phase I (2006) and Phase II
(2007)

J
ULIETTE
M
ARSHALL
P
AGE
T
WO
C
ITY
O
F
N
EW
R
OCHELLE
–
N
EW
R
OCHELLE
,
N
EW
Y
ORK
M
ARCH
2003
–
O
CTOBER
2005
Office Manager, Department of Parks and Recreation
Office Manager for busy public office responsible for customer service staff supervision and collaboration with
officials, residents and governmental support functions.

Streamlined customer service function by establishing policies and procedures, and providing training and ongoing
support enabling representatives to effectively and consistently serve customers

Managed implementation of first computerized reservation and customer service tracking system (RecTrak)
resulting in consistent time-efficient customer service as well as reduced financial risk for City
P
W
C
C
ONSULTING
–
N
EW
Y
ORK
,
N
EW
Y
ORK
J
ULY
1995
–
A
UGUST
2002
Resource Manager, Financial Services Customer Relationship Management /Oracle/SAP (1998 – 2002)
Human Resources Business Partner, advisor and direct report to Lead CRM Partner with oversight for 150+ technical
and strategy consultants ranging in experience from entry to senior level consultants and project managers.

Optimized and leveraged relationships and resources to enable effective deployment of global consulting staff
while balancing business resource needs with availability of skilled client service staff

Enhanced team effectiveness by acute awareness of employee population and ability to identify career potential,
readiness and areas for improvement, resulting in detailed action plans for individual development and growth

Frequently collaborated employee relations and legal representatives to investigate and resolve issues, identify
potential risks and provide counsel to partners and staff on confidential and sensitive employment matters in an
effort to avoid unnecessary litigation expenses

Performed periodic needs analyses to determine resource needs and potential gaps providing solutions including
retention/reduction strategies based on market and/or business needs

Conducted detailed performance reviews to determine employee career development, progression and/or identify
potential performance issues recommending necessary courses of action

Achieved performance improvement measures by managing annual Talent Review and Succession Planning
consisting of detailed review of employee population incorporating performance rating calibration by career level,
review of staff skills and career progression based on established Global Capabilities Framework criteria

Facilitated corporate orientation sessions providing knowledge transfer and organizational overview preparing new
hires with knowledge and awareness for accelerated acclimation and assimilation to organizational culture
Various Positions, Price Waterhouse/PriceWaterhouseCoopers/PwC Consulting (1995 – 1998)
Prior to 1998, held various positions within Audit and Business Advisory Services and Financial Services Consulting.
M
ANHATTANVILLE
C
OLLEGE
–
P
URCHASE
,
N
EW
Y
ORK
F
ALL
2009
-
P
RESENT
Master of Science - Organizational Management and Human Resource Development
(Status: In Progress--Expected graduation winter 2011)
F
ORDHAM
U
NIVERSITY
–
B
RONX
,
N
EW
Y
ORK
Bachelor of Arts
Major Sociology, Minor Psychology
Proficient in Microsoft Word, Excel and PowerPoint with experience using various HRIS systems
P
ROFESSIONAL
M
EMBERSHIPS AND
B
USINESS
A
FFILIATIONS
S
OCIETY FOR H

UMAN

RESOURCE MANAGEMENT,

Member since 1998/Member Westchester Chapter
WCCE
DUCATIONAL OPPORTUNITY CENTER,

Career Services Volunteer since 2011
T
OASTMASTERS
I
NTERNATIONAL
,
Member since 2008/ Officer/Advanced Leader/Advanced Communicator Bronze
G
IRL
S
COUT
C
OUNCIL OF
G
REATER
N
EW
Y
ORK
,
Member since 2001/Troop Leader/Management Volunteer