Fillable Printable Summary of Qualifications Sample Format
Fillable Printable Summary of Qualifications Sample Format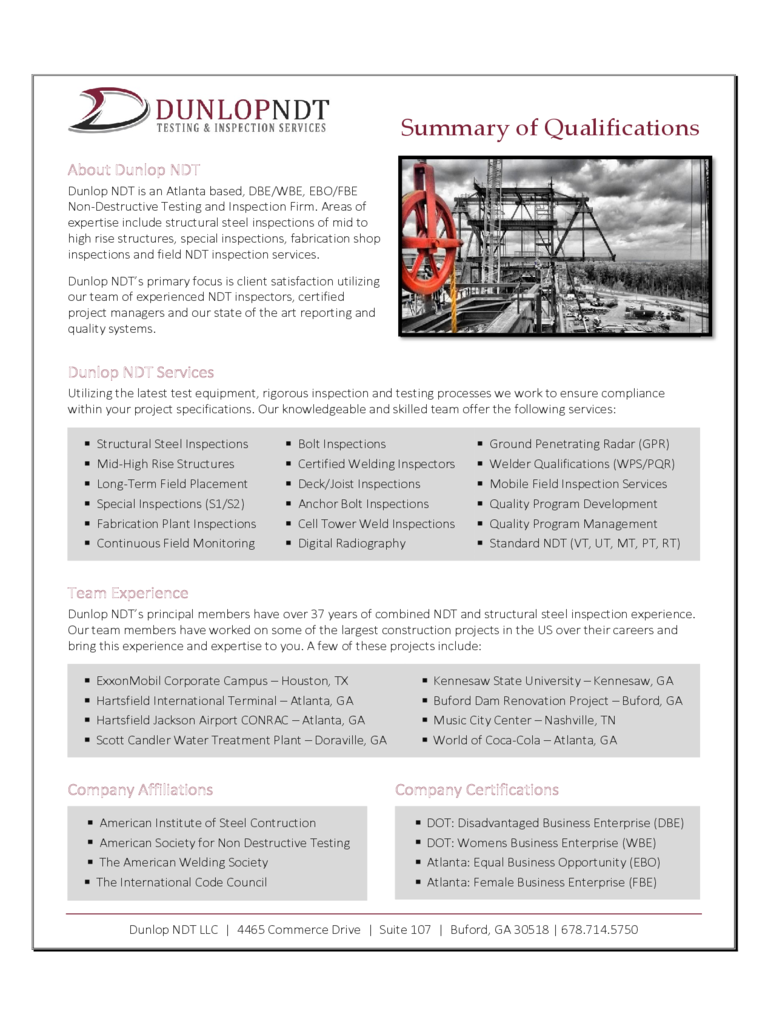 Summary of Qualifications Sample Format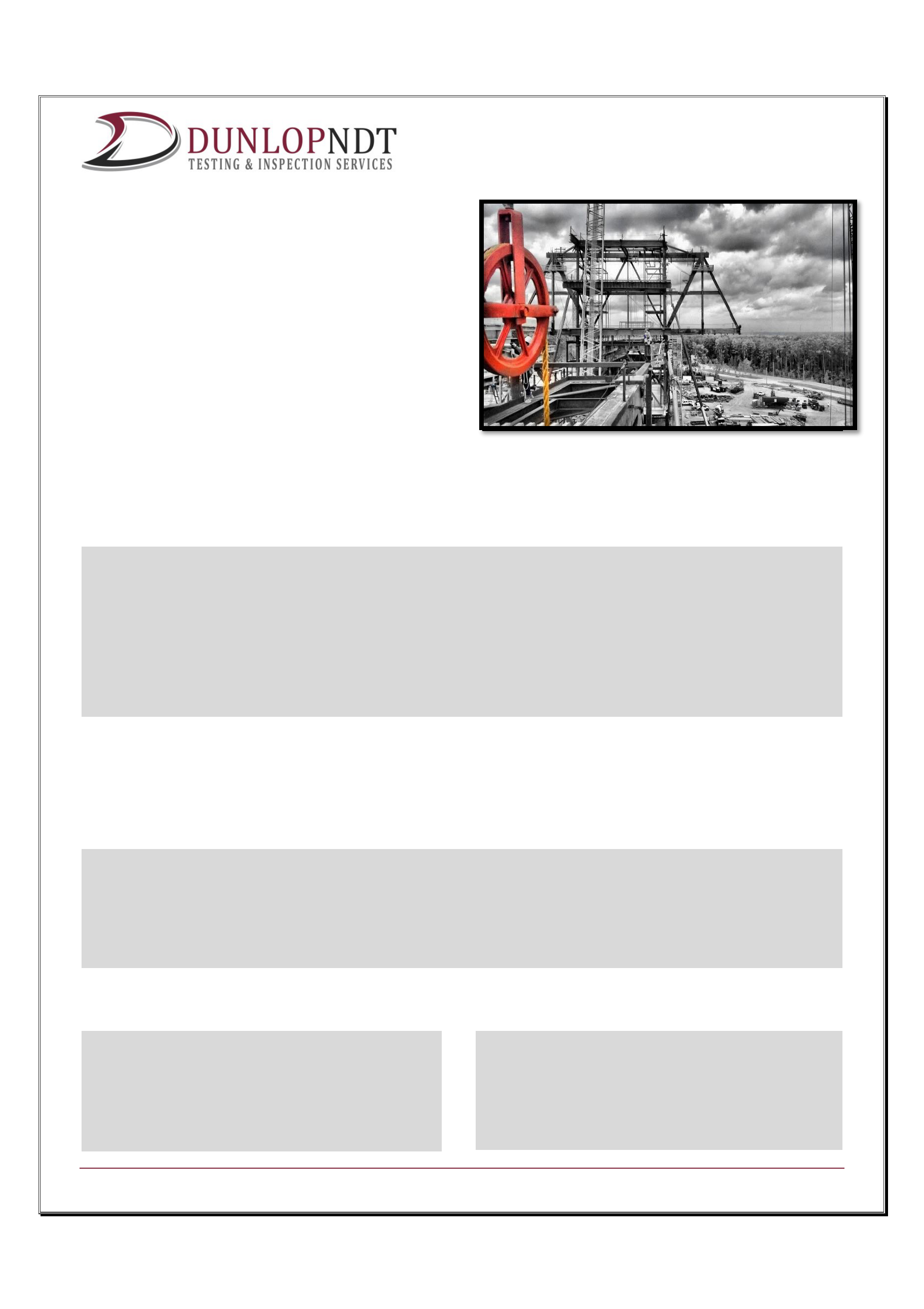 Summary of Qualifications
Dunlop NDT LLC | 4465 Commerce Drive | Suite 107 | Buford, GA 30518 | 678.714.5750
About Dunlop NDT
Dunlop NDT is an Atlanta based, DBE/WBE, EBO/FBE
Non-Destructive Testing and Inspection Firm. Areas of
expertise include structural steel inspections of mid to
high rise structures, special inspections, fabrication shop
inspections and field NDT inspection services.
Dunlop NDT's primary focus is client satisfaction utilizing
our team of experienced NDT inspectors, certified
project managers and our state of the art reporting and
quality systems.
Utilizing the latest test equipment, rigorous inspection and testing processes we work to ensure compliance
within your project specifications. Our knowledgeable and skilled team offer the following services:
◾
Structural Steel Inspections
◾
Mid-High Rise Structures
◾
Long-Term Field Placement
◾
Special Inspections (S1/S2)
◾
Fabrication Plant Inspections
◾
Continuous Field Monitoring
◾
Certified Welding Inspectors
◾
Deck/Joist Inspections
◾
Anchor Bolt Inspections
◾
Cell Tower Weld Inspections
◾
Ground Penetrating Radar (GPR)
◾
Welder Qualifications (WPS/PQR)
◾
Mobile Field Inspection Services
◾
Quality Program Development
◾
Quality Program Management
◾
Standard NDT (VT, UT, MT, PT, RT)
Team Experience
Dunlop NDT's principal members have over 37 years of combined NDT and structural steel inspection experience.
Our team members have worked on some of the largest construction projects in the US over their careers and
bring this experience and expertise to you. A few of these projects include:
◾
ExxonMobil Corporate Campus – Houston, TX
◾
Hartsfield International Terminal – Atlanta, GA
◾
Hartsfield Jackson Airport CONRAC – Atlanta, GA
◾
Scott Candler Water Treatment Plant – Doraville, GA
◾
Kennesaw State University – Kennesaw, GA
◾
Buford Dam Renovation Project – Buford, GA
◾
Music City Center – Nashville, TN
◾
World of Coca-Cola – Atlanta, GA
Company Affiliations
◾
American Institute of Steel Contruction
◾
American Society for Non Destructive Testing
◾
The American Welding Society
◾
The International Code Council
Company Certifications
◾
DOT: Disadvantaged Business Enterprise (DBE)
◾
DOT: Womens Business Enterprise (WBE)
◾
Atlanta: Equal Business Opportunity (EBO)
◾
Atlanta: Female Business Enterprise (FBE)