Fillable Printable Summary of Qualifications - Northeastern University
Fillable Printable Summary of Qualifications - Northeastern University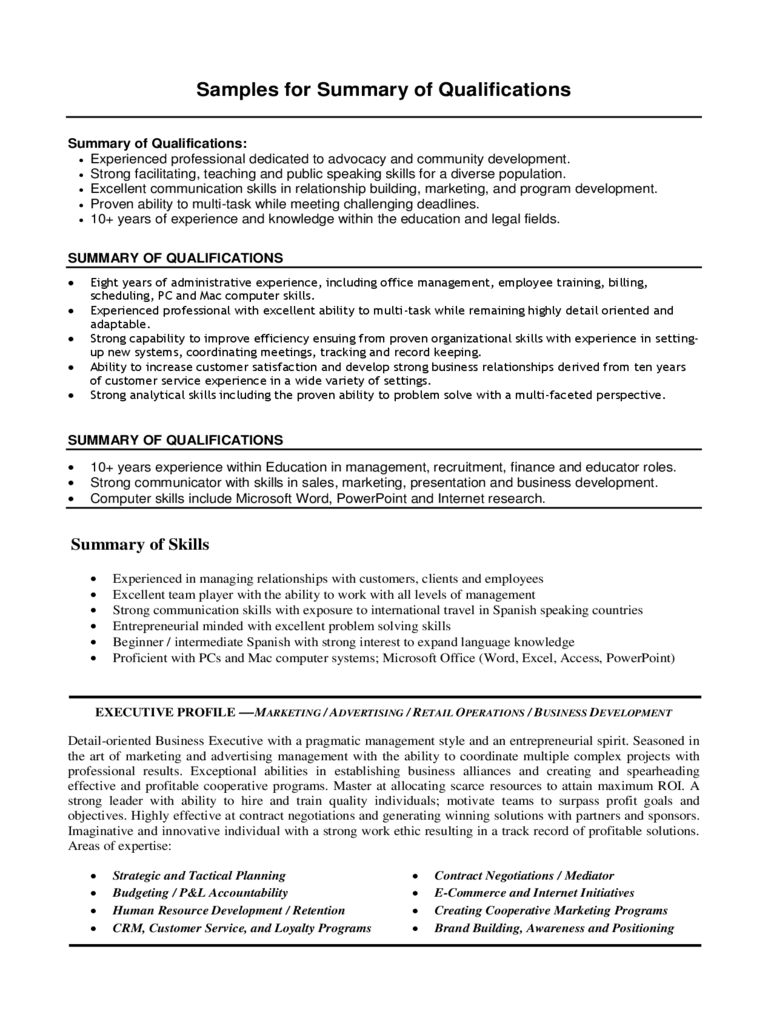 Summary of Qualifications - Northeastern University
Samples for Summary of Qualifications
Summary of Qualifications:

Experienced professional dedicated to advocacy and community development.

Strong facilitating, teaching and public speaking skills for a diverse population.

Excellent communication skills in relationship building, marketing, and program development.

Proven ability to multi-task while meeting challenging deadlines.

10+ years of experience and knowledge within the education and legal fields.
SUMMARY OF QUALIFICATIONS

Eight years of administrative experience, including office management, employee training, billing,
scheduling, PC and Mac computer skills
.

Experienced professional with excellent ability to multi-task while remaining highly detail oriented and

Strong capability to improve efficiency ensuing from proven organizational skills with experience in setting-
up new systems, coordinating meetings, tracking and record keeping
.

Ability to increase customer satisfaction and develop strong business relationships derived from ten years
of
customer service experience in a wide variety of settings.

Strong analytical skills including the proven ability to problem solve with a multi-faceted perspective.
SUMMARY OF QUALIFICATIONS

10

+ years experience within Education in management, recruitment, finance and educator roles.

Strong communicator with skills in sales, marketing, presentation and business development.

Computer skills include Microsoft Word, PowerPoint and Internet research.

Experienced in managing relationships with customers, clients and employees

Excellent team player with the ability to work with all levels of management

Strong communication skills with exposure

to

international travel in Spanish speaking countries

Entrepreneurial minded with excellent problem solving skills

Beginner / intermediate Spanish with strong interest to expand language knowledge

Proficient with PCs and Mac computer systems; Microsoft Office (Word, Excel, Access, PowerPoint)
EXECUTIVE PROFILE

M
ARKETING
/
A
DVERTISING
/
R
ETAIL
O
PERATIONS
/
B
USINESS
D
EVELOPMENT
Detail-oriented Business Executive with a pragmatic management style and an entrepreneurial spirit. Seasoned in
the art of marketing and advertising management with the ability to coordinate multiple complex projects with
professional
results.
Exceptional
abilities
in
establishing
business
alliances
and
creating
and
spearheading
effective and profitable cooperative programs. Master at allocating scarce resources to attain maximum ROI. A
strong
leader
with
ability
to
hire
and
train
quality
individuals;
motivate
teams
to
surpass
profit
goals
and
objectives. Highly effective at contract negotiations and generating winning solutions with partners and sponsors.
Imaginative and innovative individual with a strong work ethic resulting in a track record of profitable solutions.
Areas of expertise:

Strategic and Tactical Planning

Budgeting / P&L Accountability

Human Resource Development / Retention

CRM, Customer Service, and Loyalty Programs

Contract Negotiations / Mediator

E-Commerce and Internet Initiatives

Creating Cooperative Marketing Programs

Brand Building, Awareness and Positioning

SUMMARY OF QUALFICATIONS

Knowledge of legal systems in both Europe and the United States

Strong writing, research and analytical skills

Excellent communication skills including facilitating, public speaking and interviewing

Proven ability to work under stress while meeting challenging deadlines

Fluent in French, German, Spanish, Italian and Portuguese

Multi-cultural experience and ability to work in an international environment