Fillable Printable Summary of Qualifications Standard Format
Fillable Printable Summary of Qualifications Standard Format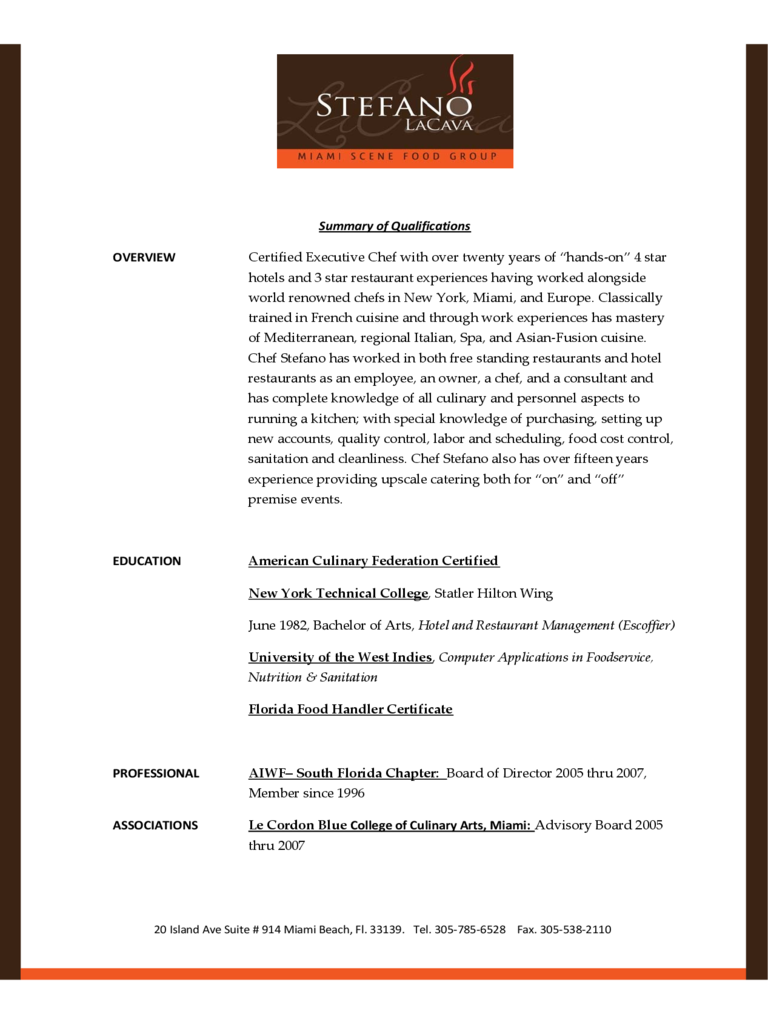 Summary of Qualifications Standard Format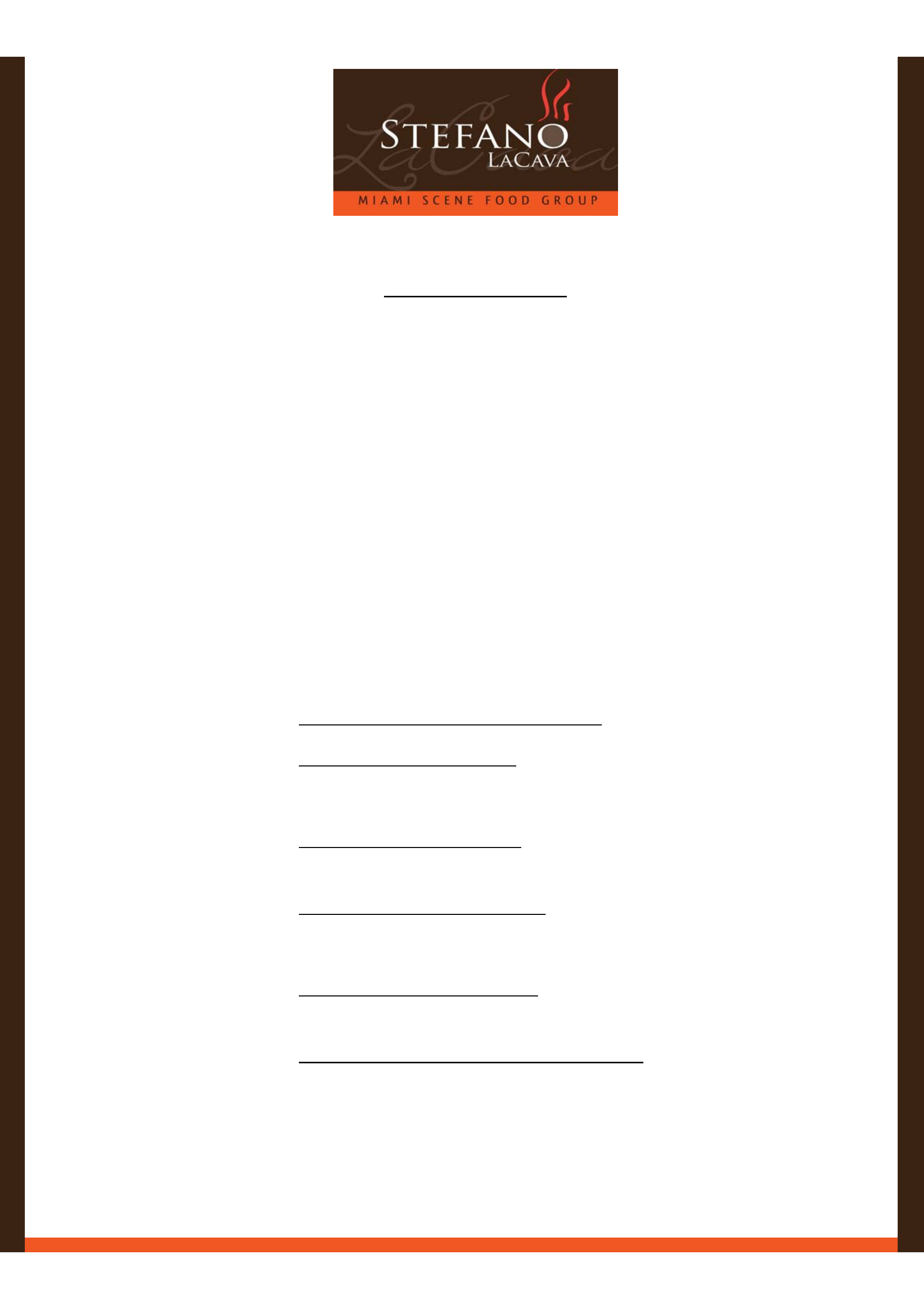 Summary of Qualifications
Certified Executive Chef with over twenty years of "hands‐on" 4 star
hotels and 3 star restaurant experiences having worked alongside
world renowned chefs in New York, Miami, and Europe. Classically
trained in French cuisine and through work experiences has mastery
of Mediterranean, regional Italian, Spa, and Asian‐Fusion cuisine.
Chef Stefano has worked in both free standing restaurants and hotel
restaurants as an employee, an owner, a chef, and a consultant and
has complete knowledge of all culinary and personnel aspects to
running a kitchen; with special knowledge of purchasing, setting up
new accounts, quality control, labor and scheduling, food cost control,
sanitation and cleanliness. Chef Stefano also has over fifteen years
experience providing upscale catering both for "on" and "off"
premise events.
EDUCATION
American Culinary Federation Certified
New York Technical College
, Statler Hilton Wing
June 1982, Bachelor of Arts,
Hotel and Restaurant Management (Escoffier)
University of the West Indies
,

Computer Applications in Foodservice,
Florida Food Handler Certificate
PROFESSIONAL
AIWF– South Florida Chapter:
Board of Director 2005 thru 2007,
ASSOCIATIONS
Le Cordon Blue

College of Culinary Arts, Miami:
Advisory Board 2005
thru 2007
20 Island Ave Suite # 914 Miami Beach, Fl. 33139. Tel. 305‐785‐6528 Fax. 305‐538‐2110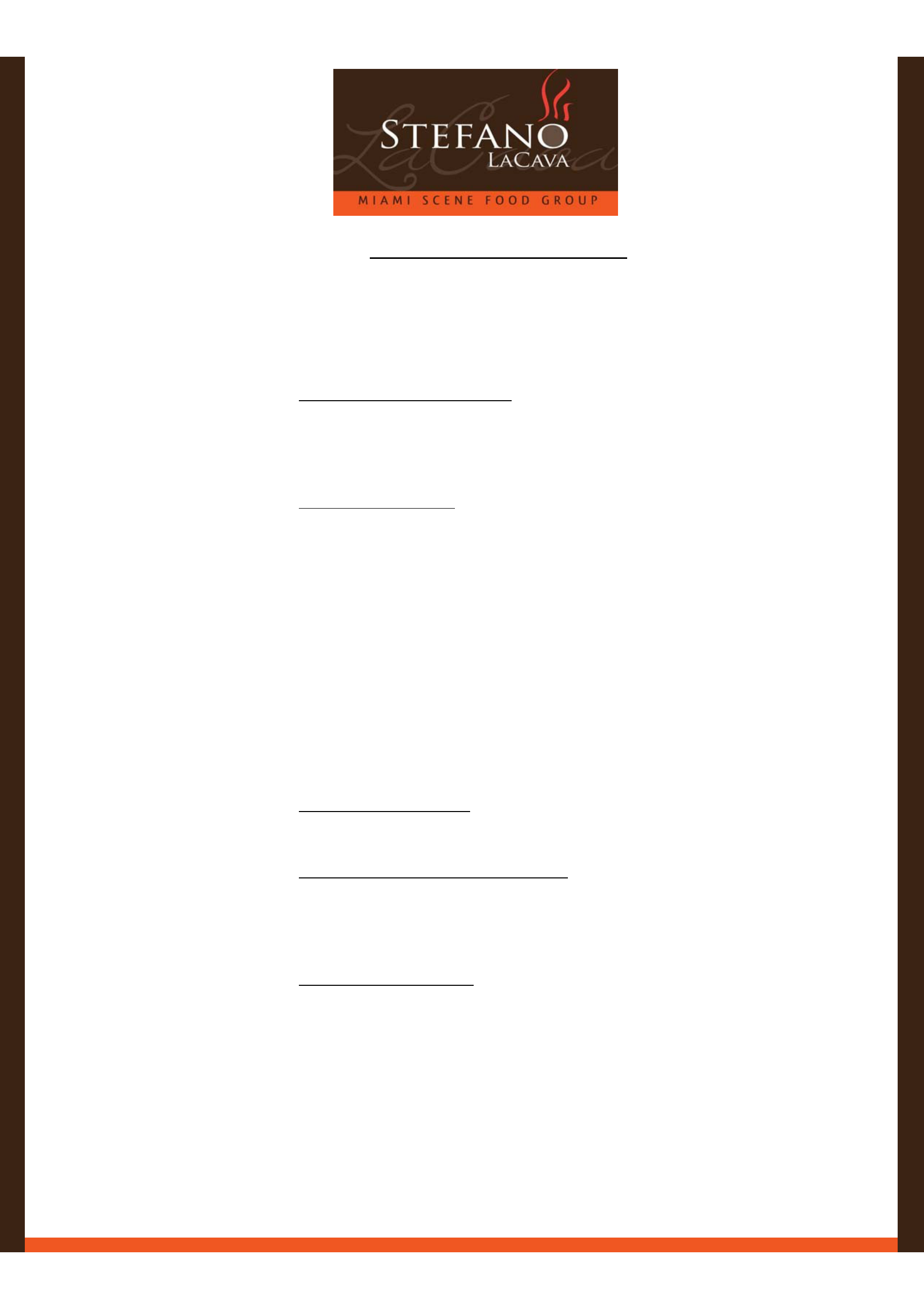 Fundraising Chairman Bahamas Hotel Association/Junkanoo Paradise Island,
Bahamas
PROFESSIONAL EXPERIENCE
Barton G, Catering Division,
Miami, Florida
Executive Banquet Chef (
2004‐Present)

Gala Events for Fortune 500
Town Kitchen & Bar,
Executive Chef/Managing Partner 2004 – 2006
Awarded Best New Restaurant/New Times and Best Neighborhood Bar
Engineered and implemented new restaurant concept. Designed and
supervised all aspects of kitchen/bar construction, back of the house
operations, equipment purchasing, and implementation of contractual
agreements. Responsibilities included menu concepts, recipes,
training manuals, and hiring and training of kitchen personnel.
Orchestrated the opening of 211 seat restaurant featuring 165 seat
dining room, 45 seat private VIP dining room, 70 outdoor seats,
Sysco of South Florida
,
Consultant to New Restaurant Openings

2003‐
Mutual Wholesale/US Food Service
,

Restaurant Development
President's Cup Award Winner 2003
Eden Roc Resort & Spa
, Executive Sous Chef, Eden Roc Resort

1995‐
Chef de Cuisine
, Fresco Mediterranean Café
New Times Review, Aug 31, 1995: Them's Good Eden: "the fare
outshines every trattoria, café, and bistro I've reviewed this year"
20 Island Ave Suite # 914 Miami Beach, Fl. 33139. Tel. 305‐785‐6528 Fax. 305‐538‐2110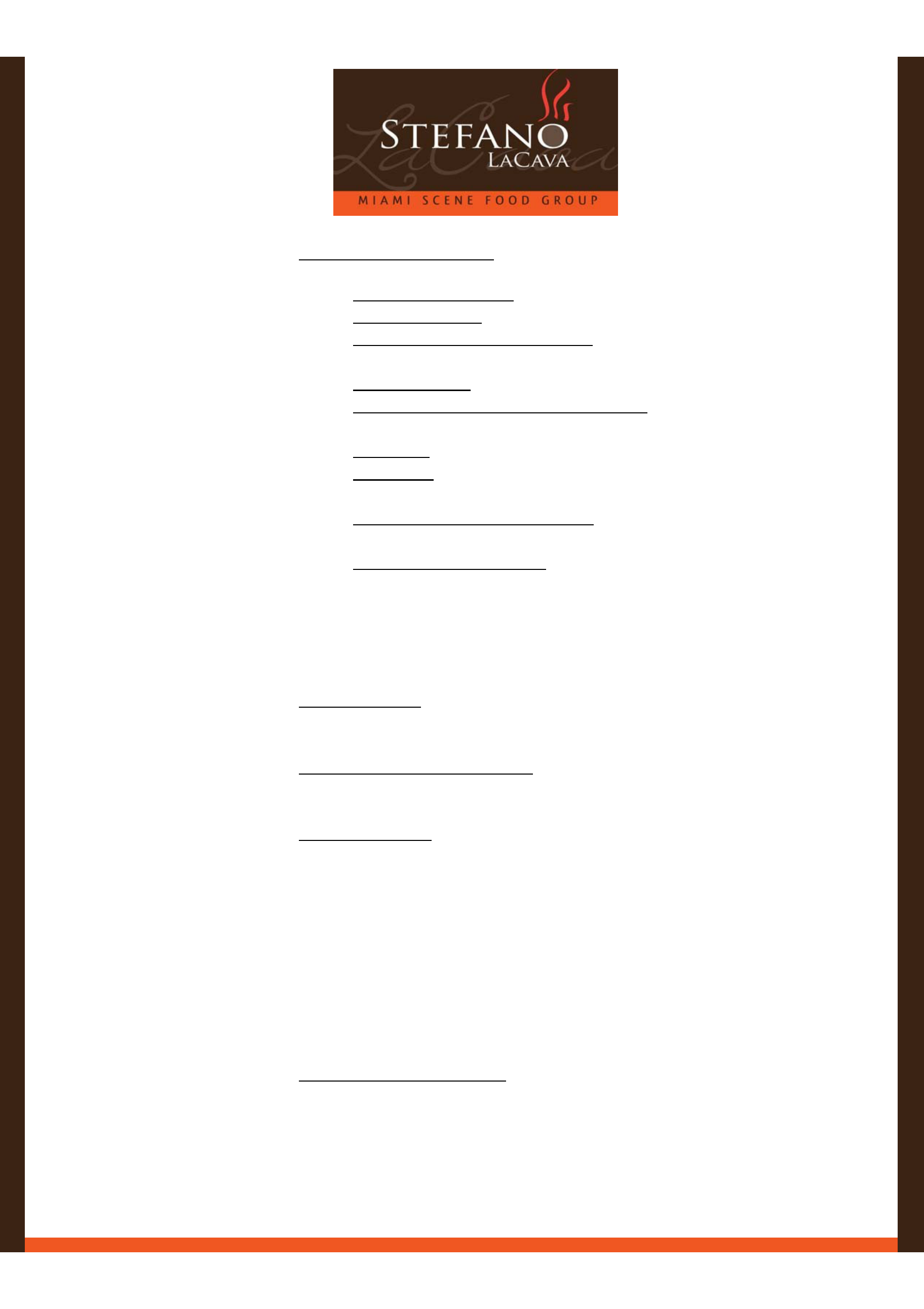 Miami Scene Food Group
, Project Consultant
•
Mulberry Street Café
, Miami Beach, Florida 1996
•
Tutti's Trattoria,
Miami / Coral Gables / Westin 1993‐1995
•
Unique Restaurant Corporation
,

Chef Consultant to Dennis
•
Epicure Market
,

Chef

Consultant Spa 1994‐1995
•
Club Med of America (Special Events)
Cancun, Turks and
Cacaos, Port St Lucie
2008
•
The Forge
Miami, Beach (East Room) & Meat Ball Event
•
Fannucci's
Miami ,Beach Miami Today Magazine

featuring
•
Stefano's Market South Beach
Free Standing Market
•
Doral Telluride Colorado
PROFESSIONAL EXPERIENCE (continued)
Gene's Catering
, Executive Sous Chef/Special Events Chef
Sheraton Design Center/TCC,
Executive Sous Chef/Chef de Cuisine
Pink Sands Hotel
Harbour Island, Bahamas Five Star Amenities
Executive Chef/Consultant
#1 voted beach 2007 Travel Channel in the
Re‐established Proprietary Club, Private Hotel and Villas.
Exclusive Resort ‐ Built new restaurant and Bakery on Remote Island
paradise.
Loews Harbour Cove Hotel
, Paradise Island, Bahamas
Executive Chef/Member of Paradise Island Promotion Board
20 Island Ave Suite # 914 Miami Beach, Fl. 33139. Tel. 305‐785‐6528 Fax. 305‐538‐2110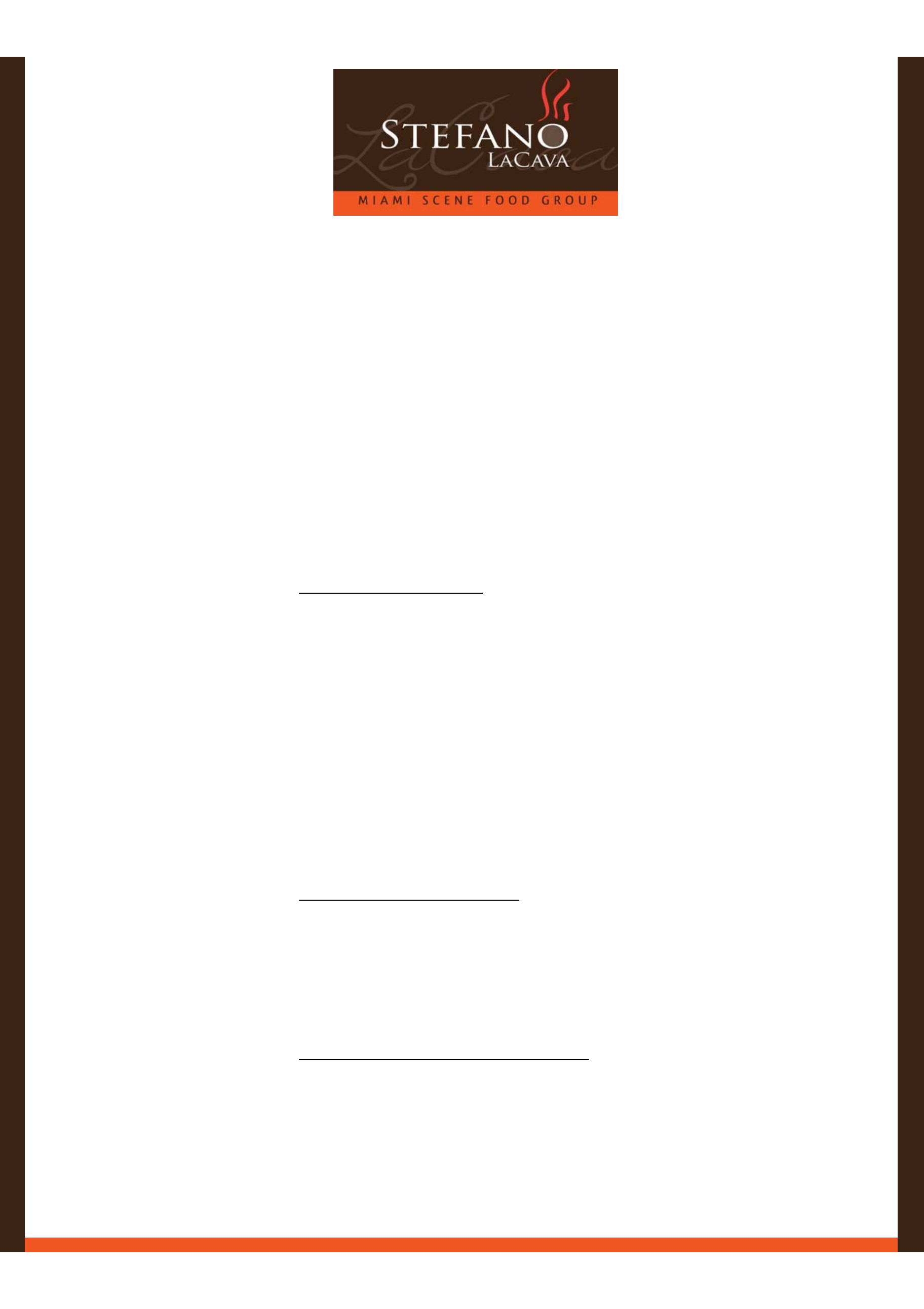 Fund Raising Chairman Bahamas Culinary Association
1987‐1988
Prestigious New York based hotel group. Contracted to manage and
upgrade kitchen facilities of two restaurants and three banquet
facilities in 350‐room Boutique Hotel. Reported directly to corporate
on development of new concepts and the overseeing and hosting of
regional events for prestigious clientele of the Tish family. Staff of 55
employes.
All prior Experience in NYC. 1973‐1986 AVALIBLE upon request.
PRESS EVENTS:
Summit of the Americas
Worked as Special Events Chef for Gene's Catering and was directly
a sit down dinner for the President of the United States and his 750
guests.
Additionally, helped create the menu and assisted in prepping food
for a sit down
Dinner for the Vice President of the United States and his 1,500
guests.
Super Bowl XXIX Press Party
After months of planning, executed two major Superbowl events:
Press Core Party on Thursday for 8,000, closing Ocean Drive, then
grandstanding NFL Player's Association party for 10,000 on Sunday
at Joe Robbie Stadium.
Super Bowl XXIII plus last 2 in Miami
Worked on distribution side to assist Hyatt Corporate create VIP &
NFL Player Association Parties in 3 locations: 10,000 at the
20 Island Ave Suite # 914 Miami Beach, Fl. 33139. Tel. 305‐785‐6528 Fax. 305‐538‐2110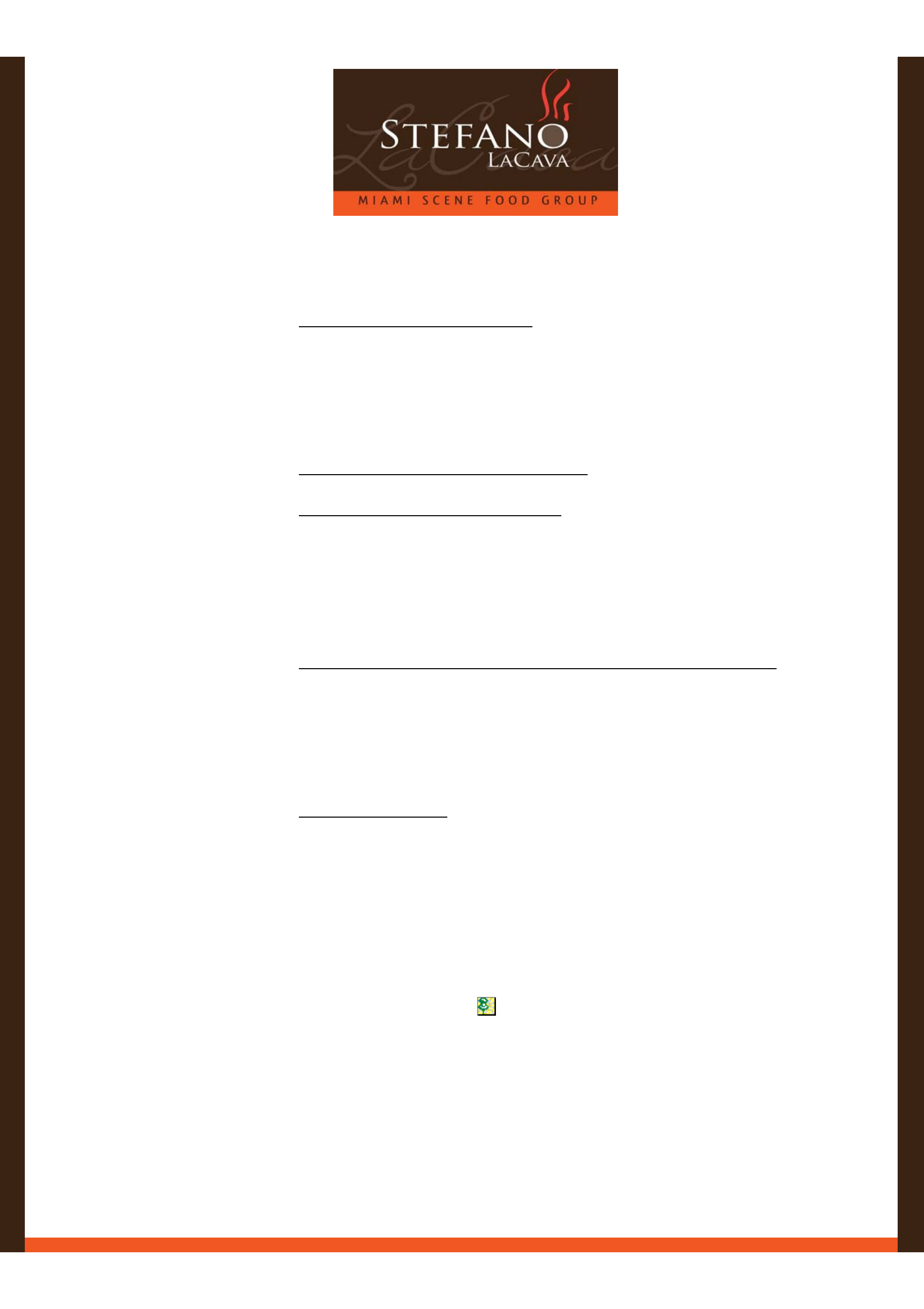 Convention Center, 125 VIP tables, and John Madden's Press
Entourage at Hyatt Regency Downtown.
Bill Clinton Fundraising Event
Hired by the Portofino Group to work as the Executive Chef for a
private fundraising
Event that featured a ten course fine dining meal.
Carter Center Gals Annual Fundraiser
Club Med Sandpiper
South Beach Food & Wine Festival:
•
st
event
Sharon Stone fundraiser for Tibetan
•
Behind the Bash
TV food network Party 2006

.
•
•
Amex After Hour Gala
TV Food Network Stars 2008
Published Spa recipes / Contributing author for Blessing press
.
"Everyday Grace Every Miracles" ‐Living the life you were born to
live.
Author Lorna Owens
New Times
Review:
"South Miami goes to Town" by Lee Klein
8/24/06
"Chef Stefano La Cava's contemporary Global American Cuisine
Menu is Pop Music for the Palate."
People Magazine
1981 photo at

Joanna's

NYC
Chef La Cava has established expertise for foreign dignitaries, culinary personality
and celebrities; from the Queen of Engl
and, Prince Rainier of Monaco, Five
American Presidents, Monsieur Remy Krug, Mick Jagger, Sharon Stone, Elizabeth
Taylor, T.V. food network icons and Oprah and her staff during the building of her
home in Telluride, Colorado. He feels truly blessed to share his true love the food
20 Island Ave Suite # 914 Miami Beach, Fl. 33139. Tel. 305‐785‐6528 Fax. 305‐538‐2110