Fillable Printable Trade Reference Letter Sample
Fillable Printable Trade Reference Letter Sample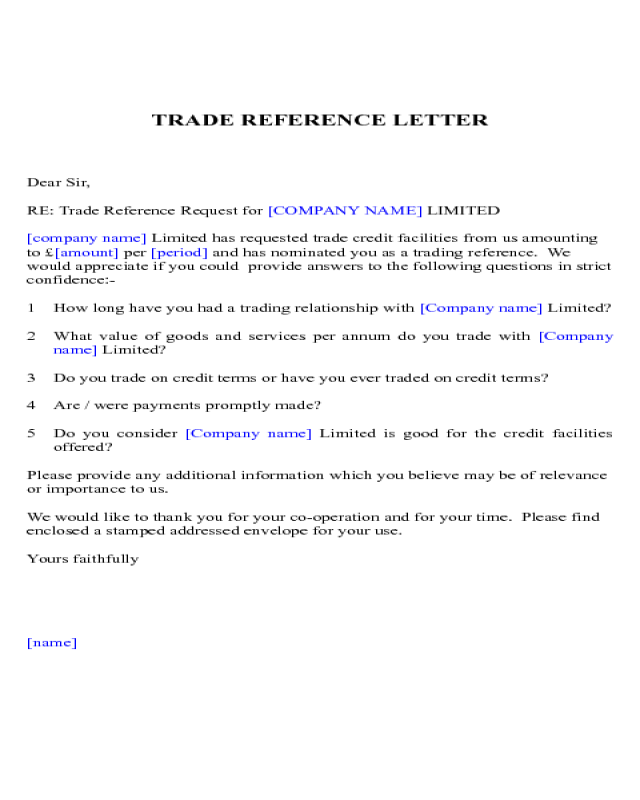 Trade Reference Letter Sample
TRADE REFERENCE LETTER
Dear Sir,
RE: Trade Reference Request for
[COMPANY NAME]

LIMITED
[company name]
Limited has requested trade credit facilities from us amounting
to £
[amount]
per
[period]
and has nominated you as a trading reference. We
would appreciate if you could provide answers to the following questions in strict
confidence:-
1How long have you had a trading relationship with
[Company name]
Limited?
2Whatvalueofgoodsandservicesperannumdoyoutradewith
[Company
3Do you trade on credit terms or have you ever traded on credit terms?
4Are / were payments promptly made?
5Doyouconsider
[Companyname]
Limitedisgoodforthecreditfacilities
offered?
Please provide any additional information which you believe may be of relevance
or importance to us.
We would like to thank you for your co-operation and for your time. Please find
enclosed a stamped addressed envelope for your use.
Yours faithfully
[name]