Fillable Printable Trade Reference Letter Sample
Fillable Printable Trade Reference Letter Sample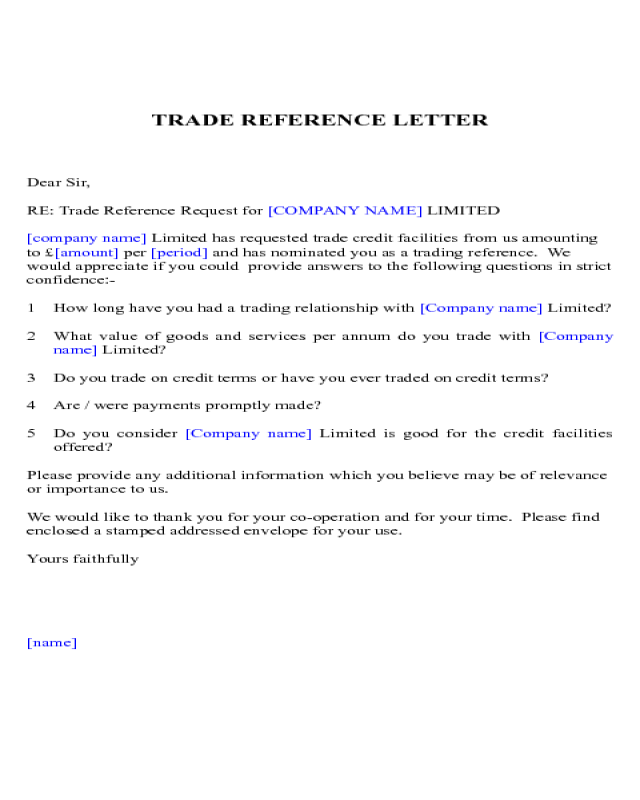 Trade Reference Letter Sample
TRADE REFERENCE LETTER
Dear Sir,
RE: Trade Reference Request for
[COMPANY NAME]

LIMITED
[company name]
Limited has requested trade credit facilities from us amounting
to £
[amount]
per
[period]
and has nominated you as a trading reference. We
would appreciate if you could provide answers to the following questions in strict
confidence:-
1
How long have you had a trading relationship with
[Company name]
Limited?
2
What value of goods and services per annum do you trade with
[Company
3
Do you trade on credit terms or have you ever traded on credit terms?
4
Are / were payments promptly made?
5
Do you consider
[Company name]
Limited is good for the credit facilities
offered?
Please provide any additional information which you believe may be of relevance
or importance to us.
We would like to thank you for your co-operation and for your time. Please find
enclosed a stamped addressed envelope for your use.
Yours faithfully