Home

>

Business Letterhead Templates
Business Letterhead Templates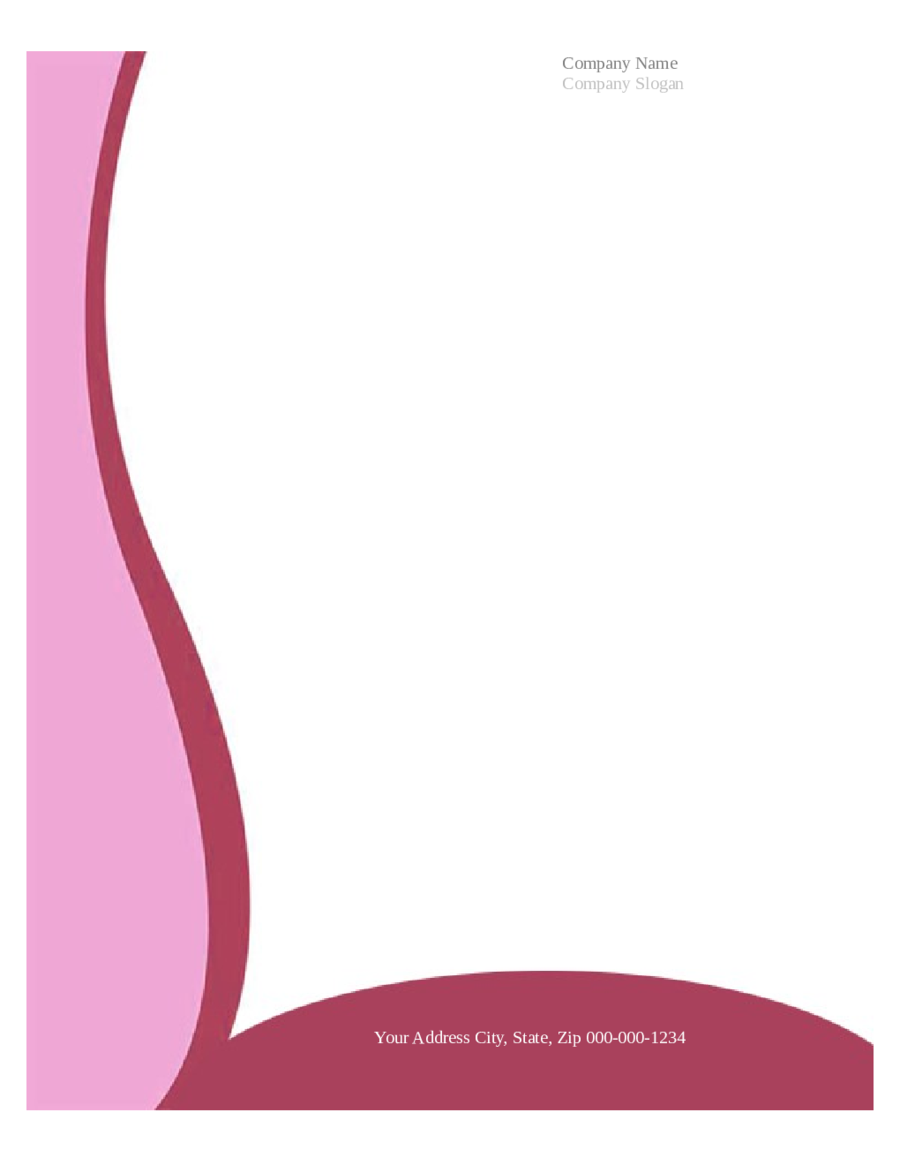 Introduction
If you have just started a small business, you must be wondering where to start as there are so many things to decide right from choosing an office space, hiring staff, promotion of your company's brand and so on. But among them, the most considerable factor is to enhance your business effectiveness that you can do by printing your business letterhead. Yes! Designing a quality business letterhead is an important step to start an established business. Placing your company's logo on your business materials is the right way to promote how your company is and what it offers.
What is a business letterhead?
A business letterhead is used as a powerful tool to promote a business. It is nothing but an official document of your business that shows how established your business is and what is its professional image in the market. Besides these, a nicely designed letterhead can bring potential customers to your company and convey the message that you strictly follow professional principles in all you do. Moreover, printing a business letterhead with your company's logo on the top subtly plant the value of your business in customer's minds. Sending each piece of marketing material in your company's letterhead strengthens the relationship between and your customers and this does not require any giant promotion or investment. A good business letterhead not only depicts your business's vision and mission but also reminds your customers and clients that you are in the market. So, whenever you decide to start your own business, the first thing you should do is to print a letterhead with your company's logo that can seamlessly be integrated into a market effort.
What are the things need to be included in a business letterhead?
To structure a company letter head in a perfect way, it must include the following points –
In order to create a noticeable letterhead, the choice of color should be made in a perfect way. Select such colors that can emphasize your brand message in a perfect way. However, if you wish to make it cost-effective, don't consider multi color usage.
An important thing to keep in mind while structuring a business letterhead is the selection of a layout that includes factors like color, font size and printing style.
In a business letterhead, readability plays an important role through which you can convey your brand message to customers. Make sure the font size you choose for your company's letterhead should be big enough to be read easily by everyone. Along with it, make sure there is no spelling error in company's name and address.
Since logos are important in a letterhead, make sure that it is properly placed. A logo not only signifies the brand of your business but also depicts its core values, competencies, and philosophy. It has to be unique so that people can easily familiarize them with your brand.
No business letterhead is complete without company name and address. Besides name and address, company's phone number, email address, and fax should clearly be mentioned in the letterhead. All these things establish the authenticity of your business and make sure that information you put on the letterhead is up-to-date.
Business letterhead design – what you must include
A business letterhead format must include a set of basic points so that it looks elegant, simple and fulfill its purposes. So here is a list of things that you must consider including in your business letterhead –
Know what kind of information you want to include
It is quite obvious that when you have decided to go for company letterhead design, you must have an idea about what to include and what not. However, it is not necessary that it has to be 100% correct because there may be certain legal obligations which you are not aware of.
Keep your design simple and uncluttered
This is an important factor to keep in mind while designing a business letterhead. The design should be made in such a way that it helps you to communicate with your target customers. Therefore, keep your letterhead design away from cluttered ones as this will portray nothing but your poor taste. Simple design helps to create an effective framework for conveying your brand message.
Represent your brand in the best way
One of the best ways to establish communication with your target customers is through business letterhead, and thus it should be well-equipped with company logo, theme color, and typeface. Make sure your letterhead design follows all rules and regulations of branding. For example, if the theme color of your brand is blue, then don't consider putting red in the letterhead as this may look odd.
Always give right information in the document
Your company letter head must include all legal requirements such as registration number or any other certification for establishing a right business approach. Besides including company name, address, phone number and email, make sure that it includes critical pieces too through which you can convey your company's message to customers.
Consider a perfect finish
Finishing part plays an important role in a business letterhead. It not only promotes business credibility and brand image but also ensures sophistication of your company that helps to create a good impression in today's competitive market. So, these are the things which you must consider while designing a perfect letterhead format. However, it is an undeniable fact that structuring a proper format is a troublesome task where you need to consider various things. So what's the easy way of it? Simple, check out free business letterhead templates for word online and design your company's letterhead without much effort. In fact, you can check thousands of letterhead examples and business letter sample from which you can get an idea of what to include and what not.
How to draft a professional letterhead for business?
A professional letterhead is the one that can create a difference on how your business will be perceived by people. If your business is involved in a lot of dealings with your clients, a professionally designed business letterhead will help to streamline the communication between you and your prospective customers. Not only this, but it also makes your business looks professional. So, here are the steps which you must follow for designing a business letterhead professionally –
Selection of the design
For drafting a professional letterhead, make sure the design you choose should be simple and neat. Place your company's logo at the right place as it has a major role to play in design. The rest of the part such as company, name, address, phone and other information should be kept simple and not jumbled with too many information. All you need to mention is your company's up-to-date contact details and nothing else. So, be specific.
Printing
Printing your own company's letterhead is quite straightforward as you don't need any special printer or paper for accomplishing the task. However, printing envelopes with company letterhead are quite tricky but with today's modern printing machines; you can easily print your business stationeries such as notecards, envelopes, A4 size papers and the like. If you hire any local printing shop for doing the task, it can rest assure that you will get the best service as these people have an idea about what must include in a business letterhead and what not.
Include visual elements in the letter
If you want to make your company's letterhead look separate from others, you can consider including visual elements into it besides company logo and contact information.
Make the presentation attractive
When it comes to establishing your business in the competitive market, what counts the most important factor, is your presentation. Making investments in printing letterheads is something that established the credibility of your business. Not only this, quality printing with flawless design helps to improve your customers' anticipation about your company.
What are the uses of company letterhead?
A letterhead helps in changing your business perspectives. It changes the way of doing business and gives a more formal and personalized look. A professional letterhead design helps to create a brand image of your business and makes you different from other corporate organizations. It develops confidence and enables your clients to deal with your company in a professional manner. However, if you are still wondering what you will do with business letterheads; you must know that it is used in sending important documents and proposals to other business organizations. Besides this, for writing appointment letter, offer letter, inventory or quotations, these documents are used to a great extent. For example, if you as a CEO of the company need to make an announcement on a company policy or principle, it should be disclosed through company letterhead only because writing on company letterhead means it is the final verdict of the authorized person, and there would be no further changes take place. So, when you are all set to establish your business in the market, start with designing a professional business letterhead that represents your company in the market.
Download professional business letterhead template online
When it comes to make arrangements of promotional materials for your business or other important venture, a professional business letterhead offers a great option to show your professionalism to your prospective clients and customers. However, making a proper structure of a letterhead is a troublesome task and to cater to this need of people, various types of business letterheads are now available online. Just download them from your PC or laptop and give a customized look as per your requirement. Now, you must be wondering where to get such a website that offers ready-made templates. Well, that's quite easy. Just browse the internet and you will get thousands of customized templates where you just need to place your company logo and contact information. Isn't it so easy? Yes! It is, and the best part of these templates is that they are absolutely free and available in various formats and design. If you need a business letterhead template for word, just type your requirement in the Google search box and get innumerable samples online. However, you are not bound to follow the exact letterhead rules and regulations in structuring these templates. You can use them as your source of inspiration or just to get an overall idea about how to design a business letterhead template. Suppose you download a good structure template but you didn't like its font size and color scheme. What will you do then? Simple, you can customize it as per your requirement. It is your project after all, and you have the sole authority to decide what looks good in it and what not. Therefore, you can surely incorporate certain things of one template to another to give it a new customized look.