Home

>

Project Charter Template
Project Charter Template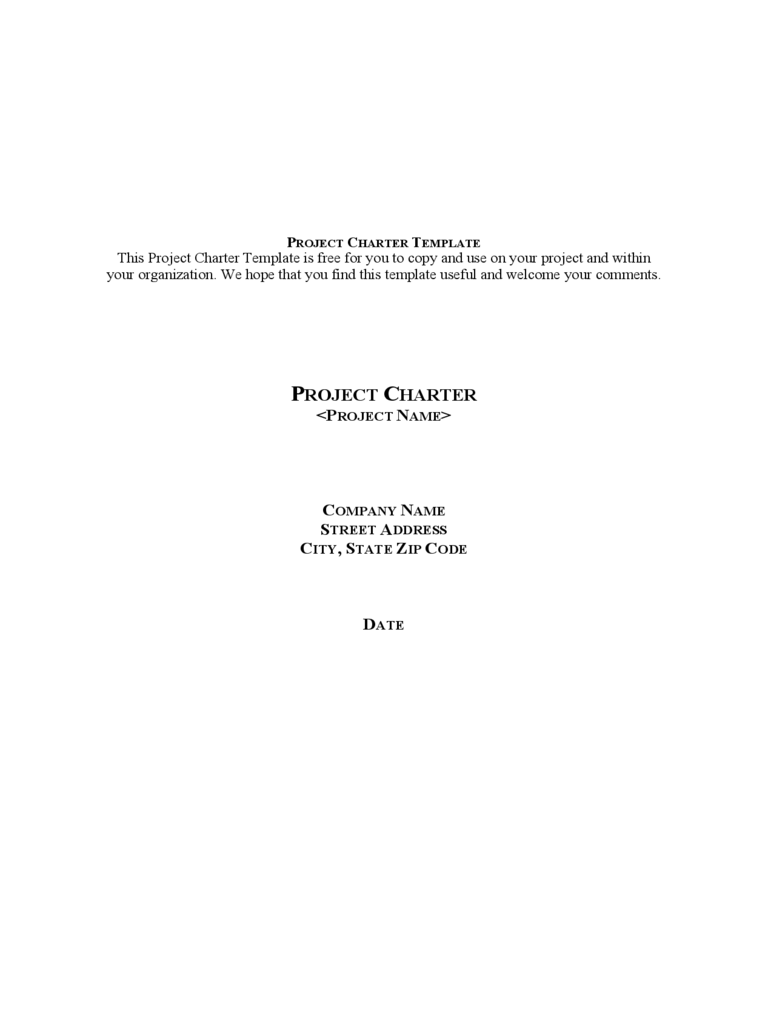 All business ventures require months of meticulous planning and painstaking execution in order to make them successful. Planning is the first step to getting a new process up and running. Smart organization and careful prioritization are the key components of planning and working towards a new idea. A Project Charter is paramount to planning a successful project and the easiest way to construct a charter is with the help of a simple, formatted template.
What is a Project Charter?
A Project Charter is a document that details the plotted approach to a new venture. It functions as a useful planning tool as well as a contract between the project team, sponsors, and stakeholders. It legitimizes the authority of the Project Manager and serves as an official sanction to employ organizational funds and commence operations on the new project. It details the organization's approach and attitude towards the project. The charter delineates resources, details objectives and includes the names of the individuals who will be central to its processes, like the project manager and other participants as well as those who will be directly affected by it like the project sponsor and major stakeholders.
Project Charter Template
Now that you know what a Project Charter is, you need to understand what is a Project Charter Template. This template is a planning tool that will help you construct and scientifically organize your Project Charter. These professional templates are professionally designed and formatted in keeping with business standards, so you never have to compromise on quality. Keep reading to understand How to write a Project Charter Template.
Importance of a Project Charter
A project is not built in a vacuum. It arises out of ideas and opportunities. Consult different Project Charter sample to understand the important uses of a Project Charter. Here are the basic objectives that a charter serves to fulfill:
A Project Charter defines the goals that the project aspires to achieve. It is the primary foundation of the project.
It designs a scientific approach towards these aspirations in keeping with the company's business objectives.
It is a document drawn up after a Business Case is accepted and approved by the company but before a formal Project Scope is defined.
The charter defines the parameters of the project regarding objectives, targets, deliverables, risks, resources, dependencies and markers of success.
It is important to understand that without a clear, well-defined plan of action, even the best ideas fail. Meticulous planning is the first step towards successful execution. That is why an effective planning tool like a Project Charter is so crucial to the success of a new project. Try out Project Charter Sample to develop a better understanding of What is a Project Charter Template.
Uses of a Project Charter
Primary uses
If you follow the guidelines available in ready-made Project Charter example, you will find that a Project Charter is ordinarily used for three primary purposes:
To formally accredit a new project by legitimizing it as an ROI (Return On Investment).
To present as a sales document to justify dominion over project resources in case of other demands upon the company allotted resources.
To serve as the focus of the project that may be utilized as an example or control at other meetings when coming up with the detailed scope of the project.
Other uses
Apart from these primary uses, this is a versatile document that can be used in the following ways:
It is used by both the IPD (Initiative for Policy Dialogue) and the CRM (Customer Relationship Management)
It is an essential component of Project Management
It is an effective tool to institute authority in a Matrix Management environment
Project Charters can be put into operation in various stages of a business venture.
Depending on the scale of operations, there can be separate charters for planning and execution.
Project Charter Template tips will help you make the most of your charter. Use these guidelines to optimize these pre-formatted templates. One of the most popular formats is the Project Charter Template PowerPoint because of its versatility. You can customize it to include all the aforementioned uses for the maximum impact.
Components of a Project Charter
While this versatile document differs depending on the nature of the business venture and the management style of the associated company, there are certain essential elements that make up a Project Charter. You will be able to incorporate all these elements into these available templates as they are specially designed to accommodate customizations as easily as possible. Take a look at Project Charter example available for a brief outline of the structure of a Project Charter.
Business organization
The Project Charter must include the names and details of the Project Manager, Project Sponsor, stakeholders and the Project Team.
It should clearly delineate the hierarchical structure of the Project Team and include inputs from major stakeholder groups and project sponsors.
As work progresses, this ensures that all interested parties and sponsors are updated on the progress of the venture in a timely matter and notified in case of any crisis.
With these professional templates, you can make detailed notes to ensure that nothing important is missed out.
Management processes
The Project Charter must explicitly choose and stick to a particular Project Management methodology. The approach to your project depends heavily upon your choice of method.
It must include adequate information for the project team, management, and associated stakeholders to ensure a transparent, hassle-free process. The management should designate roles, distribute assignments, set milestones to track progress, and agree upon deliverables and their corresponding deadlines.
Project Charter Template is an excellent planning tool that will help you to schedule all relevant briefings and ensure that none of your team members ever miss a deadline.
Scope
The Scope of a Project Charter defines its available resources. It includes both skilled manpower as well as organizational funds.
It is important to conduct a risk assessment before embarking on a new business venture to calculate the potential financial liability being undertaken by the company. The scope must include details of this assessment.
It must include a detailed budget that provides a scientific allotment of organizational funds and manpower according to the requirements of the project. There must be a clear idea of the expected benefits and risks.
With the help of ready-made templates, you can incorporate multiple fields into a single document for easy reference. It will help you tabulate financial data accurately and minimize the chance of error.
Project management processes
To ensure the success of a project, it is important to implement appropriate project management processes that create channels of communication and accountability that help individuals work towards a common goal.
A Project Charter should establish a schedule to coordinate assignments, allot funds, line up meetings between team members and stakeholders and track progress.
It must anticipate potential constraints and optimize all available resources. The charter must project possible strategies to overcome obstacles and operate within the available resource parameters in keeping with industry standards and regulations.
Communication
There must be clear communication between the Project Manager, the Project Team, stakeholders and sponsors to ensure complete clarity.
The Project Charter must incorporate expectations of communication within the charter that should include details of the preferred frequency and medium of communication.
While this may not include small meetings, it could include occasional meetings between sponsors, stakeholders, and management to take stock of the project development as well as periodic progress reports for the same.
So it is better to opt for professional templates or samples instead of framing them by your own. The best thing about these templates is that they are editable and can suit the requirement of its users.
How to make a Project Charter
The Project Manager is normally in charge of developing the Project Charter. It is developed with the help and input of subject experts, key management, sponsors and important stakeholders. Take a look at these Project Charter Templates for a better understanding of the standard format used in a Project Charter. While every Project Charter is different, here is a basic outline of a Project Charter to help you get started. Use these Project Charter Template tips to construct an efficient Project Charter: Your Project Charter should have these four parts-
Vision and targets
Incorporate details about your vision of the project.
Elucidate upon reasons for undertaking the project and come up with some basic targets the project intends to achieve.
Construct realistic vision statements to use in the course of your project.
Define key targets and objectives.
Ensure that your targets are realistic and achievable.
Time bound targets elicit the best results.
Decide upon measurable indicators of progress and success.
Set milestones and define deliverables.
Organization and delegation
Customer satisfaction is crucial to any project.
Keep in mind your target audience and customer profile.
Provide a requisition for customer care representatives.
Take inputs from stakeholders and accommodate their business interests.
Organize a hierarchical team structure based on project roles like sales, development, customer care and supervisor.
Delegate assignments, assign targets and supervisory roles.
Specify performance criteria and requirements for special skills.
Structure teams with levels of responsibility and seniority for each department.
Plan of action
This is the most important aspect of your Project Charter.
This includes all aspects of the project from brainstorming, planning, budgeting, risk assessments, execution, supervision, production, and sale.
Versatile Project Charter Template PowerPoint is perfect when you need to incorporate so many details into a charter.
Plot a detailed approach to each of these aspects that lead a project from inception to execution.
Divide the plan into phases and target each phase separately in an organized manner.
Plot a clear sequence of the targets and elucidate on the activities and processes that each phase entails.
Create a quantifiable estimate of the human resources required. Include skill requirements and the duration of the contract.
Create strategies to conduct quality control on both products and processes to ensure the optimization of resources.
Have a clear financial plan. Clearly allocate funds and work within the available company budget.
Other considerations
Risk- Conduct a thorough risk assessment.
Uncertainty- Factor in market fluctuations and uncertainty.
Constraints- Provide for unprecedented absences, potential pitfalls, and other unforeseen circumstances.
With such detailed guidelines, you will never have to worry about How to write a Project Charter Template. Just use these tips and incorporate the specifics of your project into these ready to use pre-formatted templates. So get a template today!
How to use a Project Charter Template
Templates are the quickest and easiest way to construct your Project Charter. Professional templates are readily available online at the click of a button. Just follow three simple steps in order to find the Project Charter Template for you:
Check variety of free charter templates available over internet
We have templates in a range of formats - MS Word, MS Excel, PDF, and PowerPoint.
Find the template format which suits you and download it at a nominal cost.
So if you're worrying about trying to construct a painstakingly accurate Project Charter for your next meeting, look no further. Try these wide range of 100% customizable Project Charter Templates and use one as a framework for your next Project Charter. These templates are extremely user-friendly for the users and can be downloaded for free. So what are you waiting for? Stop thinking much and get the professional templates now.