Home

>

Checkbook Register
Checkbook Register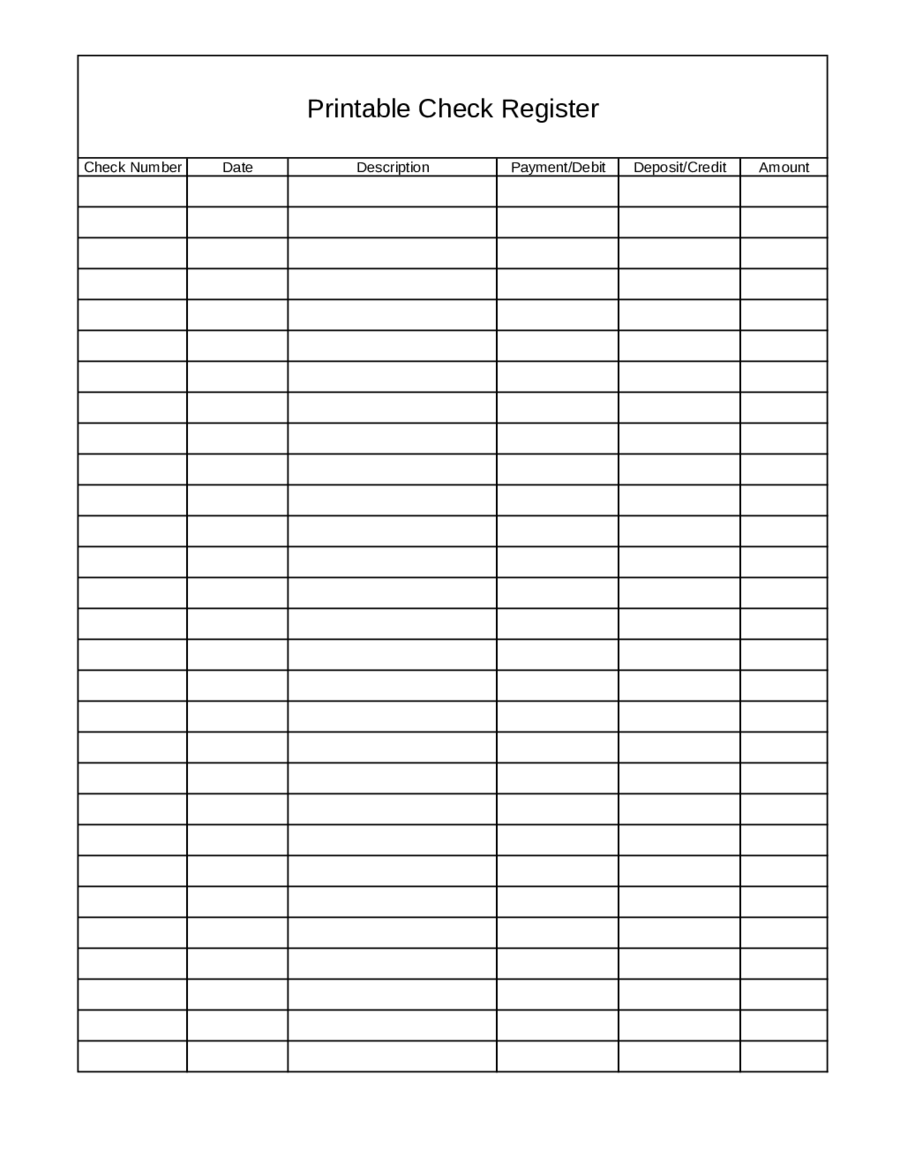 In the current global economic situation, there is nothing more important than effective financial planning. Wealth management is no longer limited to the domain of large corporates and accountants. Personal money management has now become a valuable life skill. Not only is it important for people to track their investments and savings, they must also keep a close eye on their spending in order to break even at the end of the month.Without the right kind of planning, it is only too easy to splurge, lose track of debt and default on bills. More and more people are now turning to financial planning tools like checkbook registers in order to keep track of their income and expenditure in an organized manner.
What is a checkbook register?
A checkbook register, also known as a transaction journal, is a versatile tool that can help you to monitor all transactions taking place via your checking account. It is used to keep an eye on any credits and debits to and from your account. Not only will it tell you how much money you have left in your account, it will also show you where it has been spent. Once you know What is checkbook register, you will be able to use it to reconcile all withdrawals and deposits via your account at the end of end of the month and even understand How to balance a checkbook.Most banks will give you a small checkbook register with every order of checks, in the last few pages of your checkbook or when you open a new checking account. However, these are rarely enough to keep track of all daily transactions. So when you need more space to tabulate your financial transactions, just take a look at the ready-made free checkbook register templates available online and download a Printable check register template for your convenience.
Importance of a checkbook register
A checkbook register is an effective organization tool to aid individuals in their efforts to systematically monitor their monetary transactions over a fixed financial period.
It serves as an informal backup record of your transactions over and above what the bank gives you at the end of the month.
It is used by companies as a legitimate part of bookkeeping and by individuals managing their personal finances.
The most convenient part of a well-maintained checkbook register is that it will tell you exactly how much money you have available to you at any given point in time.
It is akin to a real-time bank statement that gives you your running balance.
So, download these free checkbook register templates and maintain a transparent record of your business transactions. They will serve your purpose in much better way than you ever expect also. The best thing about these templates is that they are available free of cost and they are editable also.
Functions of a checkbook register
Primary Functions
Checkbook registers are primarily used to keep track of checking account transactions as they are often provided by banks. However, online selection of checkbook registers templates is free and unlimited. They are available in a variety of user-friendly formats like MS Word, MS Excel and PDF for your convenience and serve the following purposes:
Checkbook registers give you a clear idea of your running account balance so that you can build a budget with a clear idea of how much you can afford to spend.
It saves you the trouble of constantly checking your account balance or waiting for your monthly bank statement.
They help prevent bounced cheques as you will know whether you have enough money in the account to ensure that the cheque clears.
It helps you audit your finances for billing errors. Professional checkbook register excels template is perfect for such tabulation purposes.
You can easily spot fraudulent charges, bank errors, and even identity theft as you have a record of every genuine transaction made from your account.
At the end of the month, you can cross check your checkbook register with your bank statement in case of any errors.
Checkbook registers are absolutely essential if you share a bank account as it clearly accounts for every transaction.
Business Functions
Ready-made checkbook register templates available online are extremely versatile and easy to customize. They can be formatted and used for business purposes in the following ways:
Check registers are often favored by bookkeepers to account for small miscellaneous expenses. While large transactions go straight into company ledgers, small transactions can be grouped together and calculated in these registers before being transferred into the business ledger.
They may be used informally to keep track of running expenses, cheques and disbursements to avoid confusion.
Small businesses especially benefit from keeping detailed check registers as it keeps finances well organized. It takes just one glance to spot an erroneous double debit or to check the running balance before cutting a cheque to ensure that it does not bounce.
This record makes it easy to locate missing or inaccurate entries and incorrectly filled in cheques.
Other Functions
Now that you understand What is checkbook register you will find that these professional checkbook register templates may also be used as a financial ledger or a cash disbursements journal for personal expenses. They fulfill these functions:
A personal check register is a convenient way to track small daily expenses.
It can help you stick to a budget as it clearly accounts for every expenditure and your running balance.
This constant scrutiny makes you feel more accountable for your expenses and less likely to indulge in impulsive splurges.
It makes financial planning easier as you become aware of your spending habits and can make more accurate estimates about how much money you will need to cover upcoming expenses.
Keeping track of the specifics of small expenses makes it easier to cut corners as you understand the difference between necessities and desires.
It helps you track bills, EMIs, and other recurrent expenses. So that you are never inconvenienced by a late fee or the disruption of an important service like water, gas or electricity.
Online checkbook register excel template can also be used to keep track of your receipts for claims, reimbursements, and tax purposes.
Components of a checkbook register
Before you understand How to fill out a checkbook register, you need to understand the components of the checkbook register. While these pre-formatted checkbook register templates are completely customizable, they are available with the standard formatting of a checkbook register that includes these seven components in separate columns:
Date: This records the date of the transaction. So that you know when you made or received a payment.
Transaction code: This refers to the unique code allotted to every transaction. It may also refer to a cheque number.
Description: This will help you remember where you got money from and where you spent it. It helps you to avoid double payments and slip-ups in case you cannot remember whether or not you paid a particular bill.
Withdrawal: This column keeps track of all debits so you know how much money you have taken out of your account.
Deposit: These account for all credits to your account.
Balance: This will give you the running balance after every transaction so that you know exactly how much money you have available.
Checkbox: This is a small box that you can use as you reconcile your bank statements with your checkbook register at the end of every month.
Apart from these standard columns, you can customize these templates to incorporate other details like daily cash transactions and online bill payments. Professional checkbook register excel is designed to accommodate a variety of such customizations without a hitch.
How to fill out a checkbook register
Checkbook registers are simple organizing tools that are very easy to use. Just follow these simple steps to understand How to fill out a checkbook register:
Format
Check registers come with checkbooks and accounts; however, these are not customizable.
You may use the ones you get from the bank or construct your own check register on a blank sheet of paper or a spreadsheet.
You may also download ready-made checkbook templates for free to spare yourself the trouble of constructing your own spreadsheet.
Details
Once you've found or constructed a checkbook register that suits your purposes fill in all your details.
Ensure that you have separate columns for all your details otherwise, your register will become untidy and confusing.
Incorporate all the components of a standard checkbook register so that you have a framework. These are basic details that must be part of your checkbook register. You may add to it but that is the bare minimum information that you must have.
Fill in all the details of every transaction meticulously so that you don't miss out a transaction that can mess up your entire calculation.
Balance
Once you have filled in all your details, calculate your running balance.
Recalculate your current balance after every transaction so that it is always accurate.
Don't leave your calculations to the end of the month. It is easier to make mistakes with longer calculations. So make smaller calculations after every transaction.
The most important point of maintaining a checkbook register is to keep track of your running balance. So if you don't calculate your current balance after every transaction and instead do it at the end of the month, it defeats its purpose.
Reconcile your checkbook register with your bank statement at the end of the month to crosscheck the accuracy of both financial records.
How to balance a checkbook
Now that you know How to fill out a checkbook register use the following tips to understand How to balance a checkbook accurately every time:
Ensure you have recorded every transaction. Include cash transactions, ATM withdrawals, online payments, debit card payments, bank fees, EMIs and every other small detail you can think of. Don't forget to account for any debts, dues or interest.
Use these online Printable check register template to keep track of your transactions or make your check register.
Label all transactions in your checkbook register so that you can clearly identify the source of the income or expenditure.
Calculate your new running balance after every transaction.
Understand the maths. The current balance after your last transaction is the opening balance before your next.
All deposits are credits and all withdrawals are debits. So you must subtract your debits from your opening balance and add your credits to it in order to calculate your current balance.
At the end of each transaction, your credits must exceed your debits. If they don't, recheck your calculation for errors.
As a general rule, always recheck your calculations when you balance your checkbook.
Remember to add any interest you have earned from the bank and subtract any bank fees like ATM charges.
Keep tabs on cheques that haven't been cleared or any cheques that you have not encashed as they will not appear on your bank statement. This often happens with post-dated cheques.
Keep an eye out for missing transactions and incorrect transaction codes. Tick off your transactions at the end of the month once you have reconciled them with your bank statement.
Keep these detailed instructions in mind so you never have to worry about filling out your checkbook register again. Just download professional free and easy to use checkbook register templates today! So what are you waiting for?