Home

>

Income Statement Form
Income Statement Form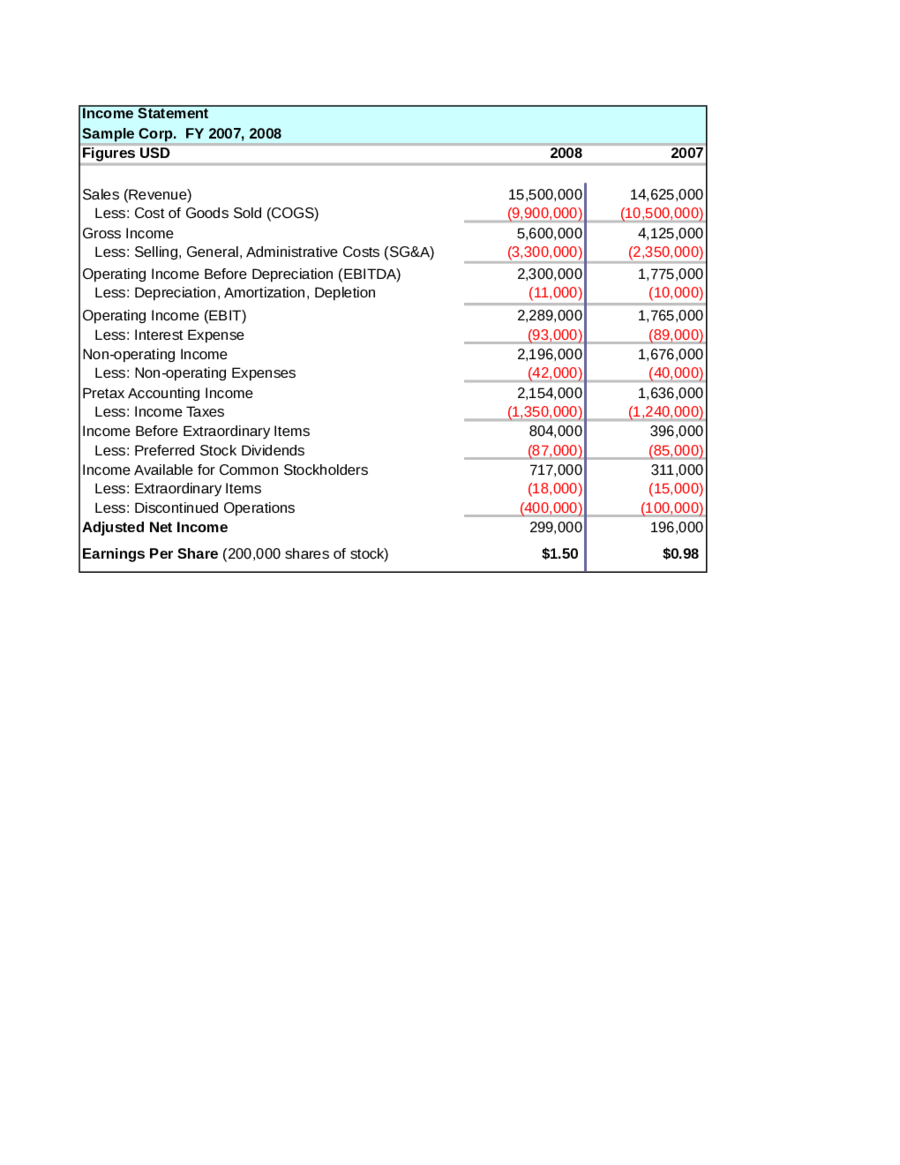 What is an income statement?
The progress of any business depends on the fine evaluation and distribution of monetary assets. Incomes and expenditures of a company are vital in understanding profit or loss of a company. Hence, income statements are formulated in order to track the cash flow and create decisive plans for the progress of a business. It is also known as profit and loss account, revenue statements, earning statements and operating statements. Keep in mind that an income statement is only part of a company's financial statement. Hence, with income statement template you can easily avail it as per your requirements.
Understanding the concept
First, it is essential to understand the definition of a financial statement. This is defined by its various subsections, as follows:
The assets, owner equities and liabilities of a company at a particular time are displayed on what is known as a balance sheet.
The equity or retained earnings of a given period of time is provided on a statement of retained earnings or statement of changes in equity.
A business's cash flow statements provide a view of the various investments and activities that they are involved in.
Finally, you have income statements. These describe the revenue, expenses, profit and loss over a given span of time. It is inclusive of the net income or bottom line, the revenues or top line, and write offs.
If you're looking for an income statement example, there are varieties online. Finding a quick and easy process is simple these days! All you have to do is to download a template  and customize it as per your wish!
Subtopics
An income statement itself is composed of various subsections. These are:
Total Revenues: This includes all the cash the company has received.
Total Expenses: This includes all the money the company has spent.
Net Income: This is the profit or loss that a business experiences when the total expense is subtracted from the total revenue.
Importance
The importance of an income statement is simple: it is the most prioritized aspect in the decision making process of any firm. It assists in the estimation of costs. A corporation's decision, to spend more or less on specific areas of their organisation, or to create new plans of execution depends on the profit they make or loss they incur. It is necessary in order to stabilize or promote the organisation toward further development and profit making schemes. Using a template can greatly decrease the burden of formulating a statement regularly. One can simply select an income statement template online and download it whenever necessary.
How to make an income statement?
Income statements can be complicated or simple, but a lot of it depends on the size of the operating firm. According to the three sections of the statement, there are a variety of aspects that need to be taken into consideration. Below is the income statement format that should be followed during preparation.
Firstly, calculate your net sales. These sales do not include any discounts or credit card fees. In order to tabulate your net sales: subtract discounts, credit card fees, etc., from the total sales revenue.
Secondly, each company incurs an expense to develop goods. The cost of goods sold is an essential part that includes the cost of raw materials, work-in-process or labor charges, and an inventory for finished goods. This is under the overhead of operating expenses. Items included under expenses may comprise of advertising, banking services, insurance, interest, salaries, rent, office expenses etc.
The final component is the net amount. This is simple; it is the difference between the revenue and expense. It could be a profit or loss for the company, but the point of calculating it is to determine where your firm stands on the market scale.
Apart from this, each statement should have a clearly printed, date, month, and year, inclusive of the company name, department, or any other necessary information that would be required for log or estimation purposes. Having a detailed idea of how to make an income statement with the help of an income statement template will make bookkeeping much simpler.
The use of personal financial statements
Using a personal financial statement template can turn your life around! Keeping a track of income and expenditures is not always an easy task. However, making a daily log of income and expenditures will help in cutting down on avoidable overheads or spending. You can download a template that will help ease the process if tracking daily monetary habits. The income statement format remains the same for business, as well as, individual needs.
Track both large and small expenses.
Update the log regularly so that there is no discrepancy in information noted.
Try to change the way you spend money in the following weeks or months.
Change habits to benefit your financial need.
Look up personal income statement template so that you have an idea of what is required.
Progress from smaller financial goals to bigger ones.
Remain flexible; set apart funds for unexpected situations.
Assists in budgeting and tracking investments of one's own, as well as, business investments.
What is a balance sheet?
A balance sheet describes the financial position of a business, firm or organisation during a specific time period. Usually compiled at the end of the year, a balance sheet template includes sections for equities, liabilities and assets. Templates are easily understood and even easier to use. Having a balance sheet is essential, so download one now to help your business grow.
Balance sheet: Importance
The financial status of a company at the end of the year.
Aids in analysis of company assets and liabilities.
Assessing whether the current capital is enough to sustain business operations.
Calculate the value of your corporation via a balance sheet.
It contains the value of retained earnings that consequentially offers investors an overview of the interest they are likely to receive.
Balance sheets are created in the same style of the income statement format. It also serves, relatively, the same purposes. This type of sheet is not solely meant for big firms, but can also be used for personal finance purposes and for efficient operation of small businesses. Because of their usefulness, it is wise to download and buy a template for quick and effortless calculation of finances.
Balance sheet: Limitations
While being exceptionally useful, balance sheets also have three specific limitations. They are as follows:
Only assets that have been acquired via transactions are calculated. Thus, assets that may bring in large revenues for companies may go unrecorded simply because they have not been purchased from another company. For example, an internet business is set up but since it has not been purchased from anyone else, the funds that could amount to nothing or a major part of the income can go completely unstated in balance sheets.
Any variety of the balance sheet template can exclude labor assets of the company like content writers or web content creators. Thus, human resources are generally unaccounted for because they have not been 'acquired' through any transaction. This also includes variables like effective marketing and advertising, demand for services and goods that all inadvertently affect cash flows of the company, including profits.
There is no area for inclusion of assets that have increased in value over time. This obviously includes land and building values that companies own. They are reported on the balance sheet at lower amounts than their actual values. All limitations need separate calculation in order to formulate accurate incomes.
What are cash flows?
The calculation of expenditure that is expected in the future is known as a cash flow. This is a rather narrow definition of the term. That being said, it serves many purposes that are listed below. They involve three basic elements, that is, interest rate, liquidity and value. It is important to understand that cash flow is not always in one's control; this is why you need to prepare yourself and your business for unforeseen expenses. A cash flow statement template is meant for exactly this purpose. Precaution is always better than cure; hence, setting aside of funds for any unexpected turn of events can prove to be extremely useful in the future.
Cash flow: Importance
A cash flow can be exceptionally beneficial in terms of calculating the value of a company. Understanding a cash flow can be done via a cash flow template. Do not worry about the format or creating one from scratch when you can download them online! Necessities of cash flow statements are listed below:
Profit received from an investment is also known as returns. Rate of returns are calculated in cash flows in order to evaluate values of a company. They are calculated via net present values and internal rates of return.
Liquidity usually refers to a debtor's ability in successfully paying debts. A cash flow helps to determine this variable as close as possible in reference to future liabilities. These are usually short term debts that are easier to formulate and estimate in any declaration of finances.
Cash flows can be used in place of accrual accounting. Accrual accounting is adding together various interests or varieties of investments from different accounts like accounts payable, goodwill, future interests, tax liabilities and accounts receivable. These accounts do not necessarily present a realistic overview of the firm. Hence, cash flows are used for more specific deliberation.
Every company must take certain financial risks in order to progress. Through risks businesses may determine where their strengths and weaknesses lie. These risks can be calculated with assistance from any cash flow statement template.
Cash Flow: Problems
While any cash flow template will help in the estimation of accounts, liabilities, assets, etc., they do not serve to alleviate problems related with cash flows. As with the calculation of any future expenses, profits and investments, it is not easy to reach definite answers. Variables are constantly present that could change courses related to expected outcomes.
Reaching overdraft limits
Absence of a capital buffer or secondary capital option or hedge fund
Taxation, rent and trade creditor arrears
No profit due to managers lack of due diligence
Too many losses
Inability to avail any required expert business advice
In order to cope with problems and not hinder any progress, ready to use templates are ideal. You can customize them as per your requirements whenever necessary.
The importance of templates
While searching for how to make an income statement example, getting overwhelmed by various methods is possible. Here is why you should opt for templates:
They are tailor made for your requirements.
Downloading them is simple and easy.
Efficiently execute any financial plan.
Need certain specifications? You can customize accordingly.
Build your own template from scratch with options at your fingertips.
Carry it around on any device; never forget another income statement presentation at home!
Edit and re-edit templates without hassle.
Use them as per your convenience.