Home

>

Menu Template
Menu Template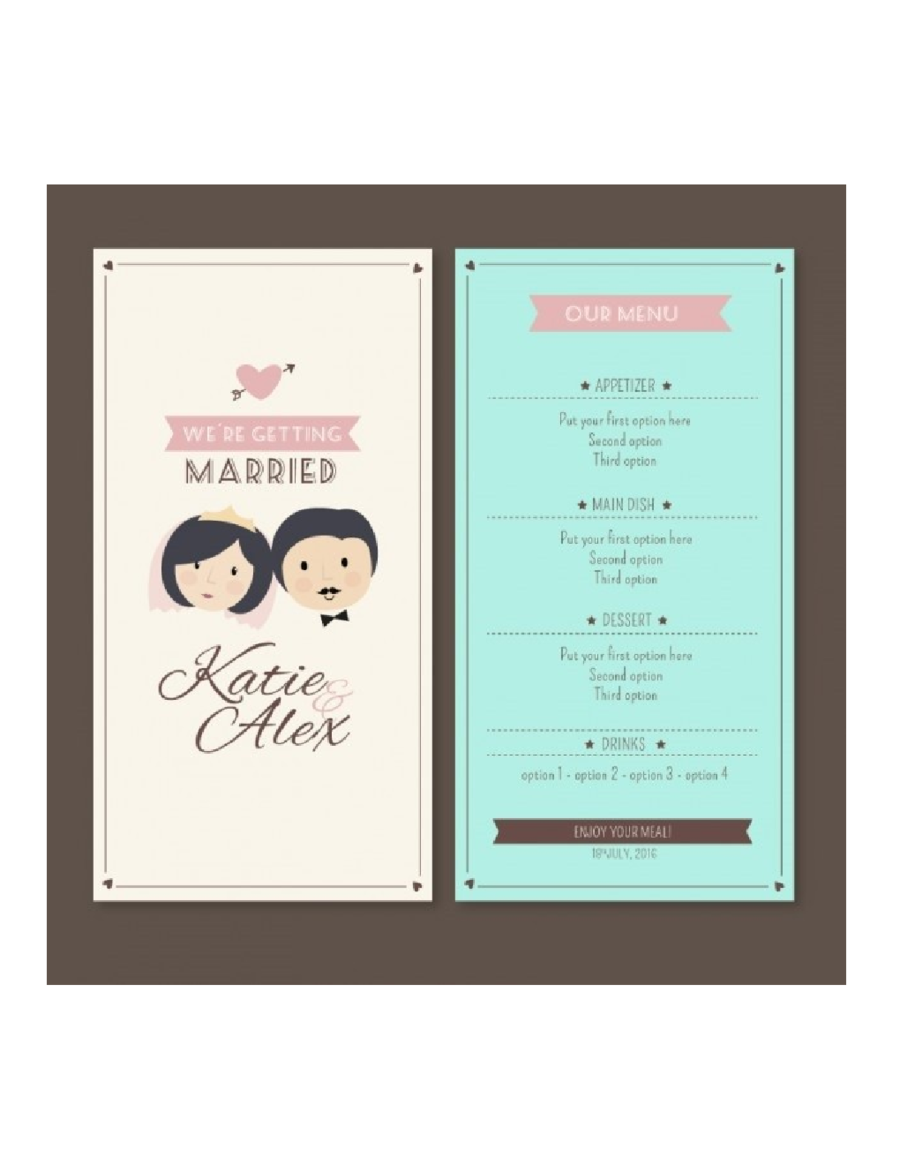 What is Menu Planning?
Menu Planning is one of the easiest ways to save time and money without compromising on the quality of your meals at home. It is simple method that can help you optimize your resources with the help of a simple planner that you may design by yourself or download a menu template for.
Why is Menu Planning important?
In this age of busy work schedules it is easy to lose track of your health. Planning and cooking healthy meals everyday is a tall order especially when you have to decide what you want to eat, go buy the necessary ingredients and then spend two hours cooking. Instead it often seems more convenient to order take out. This is when Menu Planning helps save the day.With the help of a Weekly menu template you may plan your menu for an entire week, stock up on your ingredients, prep time-consuming elements during the weekend and simply throw everything together when you want to eat. Knowing what you're going to be cooking and having most elements of the dish already prepped, cuts down your cooking time by more than half and by the end of it you aren't even drained by the effort.
Benefits of Menu Planning
 Saves Money:A set menu plan ensures that you buy exactly what you need. This cuts down on impulsive spending. Further if you're using this Weekly or Monthly menu template you also buy in bulk which is a lot cheaper than buying at retail prices.
Saves Time:Thin ensures that you don't waste time every morning and every night trying to come up with a tasty but nutritious meal for you and your family. Even if you're eating alone, a plan like this minimizes the amount of time you spend rummaging through your freezer to see what you can rustle up with a motley combination of ill chosen ingredients.
 More Healthy:If you use Dinner menu template to plan your meals you will find that planned meals tend to be healthier and well balanced when compared to spur of the moment quick fix dinners that are usually meals of convenience. With your prep done in advance you will be more likely to incorporate a healthy salad into your dinner menu.
Simple Tips for Good Menu Planning
Make the most of special sales and offers.
Find ways to incorporate leftovers into meals by reinventing them and preventing wastage.
Buy in bulk.
Cut out impulsive buys. Shop strictly from a shopping list.
Give yourself and your family a treat once a week with a special dinner.
Don't lose hope if some recipes don't work out.
Don't give up if you deviate from the plan by mistake. Keep at it until you get used to it.
Give yourself room to be flexible in case of an unexpected guest for dinner, a kitchen disaster or if the supermarket somehow runs out of an ingredient you need.
Repeat successful menu plans.
Shop seasonal.
Think long term and move to a monthly plan as soon as you get used to a weekly plan as longer plans help you maximize your savings.
What is a Menu Template?
A Menu Template is a great way to organize your menu plans for personal and professional purposes. While you may construct your own menu plan, a template is by far an easier option. It helps you construct neat tables, lists and charts so that you never have to sit and think about what to cook again.There is no concrete answer to the question "What is a Menu template?" A Menu Template is a versatile organizing tool that can help home cooks plan meals with a Monthly menu template, it can be used for special occasions like weddings and birthdays to come up with a party menu plan with the help of a Wedding menu template or a Birthday menu template or they may also be utilized by professionals to help plan their catering menus or restaurant menus with the help of a Restaurant menu template.
What is the purpose of a Menu Template?
Menu Templates serve a variety of purposes depending upon the kind of Menu you are planning. However no matter what menu kind of menu you need to plan, this versatile tool will help you organize and tabulate the smallest details in order to make it neat and easily accessible.Now that you understand "What is a Menu Template?" you may use them for the following purposes:
Menu Templates for Domestic Everyday Purposes
Menu Templates are a blessing for every home cook. Regardless of your work schedule, these templates are the perfect planners for everyday meals at home.
Instead of going to the market every day and labouring over the fire for hours to make dinner every night, you can plan ahead. Start small with our Weekly menu template and plan your meals for the rest of the week in advance.
You may use these templates to keep track of seasonal produce, sales and offers, coupons and schemes to help you stretch your budget.
Plan your menu with these in mind so that you incorporate affordable seasonal produce into it.
Use a template to help you organize and budget for a shopping list for all your ingredients.
Keep adjusting your Weekly menu template with each successive meal to include any leftovers in the fridge.
Plan your meals around your schedules so that you don't get stuck trying to cook an elaborate meatloaf after a long day at work. Keep it simple on work nights when you know you'll be tired.
Prep for your dishes beforehand. You may do it over the weekend or the night before to avoid the early morning rush to get into work on time.
Keep track of successful recipes that you may incorporate into your monthly menu plan once you're a little more comfortable with the set up. Try this Monthly menu template for a more intensive menu plan.
Menu Templates for Special Occasions
Menu Templates are an essential tool when planning a party. It is the only way to estimate budgets and quantities accurately without unnecessary wastage or embarrassing shortages. Here is variety of party templates on offer to cater to your every need.
The Wedding menu template is the perfect tool to sort out your wedding buffet woes.
Wedding planning is stressful in general but planning a wedding menu is a lot simpler if you calmly and efficiently organize your food requirements into the template.
Begin by sorting out your food budget and head count. Decide on whether you intend to have a buffet or an a la carte service.
Templates will even save you the trouble of designing your printable menus. Here is a host of elegant design templates for you to choose from.
From casual, fun, flirty, chic, elegant, minimalist to decadent and intricate, having a detailed and easily customizable Wedding menu template for every kind of wedding.
You may use here's Dinner menu template if you're hosting a dinner party or a small get-together at home.
These templates will help you organize budgets, ingredients, guest preferences, shopping lists and special recipes effortlessly.
You may use your template to keep track of any special food preferences like vegetarians and vegans or medical conditions like food allergies or lactose intolerance.
Menu Templates for Professional Purposes
The menu templates are also extremely popular with catering companies, food festivals, food trucks, pop-up restaurants and even regular diners and restaurants.
Numerous professional establishments favour variety of Restaurant menu templates.
You can use a Restaurant menu template to organize and come up with a menu plan for your restaurant according to your location, the nature of your clientele and the specialization of your staff.
You may also use you Restaurant menu template to simply arrange the items on your menu in a neat and aesthetically pleasing manner.
An attractive and clear menu is very appealing to customers and has a significant effect upon the number of food items they order.
By designing of choosing an enticingly well-designed menu template, you effectively increase your potential for revenue generation.
How to choose a Menu Template
While you may design and use your own Menu plan, here's Menu templates are highly recommended as they are specially designed by professional to cater to all your cataloguing needs. Just follow these simple steps to download your own Menu template:
Understand your needs
A Menu Template can serve two primary purposes. Ensure you pick the Menu Template that suits your purposes.
You may use it to tabulate and organize meal plans for specific occasions or over a period of time. In which case you need it primarily in its organizational capacity.
A Menu Template may also be used to display a pre-planned menu in an aesthetically pleasing manner for a special occasion or in a professional capacity at a restaurant or culinary event. In this case you need a menu template for its aesthetic presentation purposes.
Understand the occasion
It is offered a wide variety of Menu Templates to cater to different occasions.
For beginners, it's recommend the Weekly menu template for everyday use to help get you started.
Once you get used to menu planning and build up a small repertoire of recipes you may progress to more elaborate menu plans with this Monthly menu template.
For special occasions like dinner parties and weddings, there is a specifically formatted Dinner menu template and a Wedding menu template so that you are never at a loss.
For professional purposes, there is a Restaurant menu template that is available in a variety of elegant and attractive designs to augment your culinary ventures.
How to use a Menu Template
Once you have understood your requirements, choose the template that best suits your needs.
Select the format in which you wish to download the template.
These templates are available in MS Word, MS Excel and PDF formats for your convenience so choose formats that give you the maximum flexibility like the Menu template word.
Download the template.
Fill in your data.
Customize the template to your satisfaction.
Print and use.
Benefits of using Menu Templates
The templates are economical and value for money. You don't have to worry about any hidden costs.
They are formatted specifically to cater to your tabular needs.
They are extremely flexible and easy to customize to your exact specifications.
They are neat and user-friendly.
All templates are absolutely ready to use. They do not require any further formatting unless you wish to customize them.
They are available in a variety of elegant designs and formats to fulfill both your tabular as well as your aesthetic needs. They are effective and attractive.
They are available in MS Word, MS Excel and PDF for ease of use. For example, Menu template word format is the perfect option if you need maximum flexibility.
With all these tips in mind there is nothing that can hold you back from planning some fabulous menus with the help of these versatile menu templates. So download one today!