Fillable Printable College Acceptance Letter Sample
Fillable Printable College Acceptance Letter Sample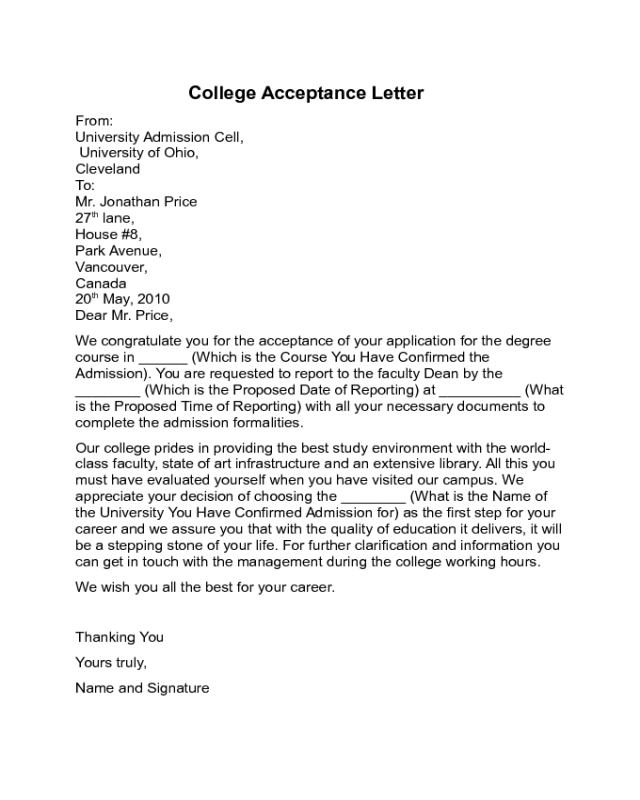 College Acceptance Letter Sample
College Acceptance Letter
From:
University Admission Cell,
University of Ohio,
Cleveland
To:
Mr. Jonathan Price
27
th
lane,
House #8,
Park Avenue,
Vancouver,
Canada
20
th
May, 2010
Dear Mr. Price,
We congratulate you for the acceptance of your application for the degree
course in ______ (Which is the Course You Have Confirmed the
Admission). You are requested to report to the faculty Dean by the
________ (Which is the Proposed Date of Reporting) at __________ (What
is the Proposed Time of Reporting) with all your necessary documents to
complete the admission formalities.
Our college prides in providing the best study environment with the world-
class faculty, state of art infrastructure and an extensive library. All this you
must have evaluated yourself when you have visited our campus. We
appreciate your decision of choosing the ________ (What is the Name of
the University You Have Confirmed Admission for) as the first step for your
career and we assure you that with the quality of education it delivers, it will
be a stepping stone of your life. For further clarification and information you
can get in touch with the management during the college working hours.
We wish you all the best for your career.
Thanking You
Yours truly,
Name and Signature