Fillable Printable Employment Acceptance Letter Example
Fillable Printable Employment Acceptance Letter Example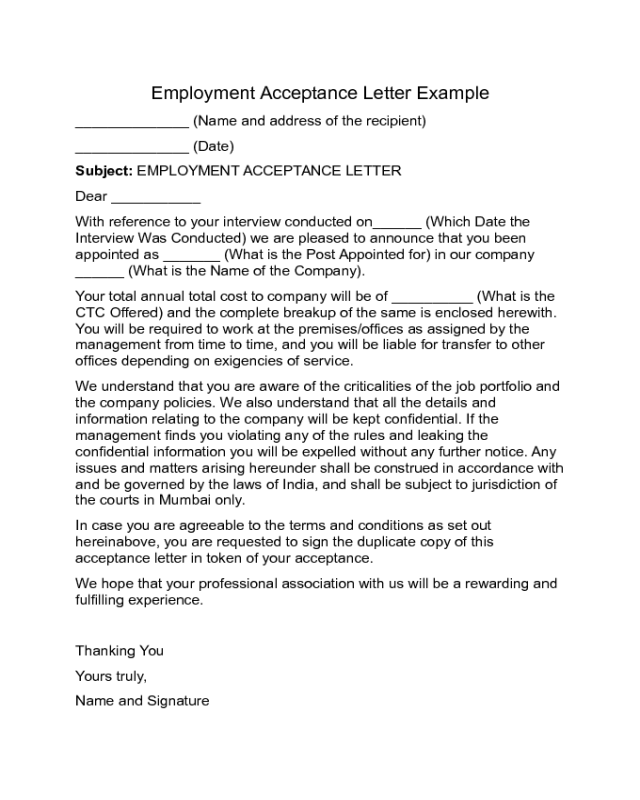 Employment Acceptance Letter Example
Employment Acceptance Letter Example
______________ (Name and address of the recipient)
______________ (Date)
Subject:
EMPLOYMENT ACCEPTANCE LETTER
Dear ___________
With reference to your interview conducted on______ (Which Date the
Interview Was Conducted) we are pleased to announce that you been
appointed as _______ (What is the Post Appointed for) in our company
______ (What is the Name of the Company).
Your total annual total cost to company will be of __________ (What is the
CTC Offered) and the complete breakup of the same is enclosed herewith.
You will be required to work at the premises/offices as assigned by the
management from time to time, and you will be liable for transfer to other
offices depending on exigencies of service.
We understand that you are aware of the criticalities of the job portfolio and
the company policies. We also understand that all the details and
information relating to the company will be kept confidential. If the
management finds you violating any of the rules and leaking the
confidential information you will be expelled without any further notice. Any
issues and matters arising hereunder shall be construed in accordance with
and be governed by the laws of India, and shall be subject to jurisdiction of
the courts in Mumbai only.
In case you are agreeable to the terms and conditions as set out
hereinabove, you are requested to sign the duplicate copy of this
acceptance letter in token of your acceptance.
We hope that your professional association with us will be a rewarding and
fulfilling experience.
Thanking You
Yours truly,
Name and Signature