Fillable Printable Costco Application Form
Fillable Printable Costco Application Form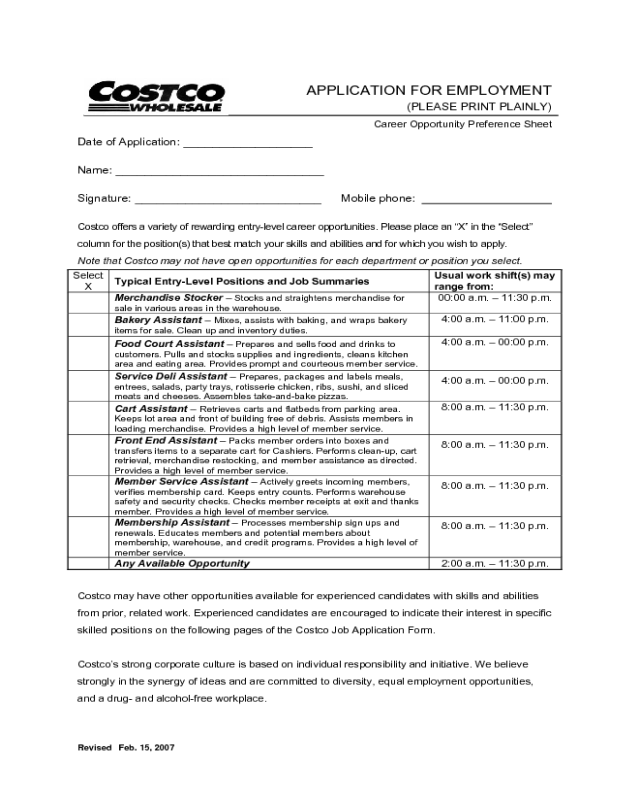 Costco Application Form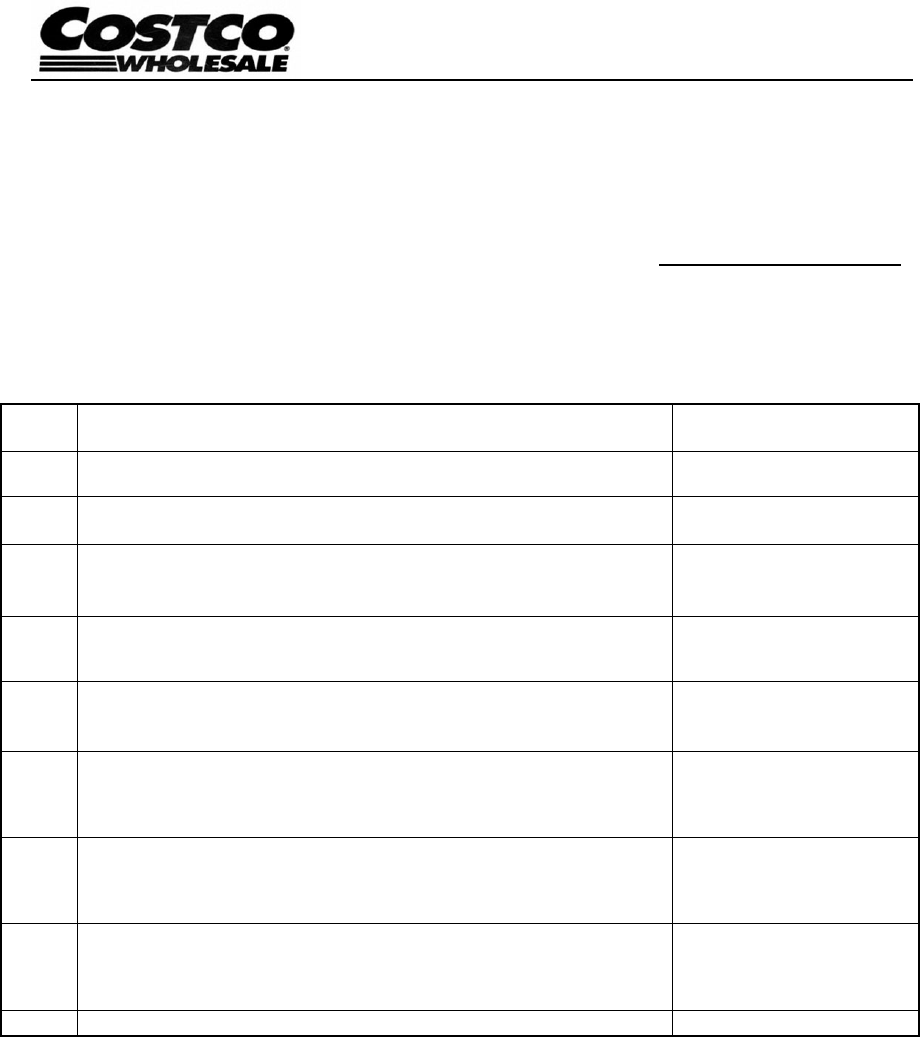 Revised Feb. 15, 2007
APPLICATION FOR EMPLOYMENT
Career Opportunity Preference Sheet
Date of Application:
__________________
Name:
_____________________________
Signature:
__________________________
Mobile phone:
Costco offers a variety of rewa rding entry-level care
er op portunities. Please place an "X" in the "Select"
column for the position(s) tha t best match your skills and abilities a nd for which you wish to apply.
Note that Costco may not have open o pportuniti
es for each department or position you select.
Select
Typical Entry-Level Positions and Jo b Summaries
Usual work shift(s) may
Merchandise Stocker
–

Stocks and straightens merchandise for
sale in various areas in the warehouse.
00:00 a.m. – 11:30 p.m.
Bakery Assistant
–

Mixes, assists with baking, and wraps bakery
items for sale. Clean up and inventory d uties.
4:00 a.m. – 11:00 p.m.
Food Court Assistan t
–

Prepares and sells food and d r inks to
customers. Pulls and stocks supplies and ingredients, cleans kitchen
area and eating area. Provides prompt and c ourteous member service.
4:00 a.m. – 00:00 p.m.
Service Deli Assistant
–

Prepares, packages and labels meals,
entrees, salads, party trays, rotisserie chicken, ribs, sushi, and slice d
meats and cheeses. Assembles take-and-bake pizzas.
4:00 a.m. – 00:00 p.m.
Cart Assistant
–

Retrieves carts and flatbeds from parking area.
Keeps lot area and front of building
free of debris. Assists members in
loading merchandise. Provides a high level of member service.
8:00 a.m. – 11:30 p.m.
Front End Assistant
–

Packs member orders into boxes and
transfers items to a separate cart fo
r Cashiers. Performs clean-up, cart
retrieval, merchandise restocking, an
d mem ber assistance as directed.
Provides a high level of member service.
8:00 a.m. – 11:30 p.m.
Member Service Assistant
–

Actively greets incoming members,
verifies membership card. Keeps entry counts . Performs warehouse
safety and security checks. Checks
member receipts at exit and thanks
member. Provides a high level of member se rvice.
8:00 a.m. – 11:30 p.m.
Membership Assistant
–

Processes membership sign ups and
renewals. Educates members and potential members about
membership, warehouse, and credit programs. Provides a high level of
8:00 a.m. – 11:30 p.m.
Any Available Opportunity
2:00 a.m. – 11:30 p.m.
Costco may have other opportunities available for
experienced candidates with skills and abilities
from prior, related work. Experi enced candidates are enc
ouraged to indicate their interest in specific
skilled positions on the following pages of the Costco Job Application Form.
Costco's stro ng corporate culture is b ased on indi
vidual responsibility and initiative. We believe
strongly in the synergy of ideas and are committ
ed to diversity, equal employment opportunities,
and a drug- and alcohol-free workplace.

Revised Feb. 15, 2007
APPLICATION FOR EMPLOYMENT
Employee Commitment
COSTCO WHOLESALE IS COMM
ITTED TO EXCELLENCE IN
MEMBER SERVICE. OUR EMPLOYEES REFLECT THIS
•
We believe that Costco Wholesale pr

ovides a great shopping experience and
is fun for our members and our employees.
•
We believe that if you don't want to

do your best, Costco Wholesale is not the
place for you.
•
We believe in hiring individuals with

a high energy level and a positive attitude.
•
We believe that our employees ar

e the best in the retail industry.
•
We believe in recognizing and reward

ing positive behavior and performance.
•
We insist on courteous, friendly a

nd responsible behavior and performance.
•
We believe "good enough" isn't.
•
We believe in helping you achieve

your personal and professional goals and
are committed to promoting our s
upervisory and management positions
primarily from within the company.
•
We take pride in the appearance of

our employees and have established
grooming standards and dress codes
to ensure the maintenance of a
professional image.
•
We pride ourselves on our safe working environment and have safety policies,
which include substance abuse testing
(when appropriate under

state statutes)
that protect every employee.
•
We do perform previous employer reference checks and background checks,
when appropriate under
state statutes.
•
We offer the best compensation

and benefits package in the industry.
•
We want you to work hard and have fun!
If this sounds like the environment
for you, please fill out the
application form on the following pages!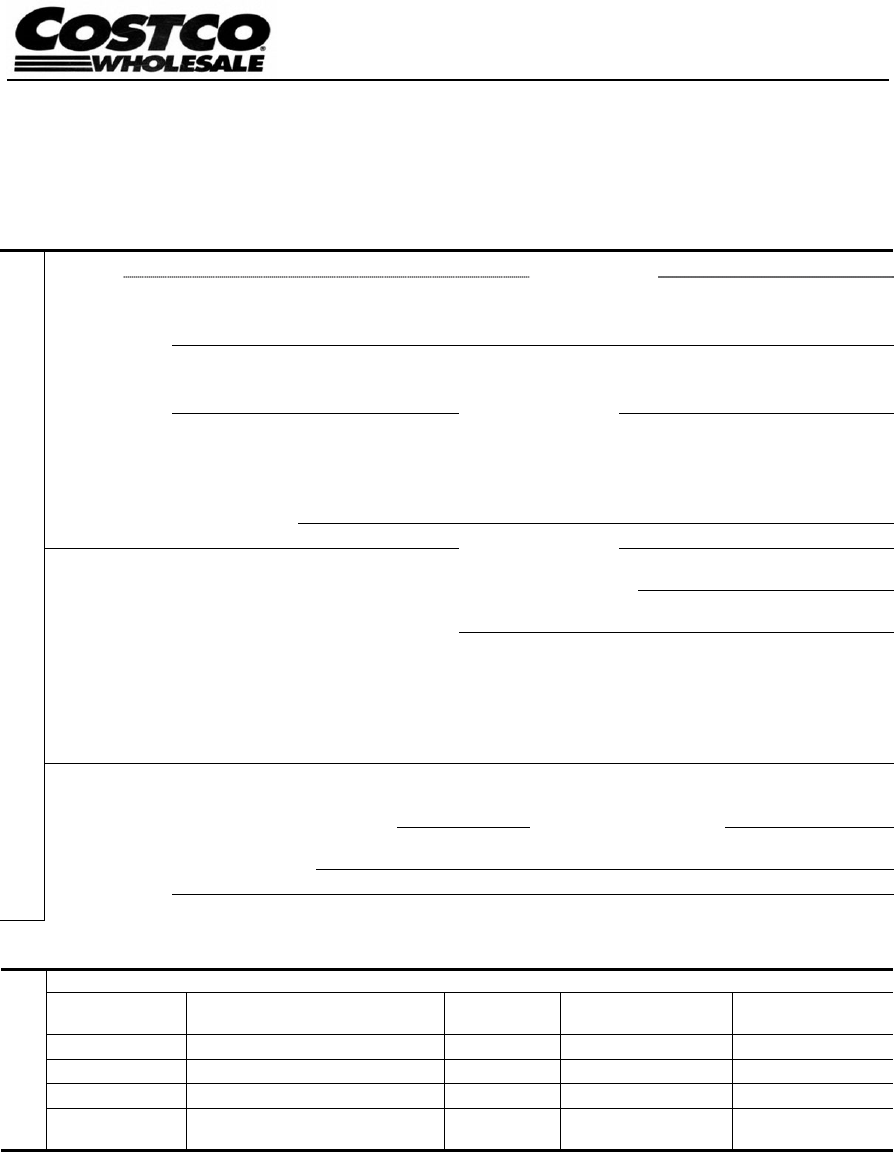 Revised Feb. 15, 2007
APPLICATION FOR EMPLOYMENT
Please print plainly
Costco Wholesale provides equal opportunity in
all areas of employment and does not discriminate
against any individual regardless of race, color, re
ligion, sex, age, disability, sexual orientation,
veteran status, national origin, or other protected classes under Korean
law.
LAST FIRST MIDDLE INITIAL
CURRENT
ADDRESS
NUMBER/STREET CITY STATE ZIP
HOME
PHONE NO.
WORK PHONE
NO.
ARE YOU AGE
18 OR OVER?
YES

NO

ARE YOU LEGALLY ABLE TO WORK
IN THIS COUNTRY?
POSITION OR TYPE OF
EMPLOYMENT DESIRED
WAGE DESIRED
AVAILABLE
FOR
NAMES OF RELATIVES EMPLOYED BY THIS
COMPANY
HAVE YOU EVER BEEN EMPLOYED BY OR
APPLIED FOR EMPLOYMENT WITH THIS
INDICATE COSTCO LOCATION WHERE EMPL
OYED AND DATES OF EMPLOYMENT OR
LOCATION AND DATE OF APPLICATION
INDICATE HOW YOU LEARNED OF THIS OPENING, PLEASE CHECK ONE:
ACCORD
AGENCY (NAME
OF AGENCY)
(NAME OF EMPLOYEE)
PERSONAL
UNDER WHAT NAME (S) WILL YOUR SCHOOL
OR COLLEGE TRANSCRIPTS BE LISTED?
TYPE OF
SCHOOL
SCHOOL NAME AND
ADDRESS
MAJOR
SUBJECT
CIRCLE LAST YR
COMPLETED
IF GRADUATED,
GIVE DEGREE
UNIVERSITY
EDUCATION
GRADUATE
SCHOOL

Revised Feb. 15, 2007
WHAT MACHINES OR EQUIPMENT CAN YOU OPERATE?

FORKLIFT



PALLET JACK



ELEC. PALLET JACK

CASH REGISTER



AS400 / I-SERIES



PC – WORD



PC – EXCEL

FOOD PREP EQUIP

 TIRE SHOP EQUIP

 1 HR PHOTO EQUIP

 COMM. MEAT DEPT EQUIP
CURRENT STATE OCCUPATIONAL
SKILLS/TRAINING
PLEASE LIST YOUR EMPLOYERS
FROM THE LAST 10 YEARS
PRESENT OR LAST
NEXT TO LAST
SECOND FROM
THIRD FROM LAST
PHONE NUMBER
KIND OF WORK / JOB
WAGE – START / LAST
NAME OF
REFERENCE PHONE #
WORK HISTORY
Please use additional sheets if necessary. You may also be asked to provi de additional work history.
Read carefully the following statement and agreement before signing the application.
1.
I certify that the information contained in this application is correct to the best of my
knowledge and that any material misrepresentation(s) and/or omission(s) on this application
or in any written or oral statement used to secure my employment is/are grounds for dismissal
from the employ of Costco Wholesale if I am hired or rejection of my application for
employment, regardless of the time elapsed before discovery.
2.
I authorize Costco Wholesale to investigate my references and other information about me,
and I authorize my former employers and any other persons or organizations to provide any
accurate information they have about my background. I release Costco and all other persons
and entities from any claim arising out of the investigation or disclosure.
3.
I understand that Costco Wholesale policy prohibits an employee under the influence of
intoxicants or controlled substances from working, and that testing may be required of an
employee reasonably suspected to be under the influence, or who is involved in or who
contributed to an accident involving injury or harm to individuals, property or equipment
(except where prohibited by law).
4.
I understand that there will be a probationary period at the beginning of my employment.
PLEASE READ CAREFULLY