Fillable Printable Farewell Letter to a Girlfriend Sample
Fillable Printable Farewell Letter to a Girlfriend Sample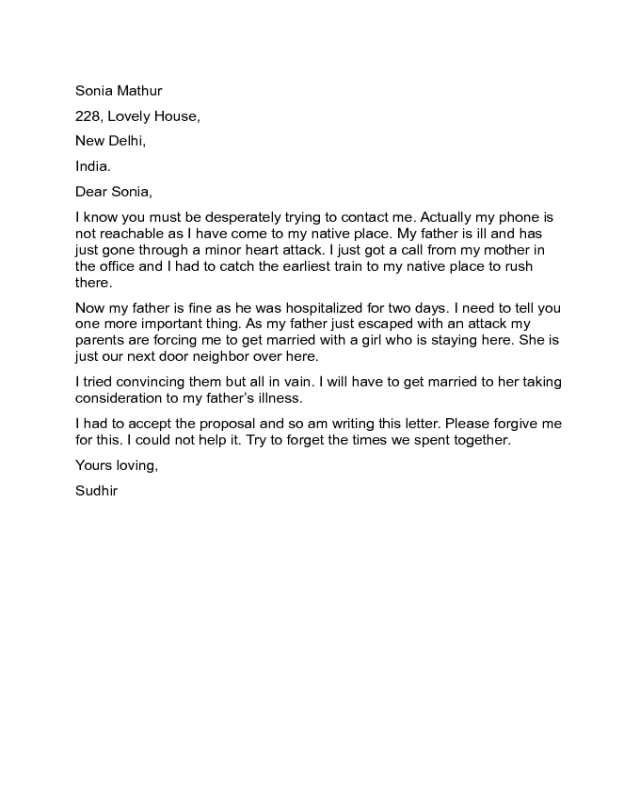 Farewell Letter to a Girlfriend Sample
Sonia Mathur
228, Lovely House,
New Delhi,
India.
Dear Sonia,
I know you must be desperately trying to contact me. Actually my phone is
not reachable as I have come to my native place. My father is ill and has
just gone through a minor heart attack. I just got a call from my mother in
the office and I had to catch the earliest train to my native place to rush
there.
Now my father is fine as he was hospitalized for two days. I need to tell you
one more important thing. As my father just escaped with an attack my
parents are forcing me to get married with a girl who is staying here. She is
just our next door neighbor over here.
I tried convincing them but all in vain. I will have to get married to her taking
consideration to my father's illness.
I had to accept the proposal and so am writing this letter. Please forgive me
for this. I could not help it. Try to forget the times we spent together.
Yours loving,
Sudhir