Fillable Printable Formal Letter Writing-LETTER OF WARNING TEMPLATE
Fillable Printable Formal Letter Writing-LETTER OF WARNING TEMPLATE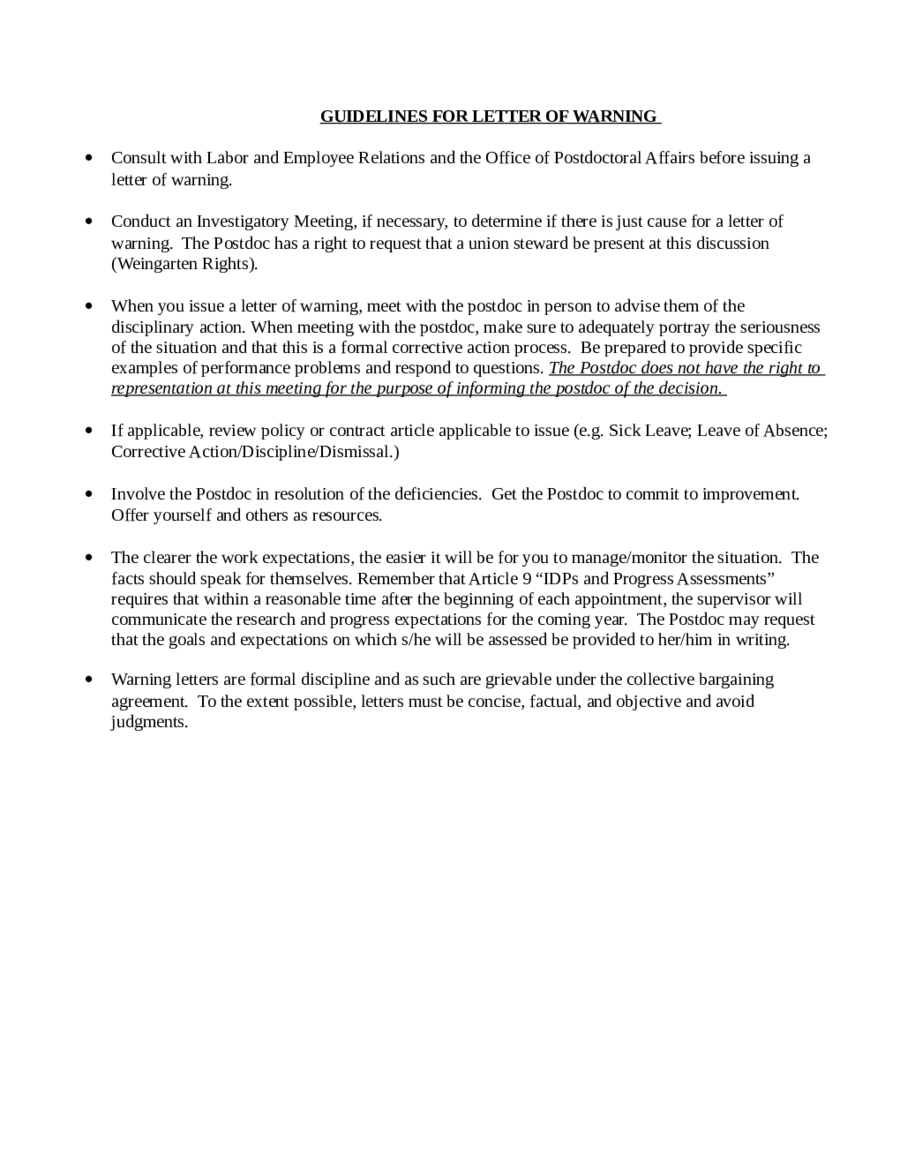 Formal Letter Writing-LETTER OF WARNING TEMPLATE

GUIDELINES
FOR LETTER OF WARNING

Consult with Labor and Employee Relations and the Office of Postdoctoral Affairs before issuing a
letter of warning.

Conduct an Investigatory Meeting, if necessary, to determine if there is just cause for a letter of
warning. The Postdoc has a right to request that a union steward be present at this discussion
(Weingarten Rights).

When you issue a letter of warning, meet with the postdoc in person to advise them of the
disciplinary action. When meeting with the postdoc, make sure to adequately portray the seriousness
of the situation and that this is a formal corrective action process. Be prepared to provide specific
examples of performance problems and respond to questions.
The Postdoc does not have the right to
representation at this meeting for the purpose of informing the postdoc of the decision.

If applicable, review policy or contract article applicable to issue (e.g. Sick Leave; Leave of Absence;
Corrective Action/Discipline/Dismissal.)

Involve the Postdoc in resolution of the deficiencies. Get the Postdoc to commit to improvement.
Offer yourself and others as resources.

The clearer the work expectations, the easier it will be for you to manage/monitor the situation. The
facts should speak for themselves. Remember that Article 9 "IDPs and Progress Assessments"
requires that within a reasonable time after the beginning of each appointment, the supervisor will
communicate the research and progress expectations for the coming year. The Postdoc may request
that the goals and expectations on which s/he will be assessed be provided to her/him in writing.

Warning letters are formal discipline and as such are grievable under the collective bargaining
agreement. To the extent possible, letters must be concise, factual, and objective and avoid
judgments.

LETTER OF WARNING TEMPLATE
Revised May 4, 2011
Date
Name of Postdoc
Street address
City, State, Zip
(Note: send via certified mail, return receipt requested)
Re: Letter of Warning
Dear Dr. ___________,
This is a formal letter of warning, in accordance with the 2010-2015 UC-UAW Collective
Bargaining Agreement for Postdoctoral Scholars, pertaining to your work performance [
OR
MISCONDUCT
] in my laboratory. We met on [
DATE
] to discuss these issues. Specifically, I am
concerned about the following:
[CLEARLY

ITEMIZE

THE

NATURE

OF

THE

INADEQUATE

WORK
PERFORMANCE
OR
MISCONDUCT
AS
WELL
AS
YOUR
EXPECTATIONS
FOR
WHAT
SHOULD
HAVE
To remedy these serious problems, I am proposing the following steps, which should ensure
that the continuation of your postdoctoral appointment is smooth and successful. [
LIST
STEPS
AND
DEADLINES
,
IF
APPLICABLE
]
The projects assigned to you are: [
LIST
SPECIFIC
PROJECTS
AND
TIMELINE

]
In addition, you will be expected to adhere to the following conditions: [
LIST
SPECIFIC
CONDITIONS
SUCH
AS
REPORTING
TO
WORK
FOR
CERTAIN
HOURS
;
CALLING
IN
WHEN
NOT
ABLE
TO
COME
TO
WORK
,
ETC
. A

LSO

BE

CLEAR

AS

TO

THE

TIMELINE

FOR

MEETING

THESE
The University takes your postdoctoral training very seriously. Therefore this action plan is a
condition of your continued employment and it is your responsibility to make certain that all
necessary actions are taken to ensure that you are able, now and in the future, to conform to
University performance expectations. Failure to meet these requirements will result in further
disciplinary action, up to and including dismissal from the training program and the University.
If you have any questions concerning this letter or the above-outlined action plan, please
feel free to discuss them with me. You may also consult with [
NAME
AND
TITLE

OF
POSTDOC
ADMINISTRATOR
], at [
PHONE
] or [
EMAIL
].
Sincerely,
Name of PI

*UC-UAW Collective Bargaining Agreement:
http://atyourservice.ucop.edu/employees/policies_employee_labor_relations/collective_bargaining_units/post_docs/agreement
.html