Fillable Printable Letter to a Friend Who Is Hospitalized Sample
Fillable Printable Letter to a Friend Who Is Hospitalized Sample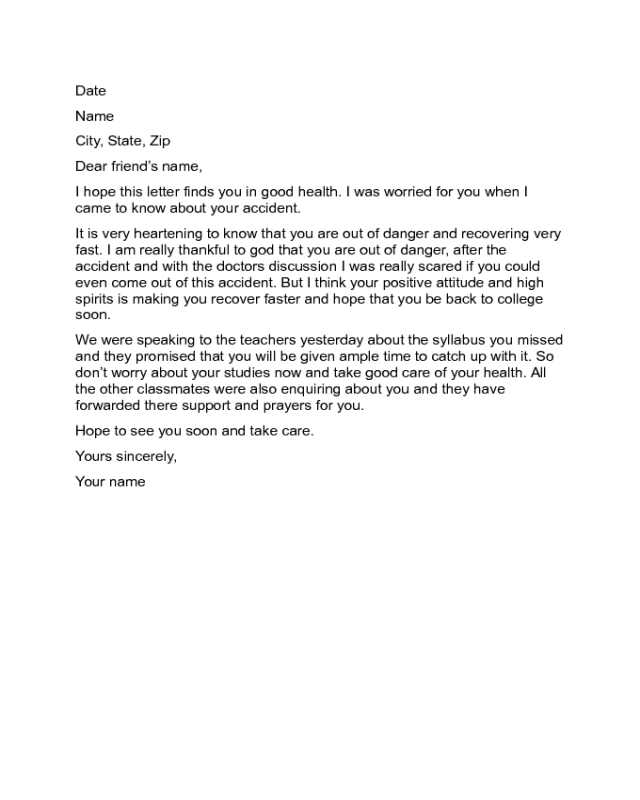 Letter to a Friend Who Is Hospitalized Sample
Date
Name
City, State, Zip
Dear friend's name,
I hope this letter finds you in good health. I was worried for you when I
came to know about your accident.
It is very heartening to know that you are out of danger and recovering very
fast. I am really thankful to god that you are out of danger, after the
accident and with the doctors discussion I was really scared if you could
even come out of this accident. But I think your positive attitude and high
spirits is making you recover faster and hope that you be back to college
soon.
We were speaking to the teachers yesterday about the syllabus you missed
and they promised that you will be given ample time to catch up with it. So
don't worry about your studies now and take good care of your health. All
the other classmates were also enquiring about you and they have
forwarded there support and prayers for you.
Hope to see you soon and take care.
Yours sincerely,
Your name