Fillable Printable GameStop Application Form
Fillable Printable GameStop Application Form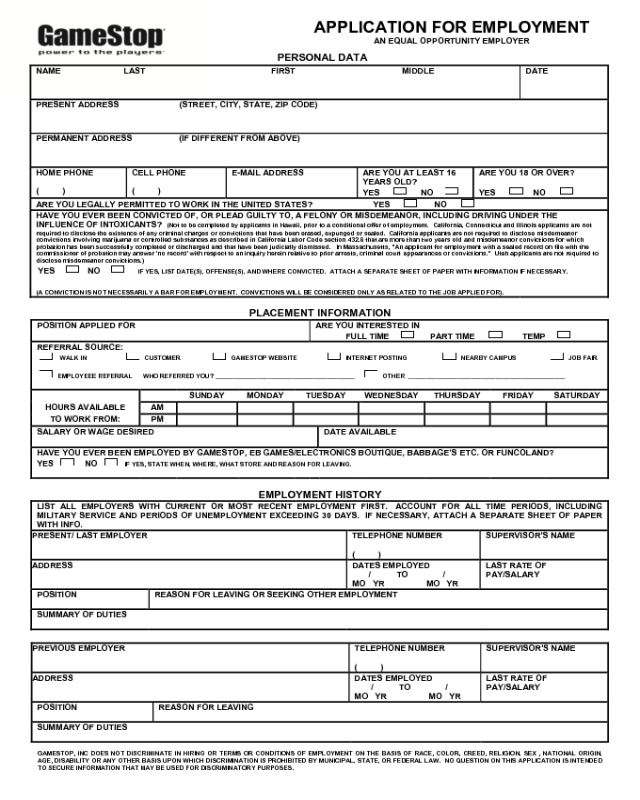 GameStop Application Form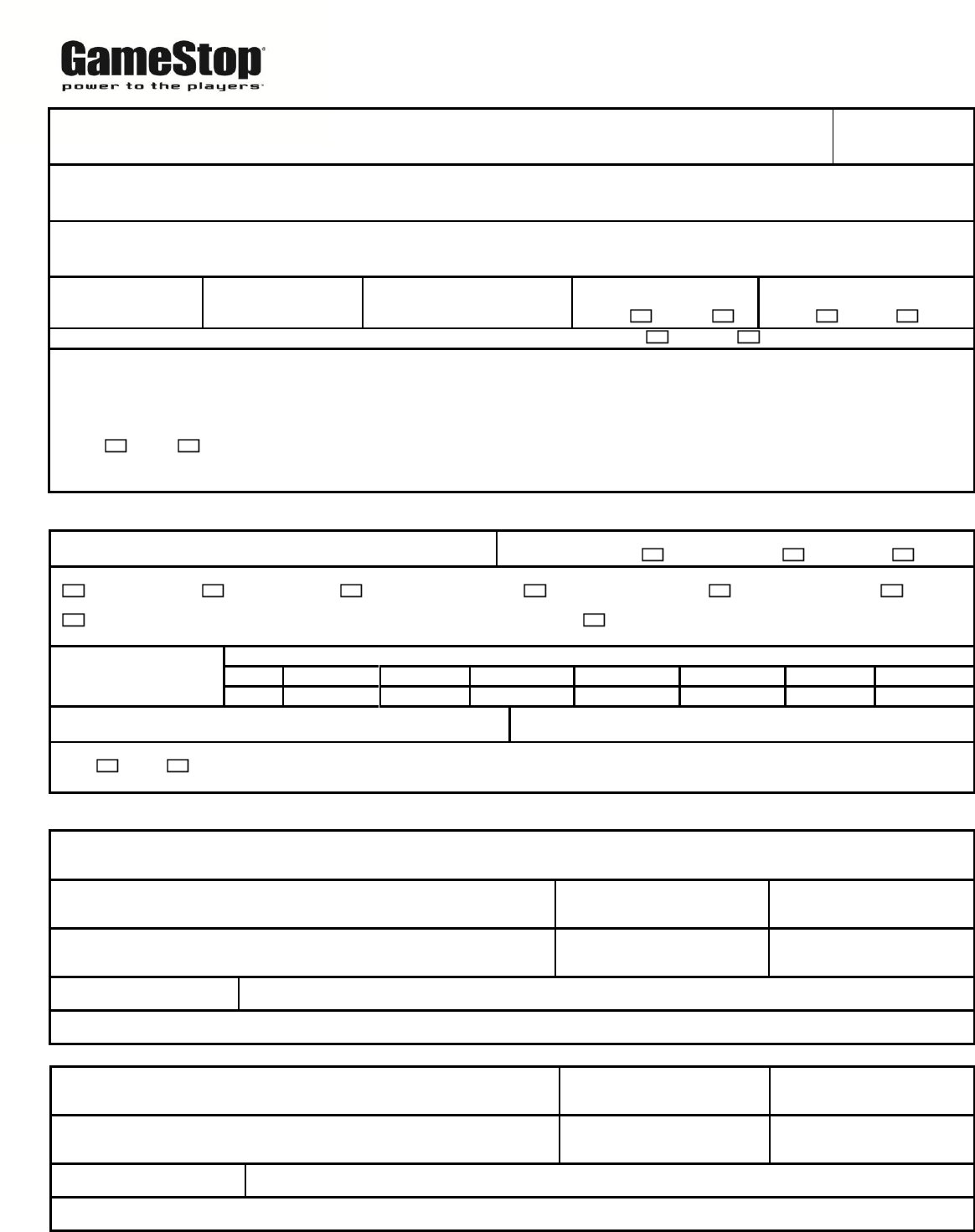 APPLICATION FOR EMPLOYMENT
AN EQUAL OPPORTUNITY EMPLOYER
PRESENT ADDRESS (STREET, CITY, STATE, ZIP CODE)
PERMANENT ADDRESS (IF DIFFERENT FROM ABOVE)
ARE YOU AT LEAST 16
YEARS OLD?
ARE YOU LEGALLY PERMITTED TO WORK IN THE UNITED STATES? YES
NO
HAVE YOU EVER BEEN CONVICTED OF, OR PLEAD GUILTY TO, A FELONY OR MISDEMEANOR, INCLUDING DRIVING UNDER THE
INFLUENCE OF INTOXICANTS?
(Not to be completed by applicants in Hawaii, prior to a conditional offer of employment. California, Connecticut and Illinois applicants are not
required to disclose the existence of any criminal charges
or
convictions that have been erased, expunged or sealed. California applicants are not required to disclose misdemeanor
convictions involving marijuana or controlled substances as described in California Labor Code section 432.8 that are more than two years old and misdemeanor convictions for which
probation has been successfully completed or discharged and that have been judicially dismissed.
In Massachusetts, "An applicant for employment with a sealed record on file with the
commissioner of probation may answer 'no record' with respect to an inquiry herein relative to prior arrests, criminal court appearances or convictions."
Utah applicants are not required to
di
sclose misdemeanor convictions.)
YES
NO
IF YES, LIST DATE(S), OFFENSE(S), AND WHERE CONVICTED. ATTACH A SEPARATE SHEET OF PAPER WITH INFORMATION IF NECESSARY.
(A CONVICTION IS NOT NECESSARILY A BAR FOR EMPLOYMENT. CONVICTIONS WILL BE CONSIDERED ONLY AS RELATED TO THE JOB APPLIED FOR).
PLACEMENT INFORMATION
REFERRAL SOURCE:
WALK IN
CUSTOMER
GAMESTOP WEBSITE
INTERNET POSTING
NEARBY CAMPUS
JOB FAIR
EMPLOYEEE REFERRAL
WHO REFERRED YOU? ________________________________________
OTHER _____________________________________________
HAVE YOU EVER BEEN EMPLOYED BY GAMESTOP, EB GAMES/ELECTRONICS BOUTIQUE, BABBAGE'S
ETC. OR FUNCOLAND?
YES
NO
IF YES, STATE WHEN, WHERE, WHAT STORE AND REASON FOR LEAVING.
LIST
ALL
EMPLOYERS
WITH
CURRENT
OR
MOST
RECENT
EMPLOYMENT
FIRST.
ACCOUNT
FOR
ALL
TIME
PERIODS,
INCLUDING
MILITARY SERVICE AND PERIODS OF UNEMPLOYMENT EXCEEDING 30 DAYS. IF NECESSARY, ATTACH A SEPARATE SHEET OF PAPER
REASON FOR LEAVING OR SEEKING OTHER EMPLOYMENT
GAMESTOP, INC DOES NOT DISCRIMINATE IN HIRING OR TERMS OR CONDITIONS OF EMPLOYMENT ON THE BASIS OF RACE, COLOR, CREED, RELIGION, SEX , NATIONAL ORIGIN,
AGE, DISABILITY OR ANY OTHER BASIS UPON WHICH DISCRIMINATION IS PROHIBITED BY MUNICIPAL, STATE, OR FEDERAL LAW. NO QUESTION ON THIS APPLICATION IS INTENDED
TO SECURE INFORMATION THAT MAY BE USED FOR DISCRIMINATORY PURPOSES.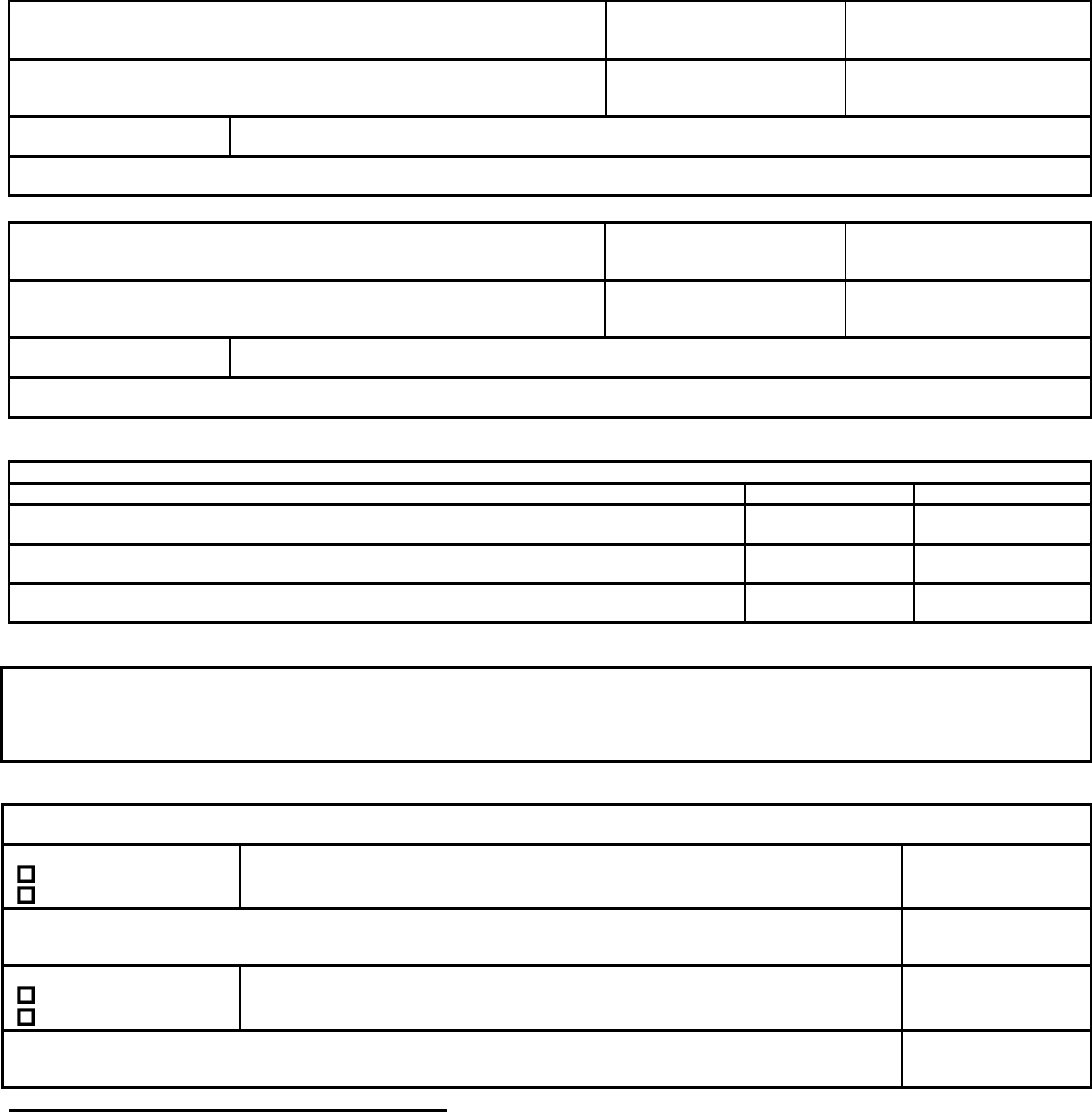 EDUCATION RECORD
LIST LAST HIGH SCHOOL AND ALL BUSINESS, TRADE SCHOOLS AND COLLEGES ATTENDED
NAME AND LOCATION (CITY/STATE) OF SCHOOL
VIDEO GAME / SOFTWARE KNOWLEDGE
VIDEO GAME SYSTEMS ___________________________________________________________________________________________________
GAME SOFTWARE KNOWLEDGE
___________________________________________________________________________________________
PC KNOWLEDGE _________________________________________________________________________________________________________
REFERENCES
LIST 2 REFERENCES BELOW THAT WE MAY CONTACT WHO ARE FAMILIAR WITH YOUR WORK PERFORMANCE. USE PERSONAL
REFERENCES, (NOT RELATIVES), ONLY IF YOU HAVE NO EMPLOYMENT REFERENCES.
CHECK ONE
EMPLOYMENT REF.
PERSONAL REF.
ADDRESS
(STREET, CITY, STATE, ZIP,CODE)
CHECK ONE
EMPLOYMENT REF.
PERSONAL REF.
ADDRESS
(STREET, CITY, STATE, ZIP,CODE)
IMPORTANT: PLEASE READ, SIGN AND DATE
1.
I DECLARE THAT ALL STATEMENTS AND ANSWERS ON THIS APPLICATION ARE TRUE AND COMPLETE AND AGREE THAT ANY UNTRUTH, MISLEADING ANSWER, OMISSION,
CONCEALMENT OR FAILURE TO ANSWER ANY QUESTION FULLY, COMPLETELY AND ACCURATELY WILL BE GROUNDS FOR TERMINATING MY EMPLOYMENT OR WITHDRAWAL
OF THE EMPLOYMENT OFFER.
2.
I

AUTHORIZE GAMESTOP, INC. OR ANY AGENT TO INVESTIGATE MY REFERENCES, TO COMMUNICATE WITH MY FORMER EMPLOYERS CONCERNING THE SAME, AND TO MAKE
AN
INDEPENDENT
BACKGROUND
INVESTIGATION
OF
MY
CHARACTER,
CONDUCT
AND
EMPLOYMENT
RECORD,
AND
TO
KEEP
AND
PRESERVE
RECORDS
OF
SUCH
INVESTIGATIONS.
3.
THE COMPLETION OF AN APPLICATION WITH GAMESTOP, INC. IS A PRELIMINARY STEP TO EMPLOYMENT. IT DOES NOT OBLIGATE GAMESTOP, INC. TO OFFER EMPLOYMENT,
OR ME TO ACCEPT EMPLOYMENT. I AGREE THAT IF EMPLOYMENT IS OFFERED TO AND ACCEPTED BY ME, IT IS MUTUALLY UNDERSTOOD THAT ANY EMPLOYMENT IS NOT
CONFINED TO A FIXED TERM AND MAY BE ENDED BY EITHER PARTY WITHOUT PRIOR NOTICE.
ALL EMPLOYMENT WITH GAMESTOP IS "AT WILL," AND MAY BE TERMINAT
ED
WITH OR WITHOUT CAUSE.
4.
I UNDERSTAND THAT FEDERAL LAW REQUIRES ALL PERSONS HIRED BY GAMESTOP TO SUBMIT PROPER DOCUMENTATION TO VERIFY THEY ARE AUTHORIZED TO LEGALLY
WORK IN THE UNITED STATES. FAILURE TO SUBMIT SUCH PROOF WITHIN THE REQUIRED TIME WILL RESULT IN IMMEDIATE TERMINATION.
5.
I UNDERSTAND THAT CONTINUED EMPLOYMENT MAY BE CONTINGENT UPON THE SUCCESSFUL COMPLETION OF A BACKGROUND INVESTIGATION.
6.
I UNDERSTAND THAT CONTINUED EMPLOYMENT MAY BE CONTINGENT UPON AND SUBJECT TO CONSENTING TO AND UNDERGOING DRUG TESTING, WHERE ALLOWED BY
LAW, THE RESULTS OF WHICH MUST BE SATISFACTORY.
7.
I UNDERSTAND THAT MY EMPLOYMENT IS SUBJECT TO AN AGREEMENT TO ARBITRATE CLAIMS AGAINST GAMESTOP AS OUTLINED IN THE GAMESTOP C.A.R.E.S. RULES OF
____________________________________________________
____________________________