Fillable Printable Goodbye Message
Fillable Printable Goodbye Message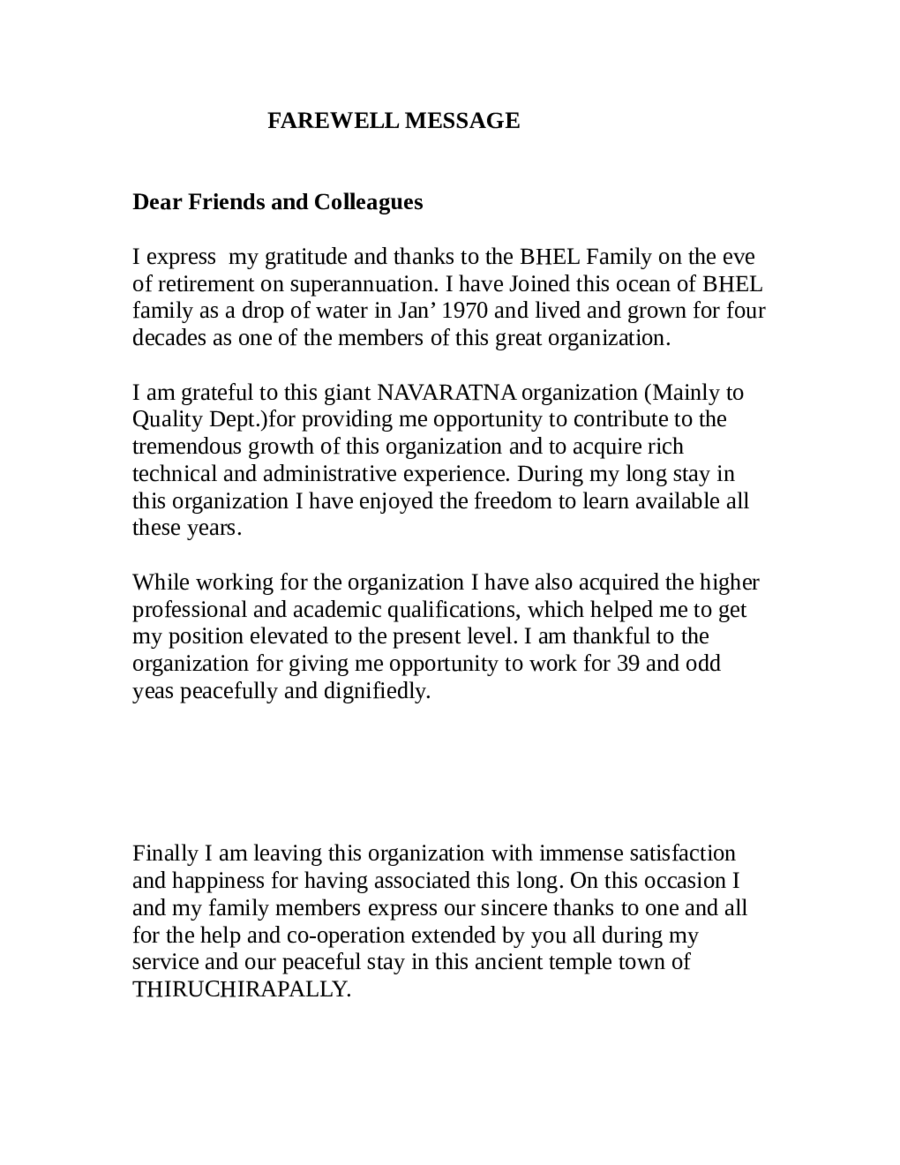 Goodbye Message
FAREWELL MESSAGE
Dear Friends and Colleagues
I express my gratitude and thanks to the BHEL Family on the eve
of retirement on superannuation. I have Joined this ocean of BHEL
family as a drop of water in Jan' 1970 and lived and grown for four
decades as one of the members of this great organization.
I am grateful to this giant NAVARATNA organization (Mainly to
Quality Dept.)for providing me opportunity to contribute to the
tremendous growth of this organization and to acquire rich
technical and administrative experience. During my long stay in
this organization I have enjoyed the freedom to learn available all
these years.
While working for the organization I have also acquired the higher
professional and academic qualifications, which helped me to get
my position elevated to the present level. I am thankful to the
organization for giving me opportunity to work for 39 and odd
yeas peacefully and dignifiedly.
Finally I am leaving this organization with immense satisfaction
and happiness for having associated this long. On this occasion I
and my family members express our sincere thanks to one and all
for the help and co-operation extended by you all during my
service and our peaceful stay in this ancient temple town of
THIRUCHIRAPALLY.
On my retirement I am planning to settle down in another Famous
Temple town TIRUPATI at the following address. Please do
contact and visit my house and give me an opportunity to meet you
and your family members, whenever you visit THIRUMALAI.
A.Ramachandra Reddy.
Sr.Manager,FES/FBC&HRSG
PADMAVATHI PURAM,
THIRUCHANUR ROAD,
TIRUPATI-517501.
Mobile : 9441407418