Fillable Printable Jamba Juice Application Form
Fillable Printable Jamba Juice Application Form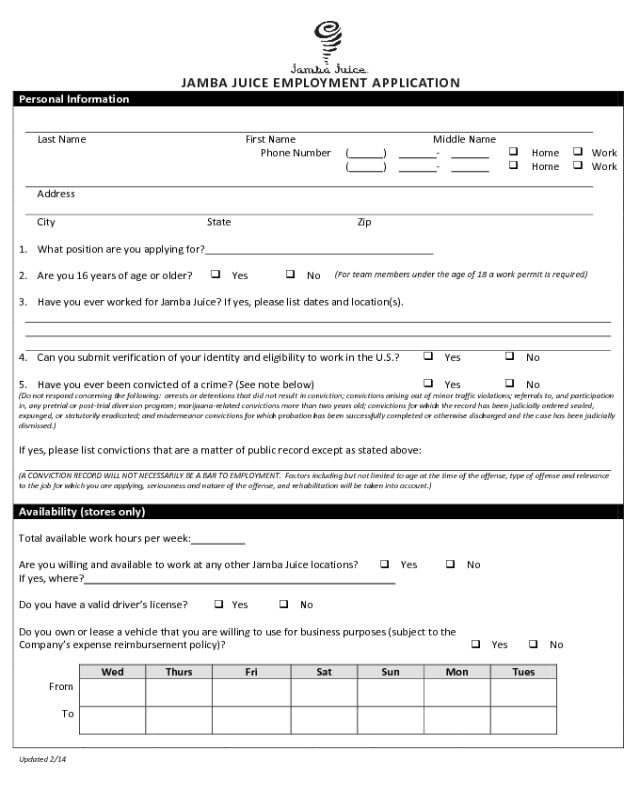 Jamba Juice Application Form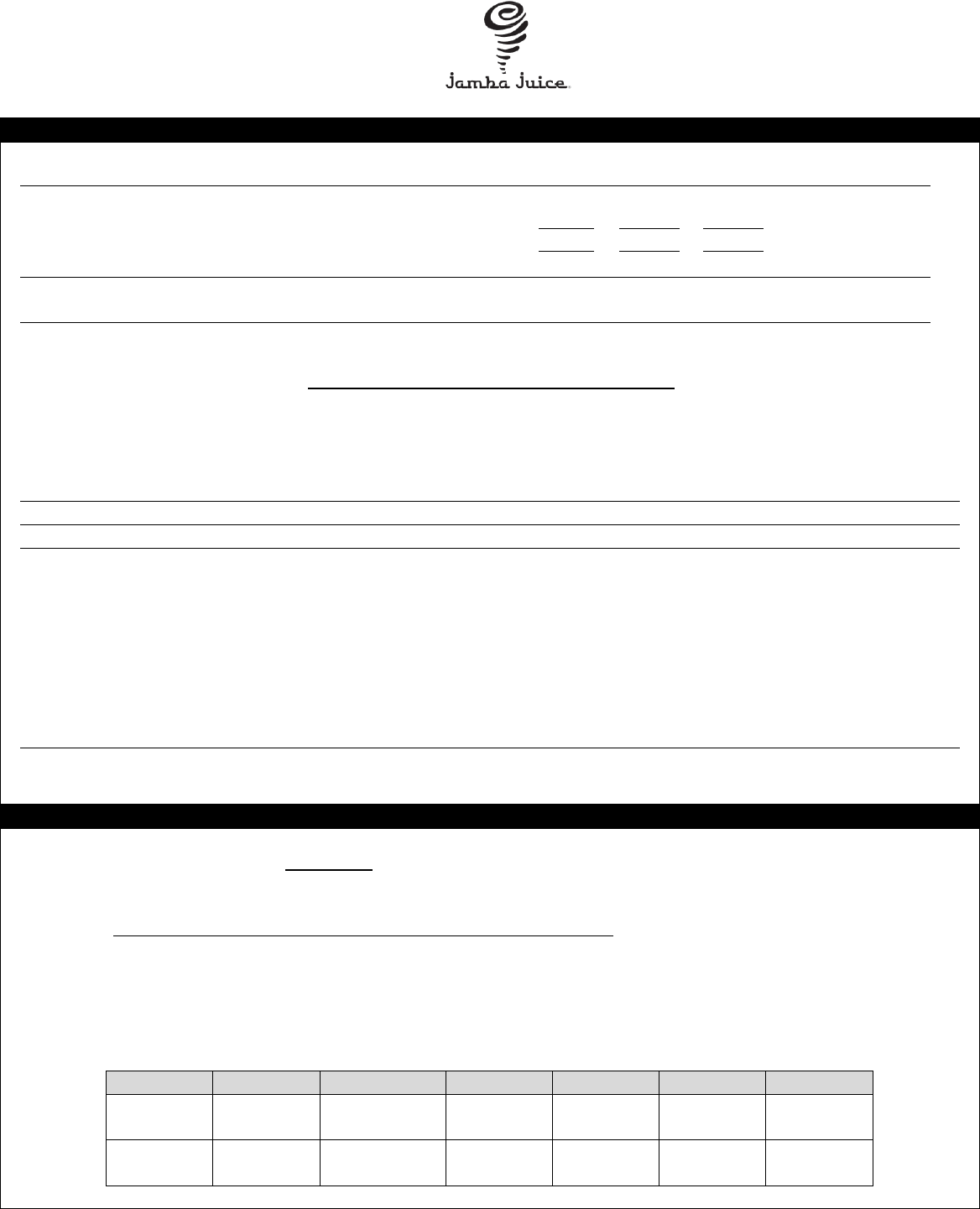 J
AM
BA JUICE
EMPLOYMENT
APPLICATION
Last Name
First Name
Middle Name
1.
What position are you applying for?
2.
Are you 16 years of age or older?
(For team members under the age of 18 a work permit is required)
3.
Have you ever worked for Jamba Juice? If yes, please list dates and location(s).
4.
Can you submit verification of your identity and eligibility to work in the U.S.?
5.
Have you ever been convicted of a crime? (See note below)
(Do not respond concerning the following: arrests or detentions that did not result in conviction; convictions arising out of minor traffic violations; referrals to, and participation
in, any pretrial or post-trial diversion program; marijuana-related convictions more than two years old; convictions for which the record has been judicially ordered sealed,
expunged, or statutorily eradicated; and misdemeanor convictions for which probation has been successfully completed or otherwise discharged and the case has been judicially
If yes, please list convictions that are a matter of public record except as stated above:
(A CONVICTION RECORD WILL NOT NECESSARILY BE A BAR TO EMPLOYMENT. Factors including but not limited to age at the time of the offense, type of offense and relevance
to the job for which you are applying, seriousness and nature of the offense, and rehabilitation will be taken into account.)
Availability (stores only)
Total available work hours per week:
Are you willing and available to work at any other Jamba Juice locations?
Do you have a valid driver's
license?
Do you own or lease a vehicle that you are willing to use for business purposes (subject to the
Company's expense reimbursement policy)?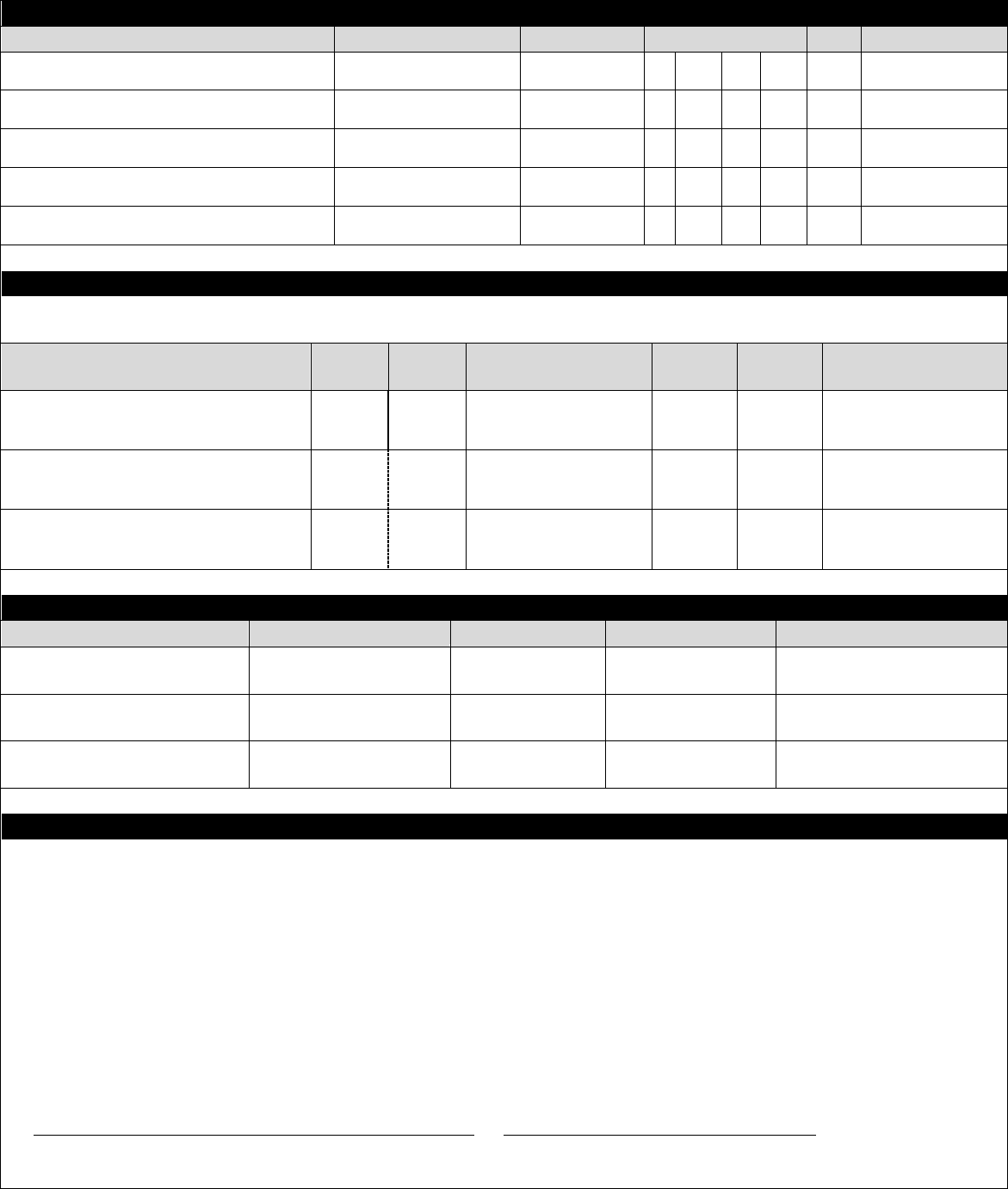 E
Trade, Business, Correspondence School
Other training, please specify
Starting with your most recent job, please list present and past employment.
All information is required
–
do not write "see resume" in this section

.
Company name, Address and Phone
Number
Professional References (provide three)
J
AMBA JUICE IS AN EQUAL OPPORTUNITY EMPLOYER. PLEASE READ THE FOLLOWING STA

TEMENT CAREFULLY.
I declare under penalty of perjury that I personally completed this application and that, to the best of my knowledge, the information contained in this
application is true and
complete. I understand that any false information or significant omissions may disqualify me from further consideration of
employment and, in the event I become employed, may result in the termination of my employment if discovered a t a later date.
I
understand and agree that nothing contained in this application is intended to create an employment contract between me and the company. I also
understand and agree that if I am hired, my employment with the company will be at will, and may be terminated by either me or the company at any time,
with or without cause or advance notice. I understand that no promises or representations to the contrary will be binding on the company unless made in
writing signed by both me and the Chief Executive Offi
cer of the company.
I authorize the references listed above, as well as other individuals whom Jamba contacts, to provide Jamba with any and all information concerning my
previous employment and any other pertinent information. Further, I release all parties and persons from all liability from any damages that may result
from furnishing such information to Jamba as well as any use or disclosure of such information by Jamba or any of its agents, employees or representatives.
RS O NA L
I NFOR
M AT I O