Fillable Printable Employment Agreement
Fillable Printable Employment Agreement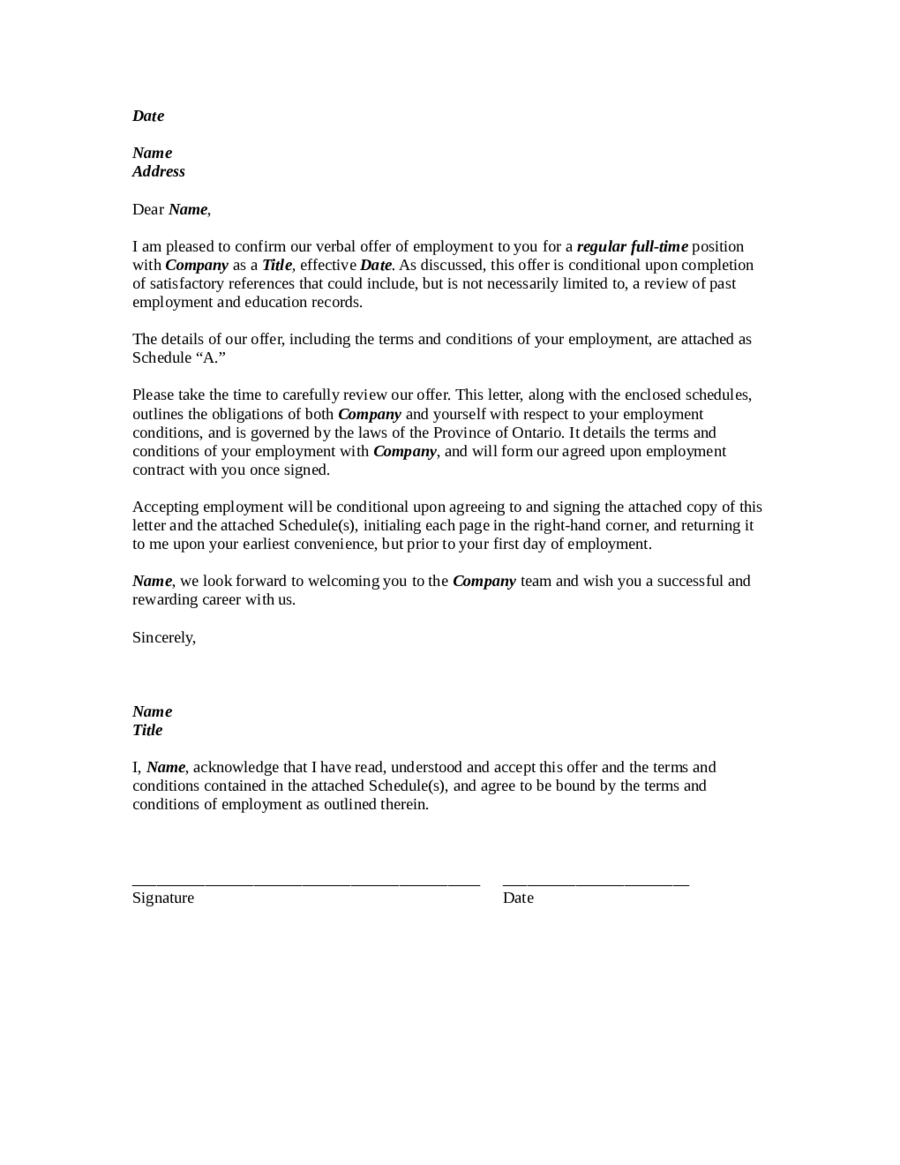 Employment Agreement
Date
Name
Address
I am pleased to confirm our verbal offer of employment to you for a
regular full-time
position
with
Company
as a
Title,

effective

Date.

As discussed, this offer is conditional upon completion
of satisfactory references that could include, but is not necessarily limited to, a review of past
employment and education records.
The details of our offer, including the terms and conditions of your employment, are attached as
Schedule "A."
Please take the time to carefully review our offer. This letter, along with the enclosed schedules,
outlines the obligations of both
Company
and yourself with respect to your employment
conditions, and is governed by the laws of the Province of Ontario. It details the terms and
conditions of your employment with
Company
, and will form our agreed upon employment
contract with you once signed.
Accepting employment will be conditional upon agreeing to and signing the attached copy of this
letter and the attached Schedule(s), initialing each page in the right-hand corner, and returning it
to me upon your earliest convenience, but prior to your first day of employment.
Name
, we look forward to welcoming you to the

Company

team and wish you a successful and
rewarding career with us.
Sincerely,
Name
Title
I,
Name
, acknowledge that I have read, understood and accept this offer and the terms and
conditions contained in the attached Schedule(s), and agree to be bound by the terms and
conditions of employment as outlined therein.
__________________________________________________________________
SignatureDate

Schedule A
COMPANY NAME
Terms and Conditions of Employment
The following outlines the terms and conditions of employment with
Company Name
. The
Company reserves the right to change these terms and conditions as necessary, with due notice.
Initial Reporting
Relationship
Name, Title
Responsibilities
Your job responsibilities include

XXX

. A copy of your position
description is attached as Schedule "B."
While employed by the Company, you agree to work on a full-time basis
exclusively for the Company and agree that you shall not, while you are
employed by the Company, be employed or engaged in any capacity, in
promoting, undertaking or carrying on any other business that competes
with the Company or interferes or could reasonably interfere with your
duties to the Company without our prior written permission.
Salary
Amount ($

XX,000

)

per annum
End Date
Date

(Fixed term only)
Hours of Work
The company's core hours of operation are Monday to Friday from

X:00
to
X:00
.
Employees are expected to work a minimum of

XX

hours per
week.
Overtime
Payment of overtime, for overtime eligible positions, will be paid for all
hours worked in excess of 44 hours within one week.
Payroll Schedule
Your salary will be paid to you on a
weekly/biweekly/semimonthly/monthly
basis, less required deductions,
(through direct deposit)
OR
(by cheque).
Vacation
You will be entitled to Number

(

X

)

weeks of vacation annually.

OR

You
will accrue vacation at a rate of
X.XX
days per month. Any further
increase is subject to policy. Vacation is to be taken at such time as is
determined by or acceptable to the Company.
Benefits
You shall be entitled to participate in all benefit plans of

Company

as may
be made available to employees of
Company
from time to time for which
you are eligible. You will receive complete details of all benefits plans as
part of your new employee orientation, and enrollment will take place
(immediately)
OR
(once you meet the eligibility criteria)
.
Travel
As per the requirements of your position, you will be expected to travel
Probationary
Period
To assess your fit within
Company
, the first three (3) months of your
employment will constitute a probationary period. At any time during this
probationary period,
Company
may terminate your employment without
cause and without advance notice or pay in lieu of notice. If this occurs,
we would have no further obligation to you, financial or otherwise.
Policies and
Company

has established a variety of policies and standards that ensure a
Standards
safe, enjoyable working environment. During the period of your
employment with us, you agree to be bound by these policies and
standards, and any future policies and standards that are reasonably
introduced by the Company. It is agreed that the introduction and
administration of these policies is within the sole discretion of
Company
and that these policies do not form a part of this Agreement. It is agreed
that if
Company
introduces, amends or deletes employment-related
policies as conditions warrant that such introduction, deletion or
amendment does not constitute a breach of this Agreement.
Confidentiality and
Intellectual
Property
Our offer of employment is conditional upon you agreeing to and abiding
by the "Confidentiality and Proprietary Information Agreement."
Attached Schedule "C."
Non Solicitation
You hereby agree that, while you are employed by

Company

and for one
(1) year following the termination of your employment with
Compan

y
,
you will not (i) recruit, attempt to recruit or directly or indirectly
participate in the recruitment of, any
Company
employee or (ii) directly
or indirectly solicit, attempt to solicit, canvass or interfere with any
customer or supplier of
Company
in a manner that conflicts with or
interferes in the business of
Company
as conducted with such customer or
supplier.
Representation
You hereby represent and warrant to

Company

that you are not party to
any written or oral agreement with any third party that would restrict your
ability to enter into this Agreement or the Confidentiality and Proprietary
Information Agreement or to perform your obligations hereunder and that
you will not, by joining
Company
, breach any non-disclosure, proprietary
rights, non-competition, non-solicitation or other covenant in favour of
any third party.
Changes to Duties
and/or
Compensation
If your duties or compensation should change during the course of your
employment with
Company
, the validity of our agreement will not be
affected. In addition, if one or more of the provisions in our agreement are
deemed void by law, then the remaining provisions will continue in full
force and effect.
Resignation
Should you wish to resign your employment with

Company

, you will be
required to provide
Numbe

r
(
XX
) weeks' written notice to enable us
transition your work.
Termination
Company

may terminate your employment at any time for cause.
After the end of your probationary period,
Company
may terminate your
employment without cause at any time by providing you with the
minimum notice, or pay in lieu of such notice, and any severance pay
required by the
Employment StandardsAct, 2000 and no more

.
In the event a temporary layoff is ever required, it may be implemented in
accordance with the requirements of the
Employment Standards Act,
Legal Advice
If you are uncertain about the contents of this offer, we suggest that it may
be advisable to seek independent legal advice prior to signing.
Schedule B
Job Description
Schedule C
Employee Covenants
Confidentiality and Proprietary Information Agreement
In consideration of employment as an employee or engagement as an independent
contractorwith
Company
(the"
Company
"),theundersigned(the"
Participant
")agrees
and covenants as follows:
1.EmploymentwiththeCompanyasanemployeeorengagementwiththe
Companyasan independentcontractor,asthecasemaybe (the"
Engagement
"),
willgivetheParticipantaccesstoproprietaryandconfidentialinformation
belonging tothe Company,its customers,its suppliers andothers(the proprietary
andconfidentialinformationiscollectivelyreferredtointhisAgreementas
"
ConfidentialInformation
").ConfidentialInformationincludesbutisnot
limitedtocustomerlists,marketingplans,proposals,contracts,technicaland/or
financial information, databases, softwareand know-how.All Confidential
Information remains the confidential and proprietary information of the Company.
2.As referred toherein, the "
Business of the Company
" shall relate to the business
oftheCompanyasthesameisdeterminedbytheBoardofDirectorsofthe
Company from time to time.
3.TheParticipantmayinthecourseoftheEngagementconceive,developor
contributetomaterialorinformationrelatedtotheBusinessoftheCompany,
including, without limitation, software, technical documentation, ideas, inventions
(whetherornotpatentable),hardware,know-how,marketingplans,designs,
techniques, documentation and records, regardless of the form or media, if any, on
whichsuchisstored(referredtointhis Agreementas"
ProprietaryProperty
").
The Company shall exclusively own all Proprietary Property which the
Participant conceives,developsor contributes toin thecourse ofthe Engagement
andallintellectualandindustrialpropertyandotherrightsofanykindinor
relatingtotheProprietaryProperty,includingbutnotlimitedtoallcopyright,
patent, trade secret and trade-mark rights in or relating to the Proprietary Property.
Forgreatercertainty,theParticipantherebyassignstotheCompanyanyandall
rightsthattheParticipantmayhaveorobtaininortotheProprietaryProperty.
Material orinformation conceived,developedor contributed toby theParticipant
outsideworkhoursontheCompany'spremisesorthroughtheuseofthe
Company'spropertyand/orassetsshallalsobeProprietaryPropertyandbe
governed by this Agreement if such material or information relates to the Business
of the Company. The Participant shall keep full and accurate records accessibleat
alltimestotheCompanyrelatingtoallProprietaryPropertyandshallpromptly
disclose and deliver to the Company all Proprietary Property.
4.The Participant shall, both during and after the Engagement, keep all Confidential
InformationandProprietaryPropertyconfidentialandshallnotuseanyofit
exceptforthepurposeofcarryingoutauthorizedactivitiesonbehalfofthe
Company. The Participant may, however, use or disclose Confidential Information
which:
(i)is or becomes public other than through a breach of this Agreement;
(ii)isknowntotheParticipantpriortothedateofthis Agreementandwith
respect to which the Participant does not have any obligation of confidentiality; or
(iii)isrequiredtobedisclosedbylaw,whetherunderanorderofacourtor
governmenttribunalorotherlegalprocess,providedthatParticipantinformsthe
CompanyofsuchrequirementinsufficienttimetoallowtheCompanytoavoid
such disclosure by the Participant.
TheParticipantshallreturnordestroy,asdirectedbytheCompany,Confidential
InformationandProprietaryPropertytotheCompanyuponrequestbythe
Companyatanytime.TheParticipantshallcertify,bywayofaffidavitor
statutorydeclaration,thatallsuchConfidentialInformationandProprietary
Property has been returned or destroyed, as applicable.
5.TheParticipant covenants and agreesnot tomake anyunauthorized use
whatsoever of or to bring onto the Company's premises for the purpose of making
any unauthorizeduse whatsoever of anytrade secrets, confidentialinformation or
proprietarypropertyofanythirdparty,includingwithoutlimitationanytrade-
marksorcopyrightedmaterials,duringthecourseoftheEngagement.The
ParticipantagreesandrepresentsthattheEngagementandtheexecutionofthis
AgreementdonotandwillnotbreachanyagreementtowhichtheParticipantis
currently a party or which currently applies to the Participant.
6.At the reasonable requestand at the sole expense of theCompany,the Participant
shalldoallreasonableactsnecessaryandsignallreasonabledocumentation
necessary in order to ensure the Company's ownership of the Proprietary Property
andallintellectualandindustrialpropertyrightsandotherrightsinthesame,
includingbutnotlimitedtoprovidingtotheCompanywrittenassignmentsofall
rightstotheCompanyandanyotherdocumentsrequiredtoenabletheCompany
todocumentrightstoand/orregisterpatents,copyrights,trade-marks,industrial
designs and such other protectionsas the Company considers advisableanywhere
in the world.
7.The Participant hereby irrevocably and unconditionally waives all moral rights the
Participant may now or in the future have in any Proprietary Property.
8.TheParticipantagreesthatthe Participantwill,ifrequestedfromtimetotimeby
theCompany,executesuchfurtherreasonableagreementsastoconfidentiality
andproprietaryrightsastheCompany'scustomersorsuppliersreasonably
required to protect Confidential Information or Proprietary Property.

9.Regardlessofanychangesinposition,salaryorotherwise,including,without
limitation, termination of the Engagement, unless otherwise stipulated pursuant to
thetermshereof,theParticipantwillcontinuetobesubjecttoeachoftheterms
andconditionsofthisAgreementandanyother(s)executedpursuanttothe
preceding paragraph.
10. TheParticipantagreesthattheParticipant'ssoleandexclusiveremedyforany
breach of thisAgreement or anyother agreement by the Company will belimited
tomonetarydamagesandthattheParticipantwillnotmakeanyclaiminrespect
ofanyrightstoorinterestinanyConfidentialInformationorProprietary
Property.
11.TheParticipantacknowledgesthattheservicesprovidedbytheParticipanttothe
Companyareunique. TheParticipantfurtheragreesthatirreparableharmwillbe
sufferedbytheCompanyintheeventoftheParticipant'sbreachorthreatened
breachofanyofhisorherobligationsunderthisAgreement,andthatthe
Company will be entitled to seek, in addition to any other rights and remedies that
itmayhave atlaw orequity,atemporaryorpermanentinjunctionrestrainingthe
Participantfromengaginginorcontinuinganysuchbreachhereof.Anyclaims
assertedbytheParticipantagainsttheCompanyshallnotconstituteadefencein
any injunction action, application or motion brought against the Participant by the
Company.
12. ThisAgreementisgovernedbythelawsoftheProvinceofOntarioandthe
Participant agrees to the non-exclusive jurisdiction of the courts of the Province of
Ontario in relation to this Agreement.
13. If any provisionofthis Agreement isheldby acourtofcompetentjurisdiction to
beinvalidorunenforceable,thatprovisionshallbedeletedandtheother
provisions shall remain in effect.
INWITNESSWHEREOF
theCompanyhascausedthis Agreementtobeexecutedas
of the ___ day of _______________, 20__.
Signed in the presence of:
PARTICIPANT
NAME:
WITNESS to PARTICIPANT
NAME: