Fillable Printable Letter of Offer/Acceptance
Fillable Printable Letter of Offer/Acceptance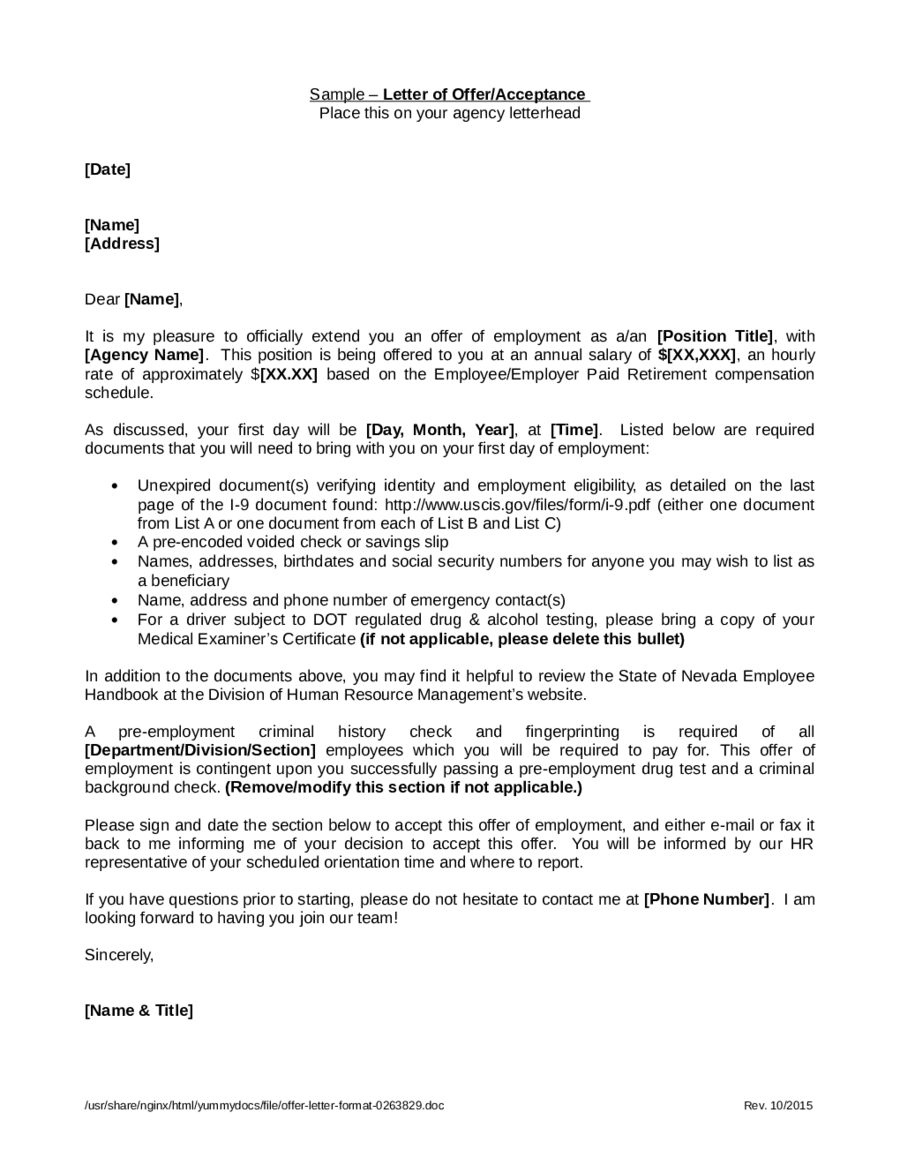 Letter of Offer/Acceptance

Sample –
Letter of Offer/Acceptance
Place this on your agency letterhead
[Date]
[Name]
[Address]
Itismypleasuretoofficiallyextendyouanofferofemploymentasa/an
[PositionTitle]

,with
[AgencyName]
.Thispositionisbeingofferedtoyouatanannualsalaryof
$[XX,XXX]
,anhourly
rateofapproximately$
[XX.XX]
basedontheEmployee/EmployerPaidRetirementcompensation
schedule.
Asdiscussed,yourfirstdaywillbe
[Day,Month,Year]

,at

[Time]

.Listedbelowarerequired
documents that you will need to bring with you on your first day of employment:

Unexpireddocument(s)verifyingidentityandemploymenteligibility,asdetailedonthelast
pageoftheI-9documentfound://www.uscis.gov/files/form/i-9.pdf(eitheronedocument
from List A or one document from each of List B and List C)

A pre-encoded voided check or savings slip

Names, addresses,birthdates and socialsecurity numbers foranyoneyou may wishto list as
a beneficiary

Name, address and phone number of emergency contact(s)

ForadriversubjecttoDOTregulateddrug&alcoholtesting,pleasebringacopyofyour
Medical Examiner's Certificate
(if not applicable, please delete this bullet)
Inadditiontothedocumentsabove,youmayfindithelpfultoreviewtheStateofNevadaEmployee
Handbook at the Division of Human Resource Management's website.
Apre-employmentcriminalhistorycheckandfingerprintingisrequiredofall
[Department/Division/Section]
employeeswhichyouwillberequiredtopayfor.

Thisofferof
employmentiscontingentuponyousuccessfullypassingapre-employmentdrugtestandacriminal
background check.
(Remove/modify this section if not applicable.)
Pleasesign anddate thesectionbelow toaccept thisoffer ofemployment,andeither e-mailor faxit
backtomeinformingmeofyourdecisiontoacceptthisoffer.YouwillbeinformedbyourHR
representative of your scheduled orientation time and where to report.
If you have questions prior to starting, please do not hesitate to contact me at
[Phone Number]
. I am
looking forward to having you join our team!
Sincerely,
[Name & Title]
/usr/share/nginx/html/yummydocs/file/offer-letter-format-0263829.docRev. 10/2015

I, _____________________________________, accept the position of
[Position Title]

for the
[Agency]
under the terms of this offer and dated
[Date of letter]
.
Signed: ________________________________ Date: __________________________
/usr/share/nginx/html/yummydocs/file/offer-letter-format-0263829.docRev. 10/2015