Fillable Printable Profile/Summary of Qualifications
Fillable Printable Profile/Summary of Qualifications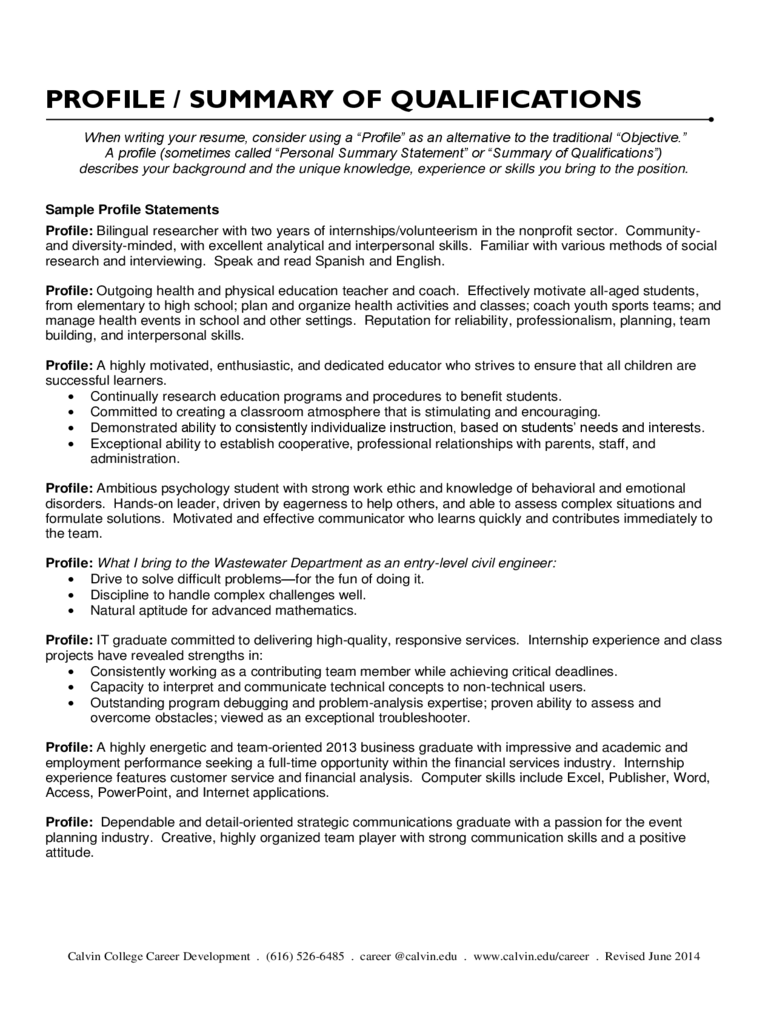 Profile/Summary of Qualifications

Calvin College Career Development . (616) 526-6485 . career @calvin.edu . www.calvin.edu/career
. Revised June 2014
PROFILE / SUMMARY OF QUALIFICATIONS
When writing your resume, consider using a "Profile" as an alternative to the traditional "Objective."
A profile (sometimes called "Personal Summary Statement" or "Summary of Qualifications")
describes your background and the unique knowledge, experience or skills you bring to the position.
Sample Profile Statements
Profile:
Bilingual researcher with two years of internships/volunteerism in the nonprofit sector. Community-
and diversity-minded, with excellent analytical and interpersonal skills. Familiar with various methods of social
research and interviewing. Speak and read Spanish and English.
Profile:
Outgoing health and physical education teacher and coach. Effectively motivate all-aged students,
from elementary to high school; plan and organize health activities and classes; coach youth sports teams; and
manage health events in school and other settings. Reputation for reliability,
pr
ofessionalism, planning, team
building, and interpersonal skills.
Profile:
A

highly motivated, enthusiastic, and dedicated educator who strives to ensure that all children are
successful learners.

Continually research education programs and procedures to benefit students.

Committed

to creating a classroom atmosphere that is stimulating and encouraging.

Demonstrated ability to consistently individualize instruction, based on students' needs and interest

s.

Exceptional

ability to establish cooperative, professional relationships with parents, staff, an

d
administration.
Profile:
Ambitious psychology student with strong work ethic and knowledge of behavioral and emotional
disorders. Hands-on leader, driven by eagerness to help others, and able to assess complex situations and
formulate solutions. Motivated and effective communicator who learns quickly
and
contributes immediately to
the team.
Profile:
What I bring to the Wastewater Department as an entry-level civil engineer:

Drive to solve difficult problems

—

for the fun of doing it.

Discipline to handle complex challenges well.

Natural aptitude for advanced mathematics.
Profile:
IT graduate committed to delivering high-quality, responsive services. Internship experience and class
projects have revealed strengths in:

Consistently working as a contributing team member while achieving critical deadlines.

Capacity to interpret and communicate technical concepts to non-technical users.

Outstanding program debugging and problem-analysis expertise; proven ability to assess and
overcome obstacles; viewed as an exceptional troubleshooter.
Profile:
A highly energetic and team-oriented

201

3 business graduate with impressive and academic and
employment performance seeking a full-time opportunity within the financial services industry.
Internship
experience features customer service and financial analysis. Computer skills include Excel, Publisher, Word,
Access, PowerPoint, and Internet applications.
Profile:
Dependable and detail-oriented strategic communications graduate with a passion for the event
planning industry. Creative, highly organized team player with strong communication skills and a positive
attitude.
Calvin College Career Development . (616) 526-6485 . career @calvin.edu . www.calvin.edu/career
. Revised June 2014
How to build your profile statement
1.
Leading statement

: Begin your profile with a positioning statement, stating the type of career field /
profession you are pursuing, as well as indicating if you are a current student or recent graduate.
2.
Middle statements:

Emphasize and build on technical expertise, critical strengths, contributions,
specialized talents, etc. Use adjectives to describe yourself and provide a snapshot of who you are and
what you will bring to the position. (The rest of your resume
should "prove" that you have the qualities
3.
Ending statements: End your profile by highlighting specific or unique skills

–

languages spoken,
computer proficiency, or communication competence.
As with the rest of your resume, your profile statement should be written in concise phrases, rather than in
complete sentences. Here are ideas of lead-ins for your statements:

Particularly effective in …