Fillable Printable Resignation Letter - Retirement Resignation Letter Sample
Fillable Printable Resignation Letter - Retirement Resignation Letter Sample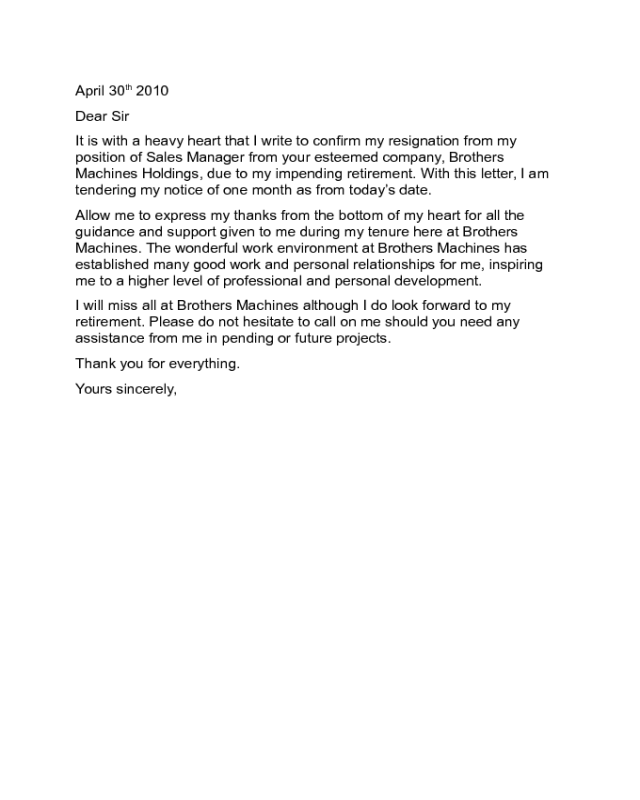 Resignation Letter - Retirement Resignation Letter Sample
April 30
th
2010
Dear Sir
It is with a heavy heart that I write to confirm my resignation from my
position of Sales Manager from your esteemed company, Brothers
Machines Holdings, due to my impending retirement. With this letter, I am
tendering my notice of one month as from today's date.
Allow me to express my thanks from the bottom of my heart for all the
guidance and support given to me during my tenure here at Brothers
Machines. The wonderful work environment at Brothers Machines has
established many good work and personal relationships for me, inspiring
me to a higher level of professional and personal development.
I will miss all at Brothers Machines although I do look forward to my
retirement. Please do not hesitate to call on me should you need any
assistance from me in pending or future projects.
Thank you for everything.
Yours sincerely,