Fillable Printable Standard Resignation Letter Sample
Fillable Printable Standard Resignation Letter Sample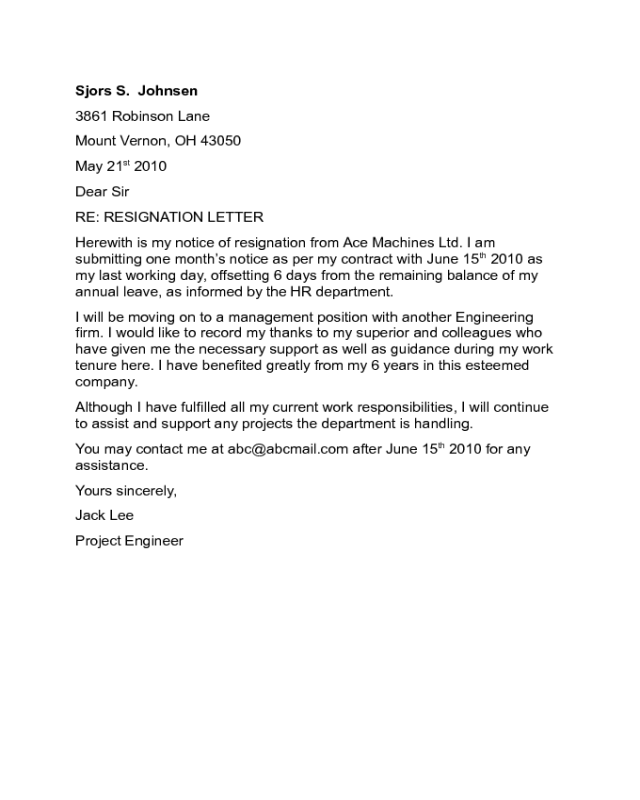 Standard Resignation Letter Sample
3861 Robinson Lane
Mount Vernon, OH 43050
May 21
st
2010
Dear Sir
RE: RESIGNATION LETTER
Herewith is my notice of resignation from Ace Machines Ltd. I am
submitting one month's notice as per my contract with June 15
th
2010 as
my last working day, offsetting 6 days from the remaining balance of my
annual leave, as informed by the HR department.
I will be moving on to a management position with another Engineering
firm. I would like to record my thanks to my superior and colleagues who
have given me the necessary support as well as guidance during my work
tenure here. I have benefited greatly from my 6 years in this esteemed
company.
Although I have fulfilled all my current work responsibilities, I will continue
to assist and support any projects the department is handling.
th
2010 for any
assistance.
Yours sincerely,
Jack Lee
Project Engineer