Fillable Printable Resume Examples for Teachers
Fillable Printable Resume Examples for Teachers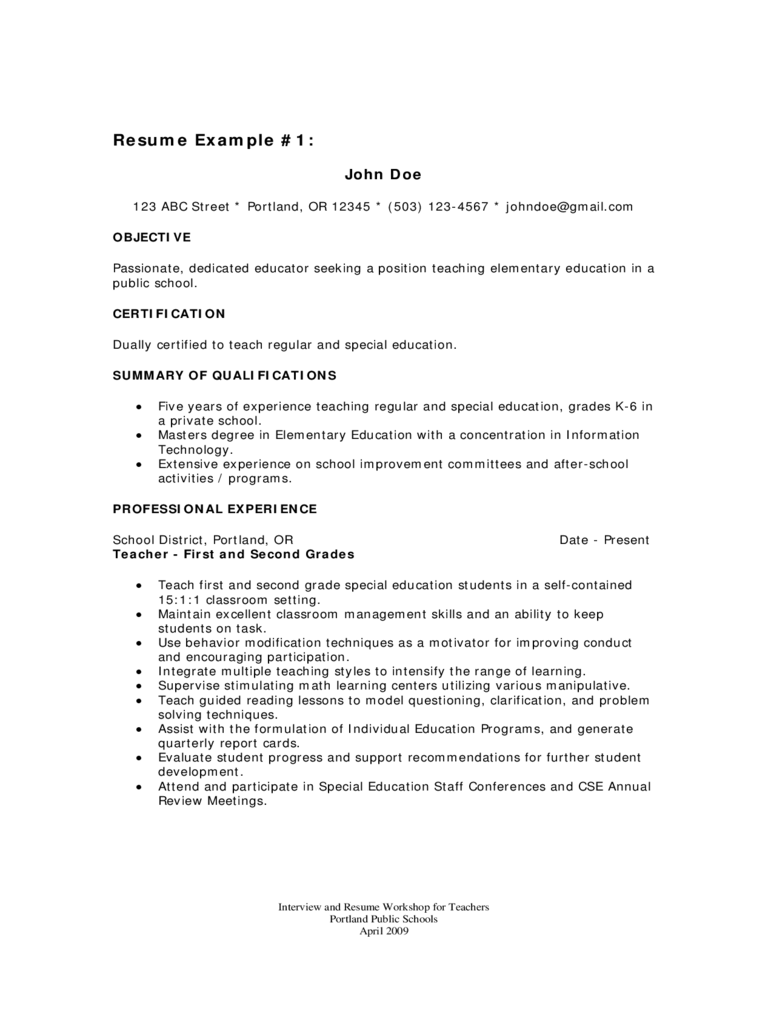 Resume Examples for Teachers
Interview and Resume Workshop for Teachers
Portland Public Schools
April 2009
Resume Example #1:
Passionate, dedicated educator seeking a posi
tion teaching elemen

tary education in a
Dually cert ified to teach regular an d special education.
SUMMARY OF QUALIFICATI ONS
•
Five years of experience teaching regula

r and special education, grades K-6 in
•
Masters degree in Elementary Education

with a con centration in Information
•
Extensive experience on school impr

ovement committees

and after-school
School District, Portland, OR
Date - Present
Teacher - First and Second Grades
•
Teach first and second grade special ed

ucation students in a self-contained
15:1:1 classroom setting.
•
Maintain excellent classroom manageme

nt skills and an ability to keep
•
Use behavior modification

techniques as a motivator for improving conduct
and encouraging participat ion.
•
Integrate multiple teaching styles to inten sify the range of learning.
•
Supervise stimulat ing math learning centers utilizing various manipulative.
•
Teach guided reading lessons to model qu

estionin g, clarification, and problem
•
Assist with the formulation of Individual Education Programs, and generate
•
Evaluate student progress and support recommendations for further student
•
Attend and participate i n Special Educ

ation Staff Conferences and CSE Annual
Interview and Resume Workshop for Teachers
Portland Public Schools
April 2009
School District, Portland, OR
Date - Date
•
Taught a second grade regular education class with 32 multicultural students.
•
Utilized mu ltiple teachin g methods that in cluded visual, tactical, and auditory
materials to reinforce or simplify comple
x concepts, such as Sand Letters that
assist in letter recognition by feeling formations.
•
Expanded the range of learning through whole class, individual, and small
group instruction, cooperative education,
and math, science, reading, art, and
multi-sensory learning centers.
•
Led integrated social stu d ies/writing units that allowed students to bridge the
gap between real world issues and co
urse material through library and
Internet research, interviews,
and creative writing exercises.
•
Challenged students to master basic

math concepts through implementation
of manipulative (food, squares of varying colors, sizes,
shapes), graphing,
and charting exercises that de
veloped problem-solving skills.
•
Integrated technology into the learning process with computer lab
assignments using self-paced programs
such as Math Blaster/Reader Rabbit
that develop students' cognitive abilities and basic computer/keyb oarding
•
Communicated with parents to acknow

ledge superior work and areas of
concern through weekly newsletters, and encouraged parent-volunteer
assistance throughout the year.
School District, Portland, OR Date - Date
•
Taught a first grade class with 27 regular and mainstreamed students.
•
Implemented a Direct a Balanced Literacy Program utilizing a Whole
Language and phonemic awareness approa
ch to reading, sci

ence, and social
studies in accordance to ELA, IEPs
, state, and district standards.
•
Employed the use of a buddy system to facilitate student partnering of non-
readers with advanced readers.
•
Ensured the class's entry in the school

's first grade Power Literacy Program
contest requiring each student to co
mplete 25 books a year and a weekly
book report. Led class to achieve
recognition as first place winners.
•
Accessed students' prior knowledge thro

ugh use of graphic organizers that
allowed students to preview a story beforehand, predict outcomes, and orally
present their findings in a coherent, detailed manner.
College, Town, State
College, Town, State
Windows / Macintosh; MS Word, Excel and PowerPoint; v a ri ous educati onal software
titles

Interview and Resume Workshop for Teachers
Portland Public Schools
April 2009
Resume Example #2:
Jane Smith
123 ABC Street
Portland, OR 12345
Home: (123) 123-4567
Objective
Position as an English Teacher.
Certifications
Ohio Secondary Certificate in English, December 1997
Experience
English Teacher, 1997 - Present
Oak Park High School, Toledo, OH
• Taught American Literature & Writing Co mposition to 9th - 12th graders.
• Organized cooperative learning activities.
• Implemented portfolio grading
system in literature classes.
• Incorporated new texts into standard curriculum.
• Tutored students seeking additional
guidance with course work.
• Assessed student performa
nce throughout the term.
• Conducted individual
student conferences.
• Chaperoned field trips and school dances.
Student Teacher, 1996 - 1997
Urbana High School, Athens, OH
• Taught American Literature to a diverse group of students.
• Implemented creative curricula utilizing outcome-based education & alternative
assessments.
• Wrote and taught dy
namic lesson plans.
• Tutored students after school
and chaperoned field trips.
Relevant Interests
Speech & Debate, Theatre, Track & Field.
I welcome the opportunity to coach
extracurricular activities.
Education
B.A., English, 1996
Ohio Universit y, Athens, OH
Interview and Resume Workshop for Teachers
Portland Public Schools
April 2009
Resume Example #3:
Address: 1234 Any Street
Portland, OR 97227
Tel: (503) 454-8989 (Home)
; (503) 967-2225 (Work)
Personal Summary
As a fully trained elementary school teac
her with more than 8 years of varied
teaching experience, I am at a point in
my career where I w

ould like to take on
more responsibility in a larger school.
I am interested in joining your teachi
ng staff and becoming an active member in
your school's extra-curricular programs.
I feel that my

strong dedication and
desire to take on a busier workload make
me an ideal candidate for the teaching
position you have available and I'm confi
dent I have the qualities to help Vintage
Hills Elementary School achieve its
academic and nonacademic objectives.
Employment History
Beach Elementary School - Second Grade Teacher
January 2006 to present
My responsibilities are as follows:
o
Teaching a classroom of 30 second grade children
o
Touching on various subjects, in

cluding math, science, art, history, and
English
o
Administering quizzes and tests
o
Assigning and grading homework on a daily basis
o
Preparing daily activities rela

ted to the current curriculum
o
Facilitating parents' evenings
o
Supervising recess and snack break twice a week
New York Grade School - Fifth Grade Math Teacher
June 2002 to December 2005
My responsibilities included:
o
Teaching fifth grade level math to

three classes of 25 children
o
Administering quizzes and tests on a w

eekly basis to test the children's
knowledge of the material
o
Assigning and grading homework on a daily basis
o
Supervising after school

math tutoring program
Interview and Resume Workshop for Teachers
Portland Public Schools
April 2009
Mount Elementary School - Third Grade Teachers' Assistant
January 1998 to May 2002
My responsibilities were:
o
Assisting Third Grade teachers in

regular daily activities
o
Providing one on one time with students who needed extra help
o
Grading homework and tests using answer key
o
Supervising students during teacher break time
o
Supervising snack, lunch, and recess on a daily basis
Achievements
My achievements have included:
o
Graduating in the top 10th percentile

from California State College, San
Marcos
o
Voted "Friendliest Teachers' Assi

stant" at Fontana Elementary School
o
A certificate from Sacramento

Grade school for attending teaching
seminar
Relevant Skills:
o
Able to teach grades 2 to 5
o
Familiar with Californi

a Elementary School grading guidelines
o
Able to supervise several classes at the same time
o
Able to teach several subjects
Relevant Qualifications:
o
Fully trained in various school subjects
o
Certified to teach several grades of Elementary
o
Bachelor's Degree in Child Development from Ca

lifornia State College,
San Marcos
o
Master's Degree in Teaching from California State Coll

ege, San Marcos
Interests:
I enjoy reading and playing bas
ketball and am a volunteer

at the local hospic e.

Interview and Resume Workshop for Teachers
Portland Public Schools
April 2009
Cover Letter Example #1:
John Doe
12345 Washington St reet
Beaverton, OR 97002
503-222-2222 (h)
503-456-7890 (c)
Date
Ms. Jane Smith
Smith Elementary School
1225 Main Street
Portland, OR 97227
Dear Ms. Smith,
I am interested in applying for a teaching posi
tion, on the elementary level, in your school
district. As a 2007 graduate of Portland State University, I have student teaching experience
on the third and sixth grade level , in both suburban and urban school districts.
At the present time I am teaching "at risk" preschool children. This position enables me to
provide these students with a "head start" in mastering basic skills. I am challenged to be
creative, nurturing and most of all, patient.
In my junior year at Portland State University
, a passion for, and knowledge of horses created
an opportunity for me work for the Racing Muse
um. This position allowed me to teach every
fourth grade class in the local school system. I coordinated fi eld trips with classroom
instruction.
It is my goal to combine my range of experi
ence with my ability to be a compassionate,
enthusiastic, intelli gent teacher who will make a positive contribution to your school district. I
would welcome an interview and hope to hear from you at your earliest convenience.
Sincerely,
Signature
John Smith
Interview and Resume Workshop for Teachers
Portland Public Schools
April 2009
Cover Letter Example #2:
Jane Doe
1234 West Street
Hillsboro, OR 97124
(123)-456 7890
Date
Mr. John Smith,
Portland Public Schools
501 N. Dixon
Portland, OR 97227
Dear Mr. Smith,
I am writing to you to apply for an
entry level position as a t
eacher with your 1st and
2nd grade. I am a recent graduate of Manhatt
an University where I completed BA in
communications, graduating with Honours.
Last summer I completed an intern
ship on the Regional School. During this tim e I
completed many duties including the course assessment, curricu lum enhancement and
grading students. It gave me an appreciati
on of what the job entailed and now I am
anxious to obtain a full time position. I have good educational background and am
proficient in humanities and social science courses. I am enthusiastic, organized, have a
solid work ethic and am quick to
build rapport with colleagues.
I would like to thank you in advance fo
r taking the time to review my resume and I
will be in contact with you on Friday to seek a meeting with you.
Yours sincerely,
Jane Doe
Enclosures: Resume

Interview and Resume Workshop for Teachers
Portland Public Schools
April 2009
Cover Letter Example #3:
Dr. John Doe
Portland Public Schools
501 N. Dixon
Portland, OR 97227
I am writing in response to you r opening for the position of 9
th
Grade Biology Teacher at Cleveland High
School. The opportun ity to teach and inspire students within
your high school is an exciting prospect that I
feel qualified for and fully able to undertake. Please allow me to explain briefly my philosophy regarding
academic leadership and how I could contribute to the gro wth and success of your high school.
Providing quali ty, broad-based acad emic direction a
nd leadership remains one of the core catalysts for
success in an education institution today. In my inst
ructional career, I have demonstrate d the ability to
develop complete curricula for a variety of course
s and influenc e student improvement through qu ality
lectures, discussions, assignments, and as
sessments. In my current position as 9
th
Grade Biology Teacher
with the Springfield High Sch ool, I have also worked
with organizatio ns within the community to provide
internship and job opportunities to students and graduates, respectively.
My résumé is enclosed to provide you with additional details concerning my background and qualifications
for this position. I am certain an interview would fully
reveal my abilities and enthusiasm for the opportunity
to contribute to your faculty.
Thank you for your time and consideration. Please do no
t hesitate to contact me if you h ave an y questions.