Fillable Printable Sample Teacher Resume
Fillable Printable Sample Teacher Resume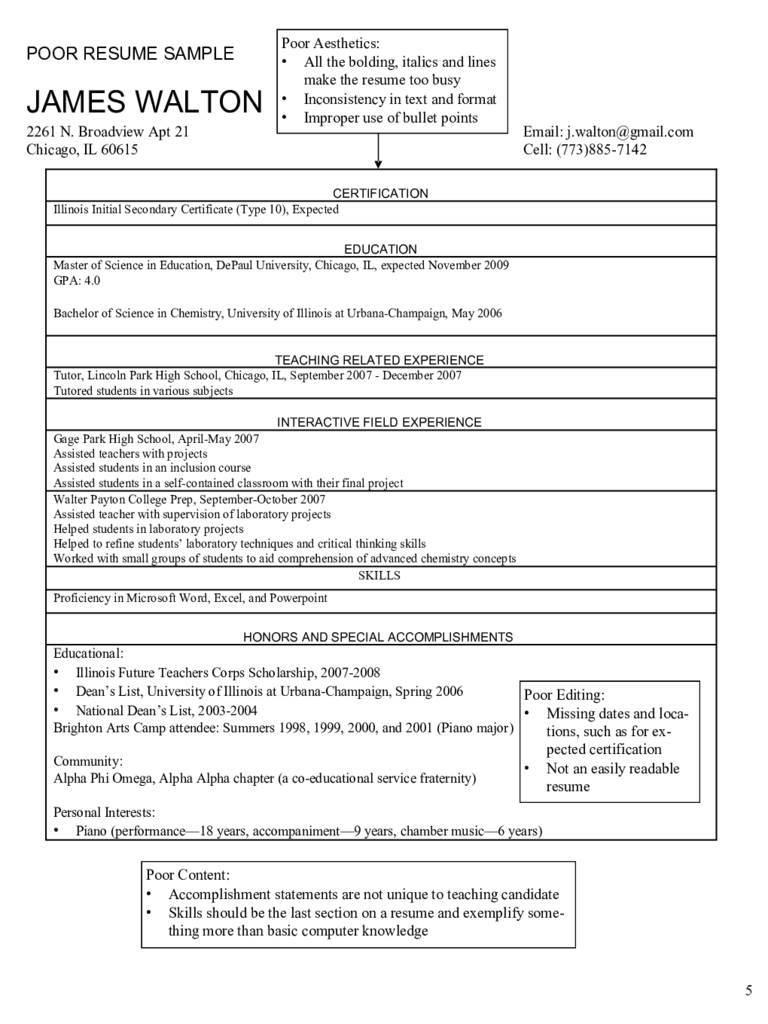 Sample Teacher Resume

5
Poor Editing:
•
Missing dates and loca-
tions, such as for ex-
pected certification
•
Not an easily readable
resume
Poor Aesthetics:
•
All the bolding, italics and lines
make the resume too busy
•
Inconsistency in text and format
•
Improper use of bullet points
POOR RESUME SAMPLE
JAMES WALTON
Chicago, IL 60615
Cell: (773)885-7142
Poor Content:
•
Accomplishment statements are not unique to teaching candidate
•
Skills should be the last section on a resume and exemplify some-
thing more than basic computer knowledge
Illinois Initial Secondary Certificate (Type 10), Expected
Master of Science in Education, DePaul University, Chicago, IL, expected November 2009
GPA: 4.0
Bachelor of Science in Chemistry, University of Illinois at Urbana-Champaign, May 2006
TEACHING RELATED EXPERIENCE
Tutor, Lincoln Park High School, Chicago, IL, September 2007 - December 2007
Tutored students in various subjects
INTERACTIVE FIELD EXPERIENCE
Gage Park High School, April-May 2007
Assisted teachers with projects
Assisted students in an inclusion course
Assisted students in a self-contained classroom with their final project
Walter Payton College Prep, September-October 2007
Assisted teacher with supervision of laboratory projects
Helped students in laboratory projects
Helped to refine students' laboratory techniques and critical thinking skills
Worked with small groups of students to aid comprehension of advanced chemistry concepts
SKILLS
Proficiency in Microsoft Word, Excel, and Powerpoint
HONORS AND SPECIAL ACCOMPLISHMENTS
Educational:
•
Illinois Future Teachers Corps Scholarship, 2007-2008
•
Dean's List, University of Illinois at Urbana-Champaign, Spring 2006
•
National Dean's List, 2003-2004
Brighton Arts Camp attendee: Summers 1998, 1999, 2000, and 2001 (Piano major)
Community:
Alpha Phi Omega, Alpha Alpha chapter (a co-educational service fraternity)
Personal Interests:
•
Piano (performance—18 years, accompaniment—9 years, chamber music—6 years)

8
Caroline Baltman
2355 56
th
Court; Lisle, IL 60016; 224-639-5330
cbaltman@gmail.com
Objective
Obtaining a teaching position that utilizes my passion for teaching chemistry to create a positive experience for the students by implementing
various teaching methods and coordinating with other teachers to work on interdisciplinary units
Certification
Illinois Initial Secondary Certification (Type 09) in Science, expected June 2011
High School Endorsements in Chemistry – Regular, AP and Honors classes, Biology, Earth Science and Physics
Middle school endorsement expected in Science
Education
DePaul University; Chicago, IL
Bachelor of Science in Secondary Education Chemistry; expected June 2011
Anticipated Graduating GPA: 3.75 / 4.0; High Honor Roll; Deans list all quarters in attendance
Teaching Experience
Student Teacher: Wells High School; Grades, 11-12, Chicago IL; Spring 2011
•
Facilitated learning of honors and regular chemistry for 3
rd
and 4
th
year students using student-centered lessons and activities
•
Established acceptable classroom behavior guide with students' comments to minimize future class room management issues
•
Discussed students' learning improvement and behavior in class with parents during the parent-teacher conference
•
Utilized many student-centered learning techniques, including demonstrations, molecular model building, and discovery labs
•
Devised a demonstration to connect acid-base reactions with the concept of limiting and excess reactants, related the demonstration
to students' daily life, and allowed students to work in cooperative learning groups to analyze examples
•
Created activities that show the relationship between chemistry concepts and everyday life to engage and motive students
•
Modified curriculum for a English Language Learner and various Special Education Students in the regular education classroom by
translating the concepts in student's native language or by explaining the concepts in various simpler steps
•
Assisted students with preparation for ACT and PSAE standardized testing by providing explanation for various scientific concepts
while working on practice test questions and modeling various reading strategies
•
Tutored students before, during, and after school
•
Attended various workshops during the 8
th
Annual CPS Service-Learning Conference
Interactive Field Experience
Amundsen High School, Junior Chemistry Classes , Chicago, IL; Fall 2010
•
Observed regular, honors, and A.P. chemistry classes to better understand students' needs, implemented various activities and ob-
served various classroom management techniques
Lane Technical High School; Sophomore Chemistry Classes, Chicago, IL; Winter 2010
•
Gained experience on various teaching methods by observing two teachers working with physics and chemistry classes
Williams Junior High School; 7
th
Grade Self Contained Science Class, Elmwood Park, IL; Fall 2009,
•
Assisted a sixth grade class with an eco-system experiment, and demonstrated how to actively take notes and how to point out im-
portant information in assigned reading to one special education student during an active reading assignment
Skills and Interests
•
Eager to sponsor various student organizations such as South Asian clubs and cultural awareness groups
•
Fluent in Urdu and Hindi
•
Interested in organizing after school science sessions to provide students with additional help
•
Proficient with Microsoft Words, Excel, Power Point, and Graphic Analysis and Origin programs mostly used for physics, mathe-
matics, and chemistry
•
Interested in participating in drug abuse resistance programs and other health awareness programs
SAMPLE : Secondary

9
Silva E. Lennon
2266 South Racine
silva.lennon@gmail.com
Chicago, IL 60624
(312) 223-7115
_____________________________________________________________________________________________
CERTIFICATION
Illinois Initial Secondary Certificate in English (Type 09)
Middle School endorsement in Language Arts; Social Science endorsement, June 2009
EDUCATION
DePaul University, Chicago, IL, June 2009
Bachelor of Arts, Secondary Education English; G.P.A. 3.3/4.0
TEACHING EXPERIENCE
Substitute Teacher, Grace Community School District 220, Chicago, IL Winter 2008-2009
•
Requested as a substitute teacher by numerous teachers in Grace Middle School
•
Maintained order in the classroom by efficiently executing lesson plans left by the teacher.
•
Applied the necessary teaching strategies to use in classrooms with various skill levels.
Student Teacher, Grace Middle School, Seventh Grade English, Chicago, IL Fall 2008
•
Prepared lessons independently for ten weeks based on the BMS English curriculum.
•
Collaborated with the seventh grade team by developing various PowerPoint presentations and lessons.
•
Encouraged knowledge of current events by creating a one-week unit plan based upon the 2008 Presidential Election
using cooperative grouping.
•
Manipulated student cooperative groups according to average scores on the MAPS tests.
•
Used differentiated instruction and both formative and summative assessments to evaluate student work.
•
Designed various cross-curriculum warm-up activities to enhance connections between school subjects.
•
Played an active role during parent-teacher conferences, and updated parents regularly on their child's progress in the
classroom. Also received excellent personal feedback from the parents of my students.
•
Graded student's expository essays according to the ISAT rubric.
•
Assisted the cheerleading coaches during try-outs, and acted as a mentor for the girls.
Teaching Assistant, Franklin Middle School, Sixth Grade, Romeoville, IL Winter 2007-2008
•
Implemented lessons developed by a cooperating teacher in a sixth grade language arts, reading, and social studies
classroom, and managed a classroom of over thirty students.
•
Assisted in instructing a special needs student in developing reading and writing skills.
•
Taught a lesson independently on the process of making inferences while reading.
Teaching Assistant, Grove Ridge High School, Grades 9-10, Glen View, IL, 2003-2004
•
Obtained field experience through a high school Child Development class containing a Pre-School lab.
•
Developed a curriculum which fostered student's creativity and critical thinking in thematic units.
•
Encouraged student improvement by sending weekly progress reports home to parents.
TEACHING PREPARATION
•
Observed use of Smart Boards in mathematics and English courses.
•
Participated in Compass Learning training, and guided students to use this resource available to them.
•
Collaborated with teachers during a seminar on how to integrate affective grouping strategies in class.
AWARDS & ACTIVITIES
National Society for Collegiate Scholars
2004- Present
Zeta Zeta Sorority Member
2005- Present
Zeta Zeta Executive Board Member
2005-2006
SPECIAL INTERESTS
Eager to participate in extracurricular activities such as cheerleading, cross country, and track and field.
SAMPLE : Secondary

10
Joseph Willams
204 W. Plainview Avenue, Chicago, IL 60610 · (773) 238-8112 · jwilliams@yahoo.com
Illinois Initial Elementary Certification (Type 03), April 2008
Middle School Endorsement in Mathematics and Social Sciences
EDUCATION
DePaul University, Chicago, IL
Bachelor of Science in Elementary Education, Concentration in Mathematics, March 2008
Hawthorne Scholastic Academy, Chicago, IL
Student Teacher, October 2007-January 2008
6th, 7
th
(Pre-algebra), 8
th
(Algebra) Mathematics
•
Continuously taught, reflected, and modified skills by providing students with original homework assignments, review
packets, and assessments
•
Employed "problem of the day" to reinforce previously taught skills, prepare students for ISAT, and encourage making
connections across the curriculum
•
Implemented review activities as class began to utilize each available teaching minute
•
Adapted lessons for advanced students and students with learning, and hearing disabilities
•
Facilitated open tutoring Monday through Thursday mornings for any student who needed extra help
6th Reading
•
Strengthened comprehension skills such as making connections and predictions, and asking questions
•
Encouraged critical thinking as well as targeted ISAT skills through stimulating discussions, purposeful journal writing,
and focused essay writing
•
Created various original assessments for each text in the curriculum
6th Social Studies
•
Aided in the production of a play based on The Canterbury Tales which was an interdisciplinary unit encompassing his-
tory, reading, art, dance, and music
•
Created focused lessons on note taking skills and developed original assessments
•
Participated in school wide geography bee
TEACHING-RELATED EXPERIENCE
DePaul University's Career Center, Chicago, IL
Peer Career Advisor, February 2005-Present
•
Utilize strong advising skills by critiquing students' resumes as well as providing interviewing tips, job search strategies,
helping with online resources and facilitated career resource workshops
•
Train new front desk staff, new Peer Career Advisors and identify mentorship techniques
Bakerson Family, Chicago, IL
Childcare Provider, March 2006-Present
•
Introduced games and story hour which encouraged comprehensive, problem-solving, and vocabulary.
VOLUNTEER EXPERIENCE
Boys and Girls Club of Chicago, Chicago, IL
Volunteer Mentor at Jahn Elementary Club, 2005 and 2006 Academic Years
•
Developing a long lasting relationship with a mentee by creating a safe and positive
environment and identifying the importance of character and healthy living weekly.
•
Emphasizing the importance of education and learning by tutoring and ensuring all homework is finished by the end of
each meeting.
•
Awarded 2006 Mentor of the Year at the Jahn Elementary Club.
SAMPLE : Elementary

11
ROSE AMELIA HUNTER
2231 N. Sterling Road. Apt. #2 Chicago, IL 60614
rhunter@aol.com 773.457.3356
Certification
Illinois Initial Elementary Certificate (Type 03)
, completed March 2010
•
Endorsement in Middle Grade Social Sciences and Language Arts
•
General Science endorsement, expected Summer 2010
Education
DePaul University
, Chicago, IL, June 2010
•
Master in Elementary Education, Overall GPA 4.0 / 4.0; graduated with Summa Cum Laude honors
•
Phi Kappa Phi Honors Society– recognizing outstanding academic excellence in all disciplines
•
Golden Key International Honor Society– recognizing outstanding scholastic achievement
Smith University
, Denver, CO, December 2008
•
Bachelor of Arts in Communication; minor, Sociology, Overall GPA 3.6 / 4.0; graduated with Cum Laude honors
•
Lambda Pi Eta Honor Society – recognizing outstanding academic achievement in communication studies
Smith University Study Abroad Program
, Ireland, Summer 2007
•
Studied Irish history, culture and literature and traveled extensively throughout Ireland
Teaching Experience
Special Needs Teacher Associate
Special Needs Teacher AssociateSpecial Needs Teacher Associate
Special Needs Teacher Associate, Williams Middle School, Lombard, IL, Spring 2010- Present
•
Worked one on one with 6
th
and 8
th
grade students that have a variety of special needs
•
Collaborated with all students teachers in order to assist with comprehension and differentiation
•
Served as a mentor and mediator for students with special emotional and behavioral needs
•
Assisted students during regular class time in order to ensure their understanding of the daily lesson
•
Participated in team meetings in order to collaborate on lesson plans and assess student progress
Student Teacher
, Sandberg Middle School, Grade 8, Chicago, IL. Winter 2010
•
Created daily lesson plans for Science and U.S. History using reality-based discussion, and hands on activities
•
Facilitated several daily classes including honors, traditional and special needs levels
•
Maintained classroom management using a daily bell ringer, solid agenda, prompts and one on one check-ins
•
Participated in the School Improvement Plan during Professional Development staff meetings
•
Collaborated with a translator to communicate with parents about student behavior and progress
•
Assessed student learning formally and informally using a variety of assessments and grading rubrics
•
Implemented student activities and projects using collaborative and individual learning approaches
•
Worked one on one after school with special needs students to assist with lesson comprehension
Head Teaching Assistant
, Smith University Commitment Program, Fall 2006 – Spring 2007
•
Mentored and tutored 12 students who required special academic and emotional support during their freshman year
•
Assisted professor with Freshman Seminar and helped first-year students improve their writing skills
•
Supervised team of five teaching assistants while maintaining a full course load
•
Planned all lessons and taught Freshman course Writers in the Nobel Prize
Activities & Interests
•
National Council of Teachers of Mathematics,

Member, 2007– present
•
Smith University Office of Summer Sessions
, Counselor, 2002
o Organized educational activities for children at summer program teaching writing and basic computer skills
•
Celebrate Literacy Program

, Volunteer, 2007-2008
•
Over 8 years of volleyball and softball experience and interested in coaching and extracurricular clubs
SAMPLE : Elementary