Fillable Printable Retirement Farewell Letters Sample
Fillable Printable Retirement Farewell Letters Sample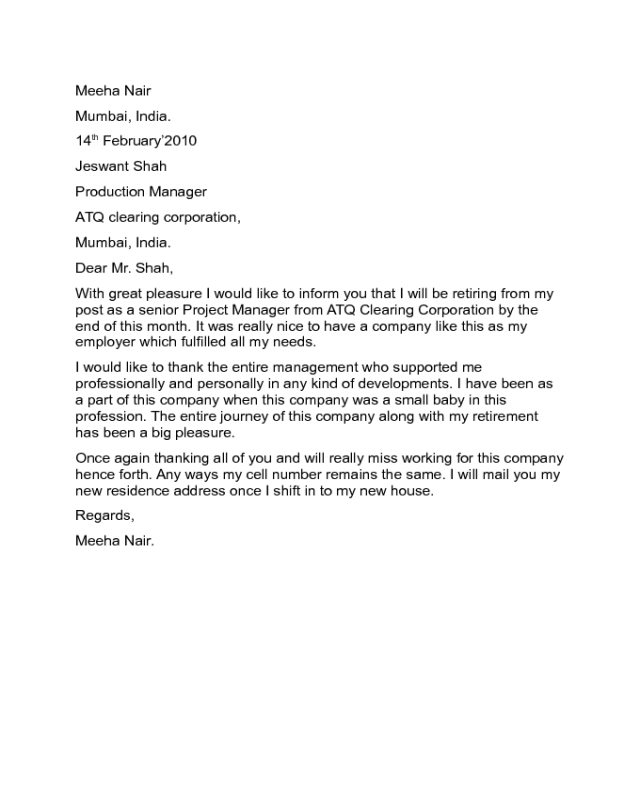 Retirement Farewell Letters Sample
Meeha Nair
Mumbai, India.
14
th
February'2010
Jeswant Shah
Production Manager
ATQ clearing corporation,
Mumbai, India.
Dear Mr. Shah,
With great pleasure I would like to inform you that I will be retiring from my
post as a senior Project Manager from ATQ Clearing Corporation by the
end of this month. It was really nice to have a company like this as my
employer which fulfilled all my needs.
I would like to thank the entire management who supported me
professionally and personally in any kind of developments. I have been as
a part of this company when this company was a small baby in this
profession. The entire journey of this company along with my retirement
has been a big pleasure.
Once again thanking all of you and will really miss working for this company
hence forth. Any ways my cell number remains the same. I will mail you my
new residence address once I shift in to my new house.
Regards,
Meeha Nair.