Fillable Printable Sample Account Resignation Letter
Fillable Printable Sample Account Resignation Letter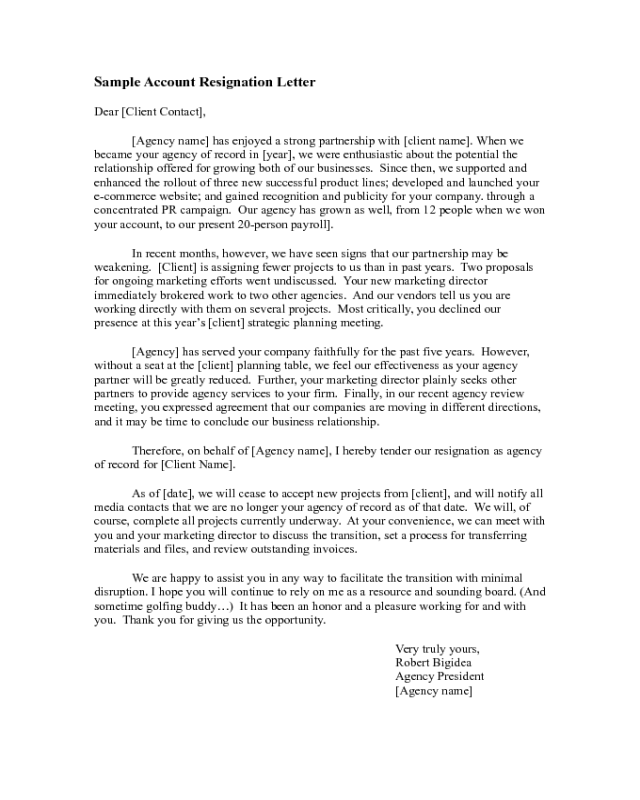 Sample Account Resignation Letter
Sample Account Resignation Letter
Dear [Client Contact],
[Agency name] has enjoyed a strong partnership with [client name]. When we
became your agency of record in [year], we were enthusiastic about the potential the
relationship offered for growing both of our businesses. Since then, we supported and
enhanced the rollout of three new successful product lines; developed and launched your
e-commerce website; and gained recognition and publicity for your company. through a
concentrated PR campaign. Our agency has grown as well, from 12 people when we won
your account, to our present 20-person payroll].
In recent months, however, we have seen signs that our partnership may be
weakening. [Client] is assigning fewer projects to us than in past years. Two proposals
for ongoing marketing efforts went undiscussed. Your new marketing director
immediately brokered work to two other agencies. And our vendors tell us you are
working directly with them on several projects. Most critically, you declined our
presence at this year's [client] strategic planning meeting.
[Agency] has served your company faithfully for the past five years. However,
without a seat at the [client] planning table, we feel our effectiveness as your agency
partner will be greatly reduced. Further, your marketing director plainly seeks other
partners to provide agency services to your firm. Finally, in our recent agency review
meeting, you expressed agreement that our companies are moving in different directions,
and it may be time to conclude our business relationship.
Therefore, on behalf of [Agency name], I hereby tender our resignation as agency
of record for [Client Name].
As of [date], we will cease to accept new projects from [client], and will notify all
media contacts that we are no longer your agency of record as of that date. We will, of
course, complete all projects currently underway. At your convenience, we can meet with
you and your marketing director to discuss the transition, set a process for transferring
materials and files, and review outstanding invoices.
We are happy to assist you in any way to facilitate the transition with minimal
disruption. I hope you will continue to rely on me as a resource and sounding board. (And
sometime golfing buddy…) It has been an honor and a pleasure working for and with
you. Thank you for giving us the opportunity.
Very truly yours,
Robert Bigidea
Agency President
[Agency name]