Fillable Printable Taco Bell Application Form
Fillable Printable Taco Bell Application Form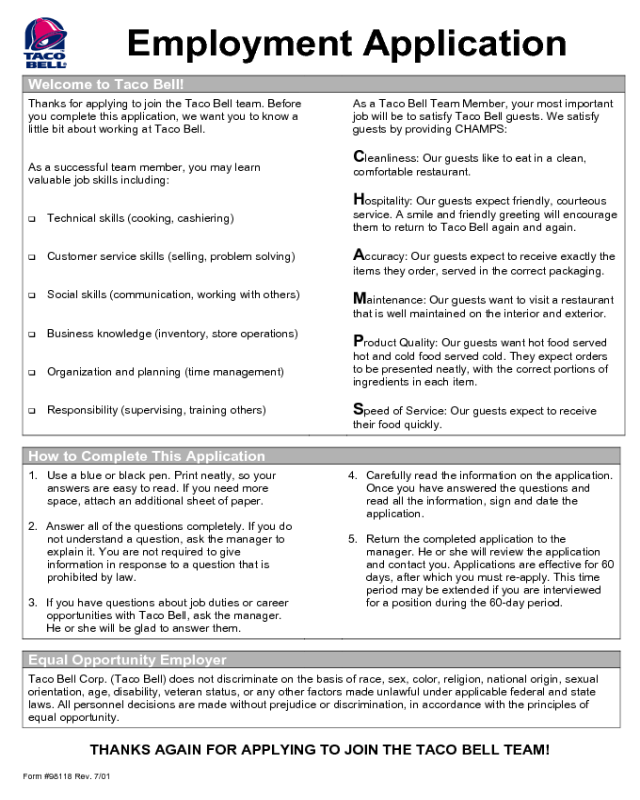 Taco Bell Application Form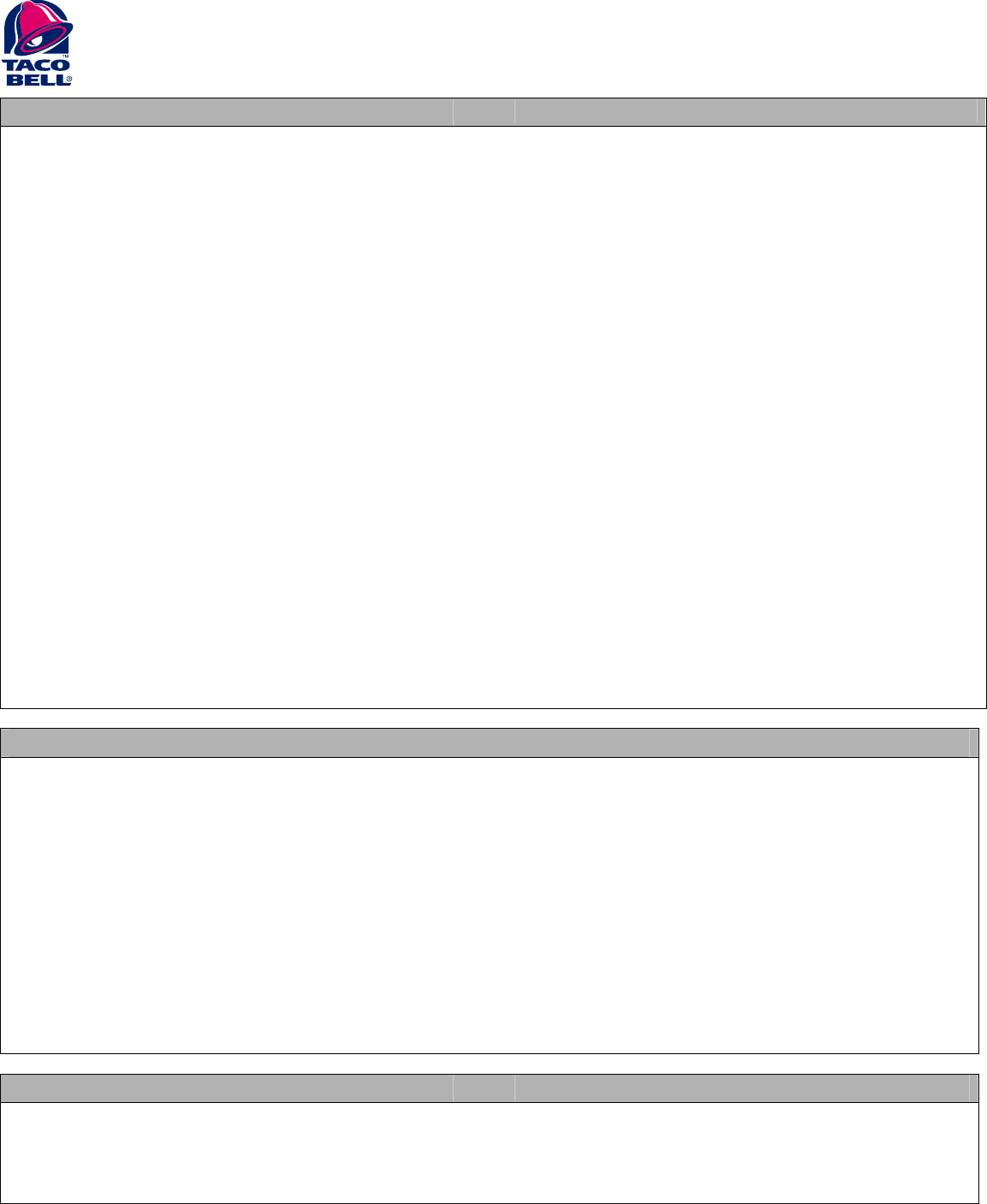 Employment Application
Welcome to Taco Bell!
Thanks for applying to join the Taco Bell team. Before
you complete this application, we want you to know a
little bit about working at Taco Bell.
As a successful team member, you may learn
valuable job skills including:

Technical skills (cooking, cashiering)

Customer service skills (selling, problem solving)

Social skills (communication, working with others)

Business knowledge (inventory, store operations)

Organization and planning (time management)

Responsibility (supervising, training others)
As a Taco Bell Team Member, your most important
job will be to satisfy Taco Bell guests. We satisfy
guests by providing CHAMPS:
C
leanliness: Our guests like to eat in a clean,
comfortable restaurant.
H
ospitality: Our guests expect friendly, courteous
service. A smile and friendly greeting will encourage
them to return to Taco Bell again and again.
A
ccuracy: Our guests expect to receive exactly the
items they order, served in the correct packaging.
M
aintenance: Our guests want to visit a restaurant
that is well maintained on the interior and exterior.
P
roduct Quality: Our guests want hot food served
hot and cold food served cold. They expect orders
to be presented neatly, with the correct portions of
ingredients in each item.
S
peed of Service: Our guests expect to receive
their food quickly.
How to Complete This Application
1.
Use a blue or black pen. Print neatly, so your
answers are easy to read. If you need more
space, attach an additional sheet of paper.
2.
Answer all of the questions completely. If you do
not understand a question, ask the manager to
explain it. You are not required to give
information in response to a question that is
prohibited by law.
3.
If you have questions about job duties or career
opportunities with Taco Bell, ask the manager.
He or she will be glad to answer them.
4.
Carefully read the information on the application.
Once you have answered the questions and
read all the information, sign and date the
application.
5.
Return the completed application to the
manager. He or she will review the application
and contact you. Applications are effective for 60
days, after which you must re-apply. This time
period may be extended if you are interviewed
for a position during the 60-day period.
Equal Opportunity Employer
Taco Bell Corp. (Taco Bell) does not discriminate on the basis of race, sex, color, religion, national origin, sexual
orientation, age, disability, veteran status, or any other factors made unlawful under applicable federal and state
laws. All personnel decisions are made without prejudice or
discrimination, in accordance with the principles of
equal opportunity.
THANKS AGAIN FOR APPLYING TO
JOIN THE TACO BELL TEAM!

Personal Information
NAME (First, Middle, Last)
OTHER NAME(S
) YOU HAVE USED AT WORK OR SCHOOL
PHONE NUMBER
SOCIAL SECURITY NUMER (Optional)
STREET ADDRESS
CITY, STATE, ZIP CODE
HOW LONG HAVE YOU LIVED AT YOUR CURRENT ADDRESS?
PERSON TO CONTACT IN EMERGENCY (Name and Phone Number)
Are you under the age of 18?
If "yes," can you, after employment, show proof of age?
Can you, after employment, submit certificati
on of your legal right to work in the U.S.?
Have you ever been cou nseled or disciplined for being late or absent from work or school?
The U.S. Secretary of Health and Human Services has de
termined that certain diseas es, including hepatitis A,
salmonella, shigella, staphylococcus, streptococcus, giardi
a, and compylobacter, may pre v ent you from serving food or
handling food equipment in a sanitary or healthy fashion. An
essential function of this job involves serving food or
handling food equipment in a sanitary and healthy fash ion.
Can you, with or without reasonable accommodation, perform
this essential function of this job?
Have you ever been convicted of a felony, a crime involving
dishonesty, or a crime involvi ng violence to another person?*
If yes, please describe, including dates charged, pen alties, and current disposition. Note: Convictions are not an
automatic disqualification from employm ent.
_______________________________________________________________________________________________________________
_______________________________________________________________________________________________________________
_______________________________________________________________________________________________________________
_______________________________________________________________________________________________________________
* Residents of Maryland, Massachusetts, and Washing ton State,
read the information abou t this question on the back page.
Position Requested

Team Member:

No experience required

Shift Lead:

Food service or retail experience required

Assistant Manager/Restaurant General Manager: Management experience required
Availability
Monday Tuesday Wednesday Thursday Friday
Saturday Sunday
FROM TO FROM TO FROM TO FROM
TO

FROM TO

FROM TO

FROM TO
Do you have reliable transportation to get to work?

Yes



No

Would you be willing to work at another Taco Bell store?



Yes



No
If hired when could you begin work? (Month/Day/Year)
How many hours would you like to work each week?
Education
NAME
CITY, STATE
# OF YEARS
COMPLETED
GPA
DEGREE OR DIPLOMA
CONTACT PERSON
DEPARTMENT/PHONE
HIGH SCHOOL
COLLEGE
OTHER
PLEASE LIST ALL JOB-RELATED ORGANIZATIONS, CLUBS, OR ACTIVITI
ES YOU ARE/WERE INVOLVED IN AT SCHOOL, EXCEPT

THOSE THAT
INDICATE RACE, RELIGION, COLOR, NATIONAL ORIGIN, ANCESTRY, SEX, OR AGE.

Work Experience
COMPANY
ADDRESS
POSITION & DUTIES
SUPERVISOR
NAME & PHONE
DATES EMPLOYED
REASON FOR
LEAVING
MAY WE CONTACT?
ENDING WAGE: $
MAY WE CONTACT?
ENDING WAGE: $
MAY WE CONTACT?
ENDING WAGE: $
Have you or any of your relatives ever worked for Taco
Bell Corp., Pizza Hut, Inc., KFC Corp oration, Tricon Global
Restaurants, Inc. or any franchis
ee of these companies?



Yes



No
RELATIONSHIP*
COMPANY
LOCATION (CITY, STATE)
DATES EMPLOYED
*Residents of Kansas: Include only yourself, spouses, or children.
References
LIST THREE SCHOOL, WORK, OR PERSONAL REFERENCES WHO WE MAY CONTACT.
DO NOT LIST PEOPLE WHO ARE RELATED TO YOU.
NAME TELEPHONE
NUMBER
HOW LONG HAVE
YOU KNOWN
THIS PERSON?
RELATIONSHIP
TO YOU
TYPE OF
REFERENCE
Residents of
Maryland,
Massachusetts &
Washington State:
Please read the
information on the
back page before
signing this
application.
READ THE FOLLOWING STAT
EMENTS CAREFULLY BEFORE SIGNING THIS APPLICATION. ONLY APPLICATIONS
THAT ARE SIGNED AND DATE
D ARE CONSIDERED VALID.
1.
The information I am presenting in this application is co
mplete, true and corre ct to the best of my knowledg e. I understand
that any falsification, misrepresentation,
or omissions could result in the denial of my application, withdrawal of any offer o

f
employment, or immediate discharge.
2.
I understand that in connection with the application process,
Taco Bell and its representatives may contact my former
employers, educational institutions, refe
rences, and other relevant third parties

to obtain additional informati on related to
the information given by me in this application. I also understand that Taco Bell may provide such information to its parent
company and affiliates and to other third parties. I hereby r
equest, release, and consent to the release a nd disclosure of
such information. I further release and h old harmless Taco Be
ll, Taco Bell's parent company and affiliates, their officers,
employees and agents, and any other p arties inquiring about,
investigating, furnishing, comm unicating, reviewing, or
evaluating such information from any and all potential claims, demands, damages, liabilities, and/or a ction s of any kind
arising from such activities, whether known or unknown to
me presently, that I may have, now or in the future.
3.
If employed, I agree to conform to the rules an d regulations

of Taco Bell Corp. and understand that I will be an employee
at-will, and my employment may be terminated at any time by me
or Taco Bell, with or without notice, for any reason. I
understand that only the President of Taco Bell Co rp. or the
Vice President of Human Resources of Taco Bell Corp. has
the authority to enter into any agreement for employment fo
r any specified period of time, or to make any agreement
contrary to the foregoing.
APPLICANT'S SIGNATURE
DATE

Employment Test
(No Calculators Please)
PART I
3.35
2.79
35.25
- 33.08
For the following questions, state your answer in terms of bills and coins. For
example, $4.59 would be 4 dollar bills, 2 quarters, 1 nickel and 3 pennies.
1. If the customer's order came to $ 13.58 and he gave you a $ 20 bill, what is his
change?
2. If the customer's order came to $ 6.22 and she gave you $20.25, what is her
change?
Part II
A. A customer complains that he was short changed by you receiving only 13¢ change from the $ 2.00 instead of
31¢. What would you do?
B. Which do you consider more important as far as a restaurant is concerned - courteous, prompt service or a
quality product?
C. What do you consider to be the most important qualifications of a Taco Bell employee?
D. You are working alone and your shift is due to be over at 6 P.M. The individual who is scheduled to begin
working at 6 P.M. does not show up. What do you do?