Fillable Printable Tips To Write a Resignation Letter Sample
Fillable Printable Tips To Write a Resignation Letter Sample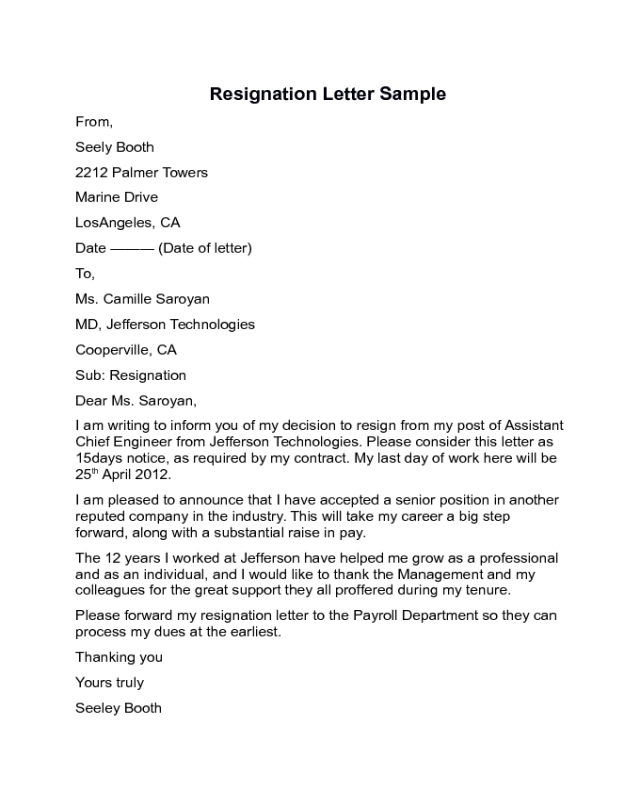 Tips To Write a Resignation Letter Sample
Resignation Letter Sample
From,
Seely Booth
2212 Palmer Towers
Marine Drive
LosAngeles, CA
Date ——— (Date of letter)
To,
Ms. Camille Saroyan
MD, Jefferson Technologies
Cooperville, CA
Sub: Resignation
Dear Ms. Saroyan,
I am writing to inform you of my decision to resign from my post of Assistant
Chief Engineer from Jefferson Technologies. Please consider this letter as
15days notice, as required by my contract. My last day of work here will be
25
th
April 2012.
I am pleased to announce that I have accepted a senior position in another
reputed company in the industry. This will take my career a big step
forward, along with a substantial raise in pay.
The 12 years I worked at Jefferson have helped me grow as a professional
and as an individual, and I would like to thank the Management and my
colleagues for the great support they all proffered during my tenure.
Please forward my resignation letter to the Payroll Department so they can
process my dues at the earliest.
Thanking you
Yours truly
Seeley Booth