Fillable Printable ABM Application Form
Fillable Printable ABM Application Form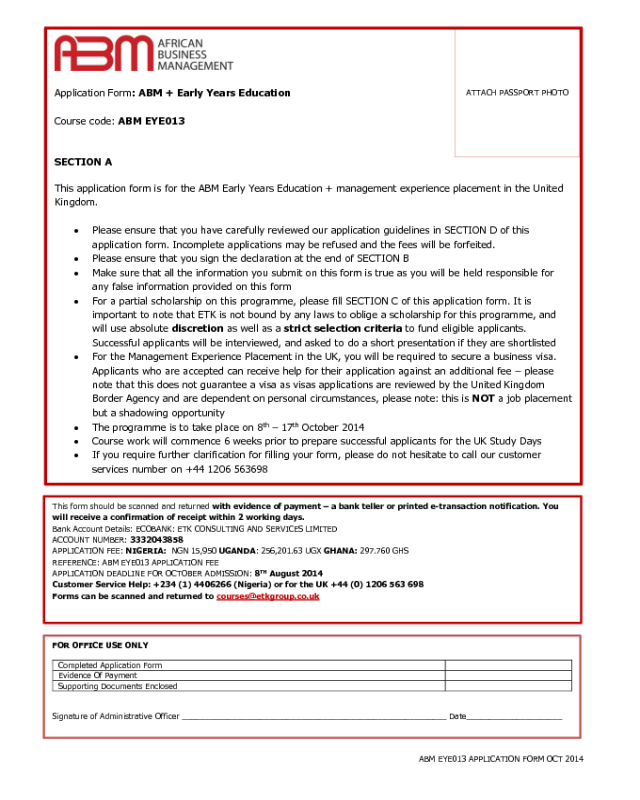 ABM Application Form
ABM EYE013 APPLICATION FORM OCT 2014
Application Form
:

ABM + Early Years Education
SECTION A
This application form is for the ABM Early Years Education + management experience placement in the United
Kingdom.

Please ensure that you have carefully reviewed our application guidelines in SECTION D of this
application form. Incomplete applications may be refused and the fees will be forfeited.

Please ensure that you sign the declaration at the end of SECTION B

Make sure that all the information you submit on this form is true as you will be held responsible for
any false information provided on this form

For a partial scholarship on this programme, please fill SECTION C of this application form. It is
important to note that ETK is not bound by any laws to oblige a scholarship for this programme, and
will use absolute
discretion
as well as a
strict selection criteria
to fund eligible applicants.
Successful applicants will be interviewed, and asked to do a short presentation if they are shortlisted

For the Management Experience Placement in the UK, you will be required to secure a business visa.
Applicants who are accepted can receive help for their application against an additional fee
–
please
note that this does not guarantee a visa as visas applications are reviewed by the United Kingdom
Border Agency and are dependent on personal circumstances, please note: this is
NOT
a job placement
but a shadowing opportunity

The programme is to take place on 8
th
th
October 2014

Course work will commence 6 weeks prior to prepare successful applicants for the UK Study Days

If you require further clarification for filling your form, please do not hesitate to call our customer
services number on +44 1206 563698
This form should be scanned and returned
with evidence of payment

–

a bank teller or printed e-transaction notification. You
will receive a confirmation of receipt within 2 working days.
Bank Account Details: ECOBANK: ETK CONSULTING AND SERVICES LIMITED
ACCOUNT NUMBER:
3332043858
APPLICATION FEE:
NIGERIA:
NGN 15,950
UGANDA
: 256,201.63 UGX GHANA:

297.760 GHS
REFERENCE: ABM EYE013 APPLICATION FEE
APPLICATION DEADLINE FOR OCTOBER ADMISSION:
8
TH
August 2014
Customer Service Help: +234
(1

) 4406266 (Nigeria) or for the UK +44 (0) 1206 563 698
Completed Application Form
Supporting Documents Enclosed
Signature of Administrative Officer __________________________________________________________ Date_____________________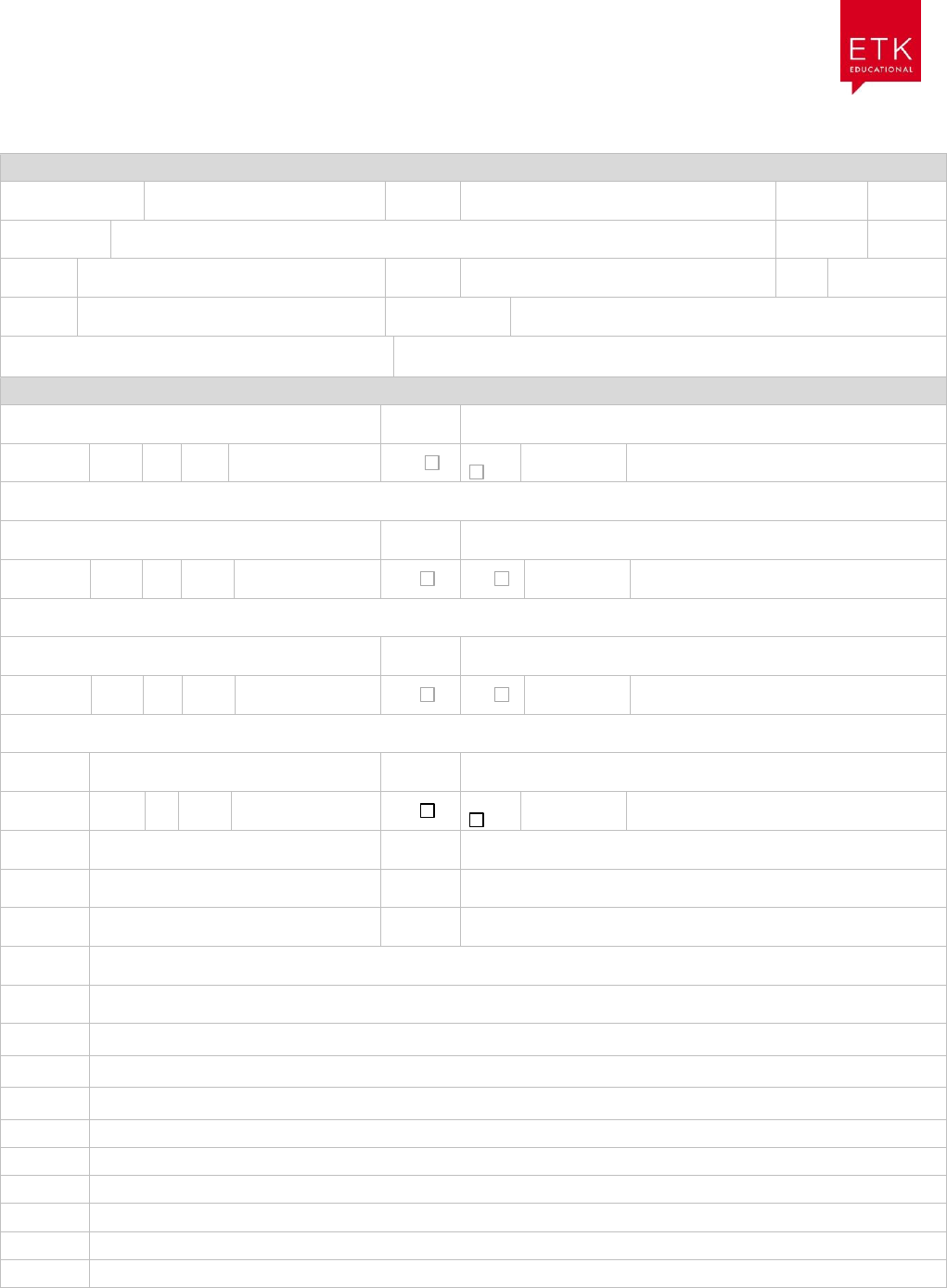 ABM EYE013 APPLICATION FORM OCT 2014
SECTION A: PERSONAL INFORMATION
APPLICANT PERSONAL INFORMATION-QUESTION 1
Country and
Date of Birth: d/m/y
(Include dual Nationality)
APPLICANT QUALIFICATIONS-QUESTION 2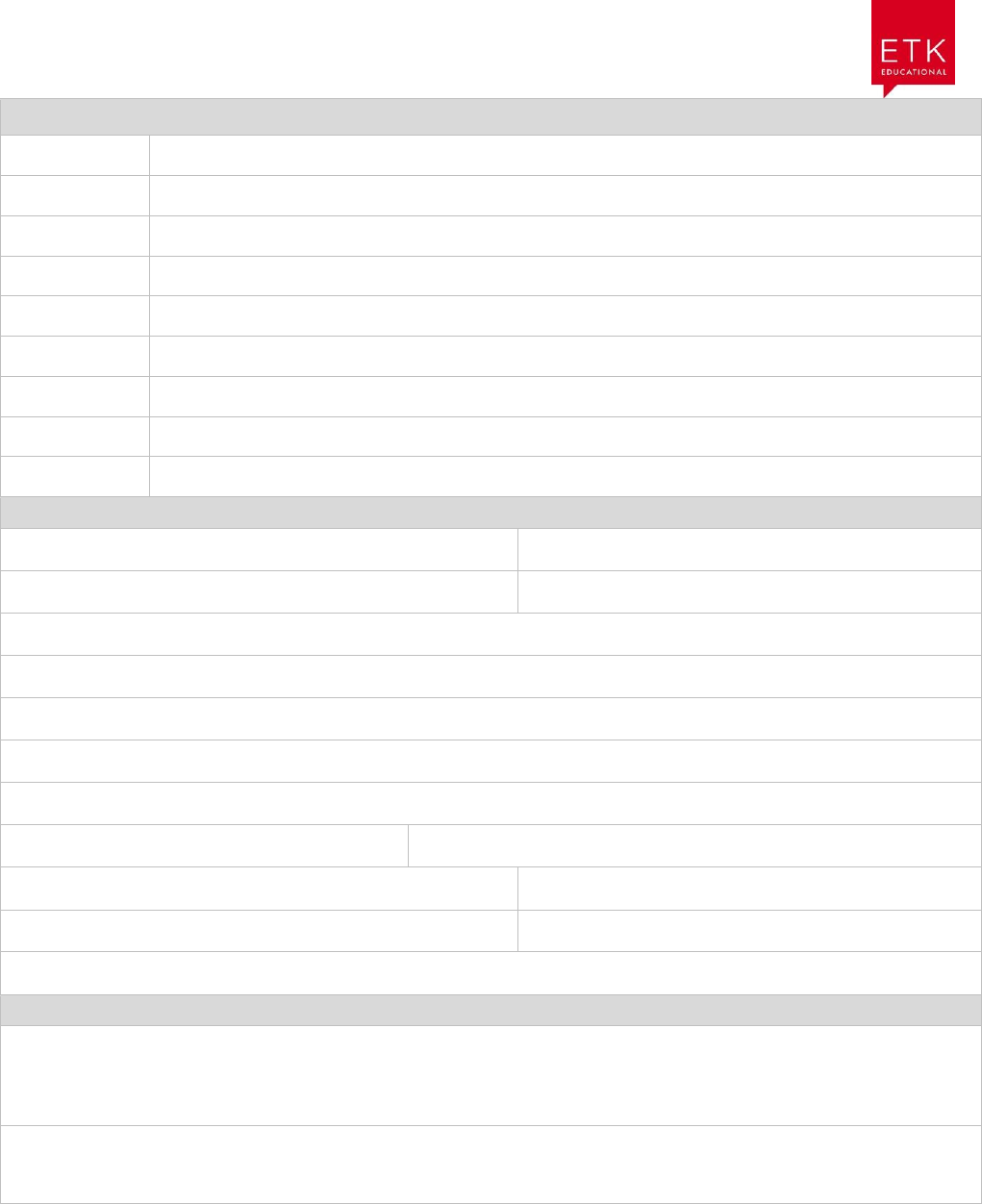 ABM EYE013 APPLICATION FORM OCT 2014
APPLICANT COURSE DETAILS AND REASON FOR APPLYING QUESTION 3
Name of the
course applied for
Please explain in a few lines why you want to attend the ABM/EY Education course?
APPLICANT EMPLOYMENT INFORMATION-QUESTION 4
I certify that my answers are true and complete to the best of my knowledge. ABM EYE013 APPLICATION FORM OCT 2014
SECTION B: MANAGEMENT EXPERIENCE PLACEMENT/MENTOR PROGRAMME
WORK PLACEMENT APPLICANT DETAILS AND REASON FOR APPLYING
Please write your full name:
Please write the name of your organization:
Please explain in a few lines why you want to attend the ABM/EY management experience placement?
Do you have any special needs?
Do you have any dietary requirements?
Do you have any medical conditions we need to know about?
Please give name and address and phone number of who to contact in an emergency?
You will require a visa to come for the programme. Do you have a valid passport? ABM EYE013 APPLICATION FORM OCT 2014
Are
you

able to arrange your own travel and transport? Yes No
Are you able to arrange your own accommodation? Yes No
Do you need any added valued services provided by ETK for `which will be an additional fee? (Please Tick)
Who will pay the fee for the ABM EY and management experience placement? (Please Tick)
Have you been mentored before and what was your experience? Briefly describe
Do you have access to the internet for the mentor programme? ABM EYE013 APPLICATION FORM OCT 2014
How many years of experience do you have in management, describe your experience?
Do you have a criminal record? If yes please explain!
Do you have police clearance documentation?
Would it be beneficial to establish a relationship between your placement and your workplace?
Do you have any further questions and what are they?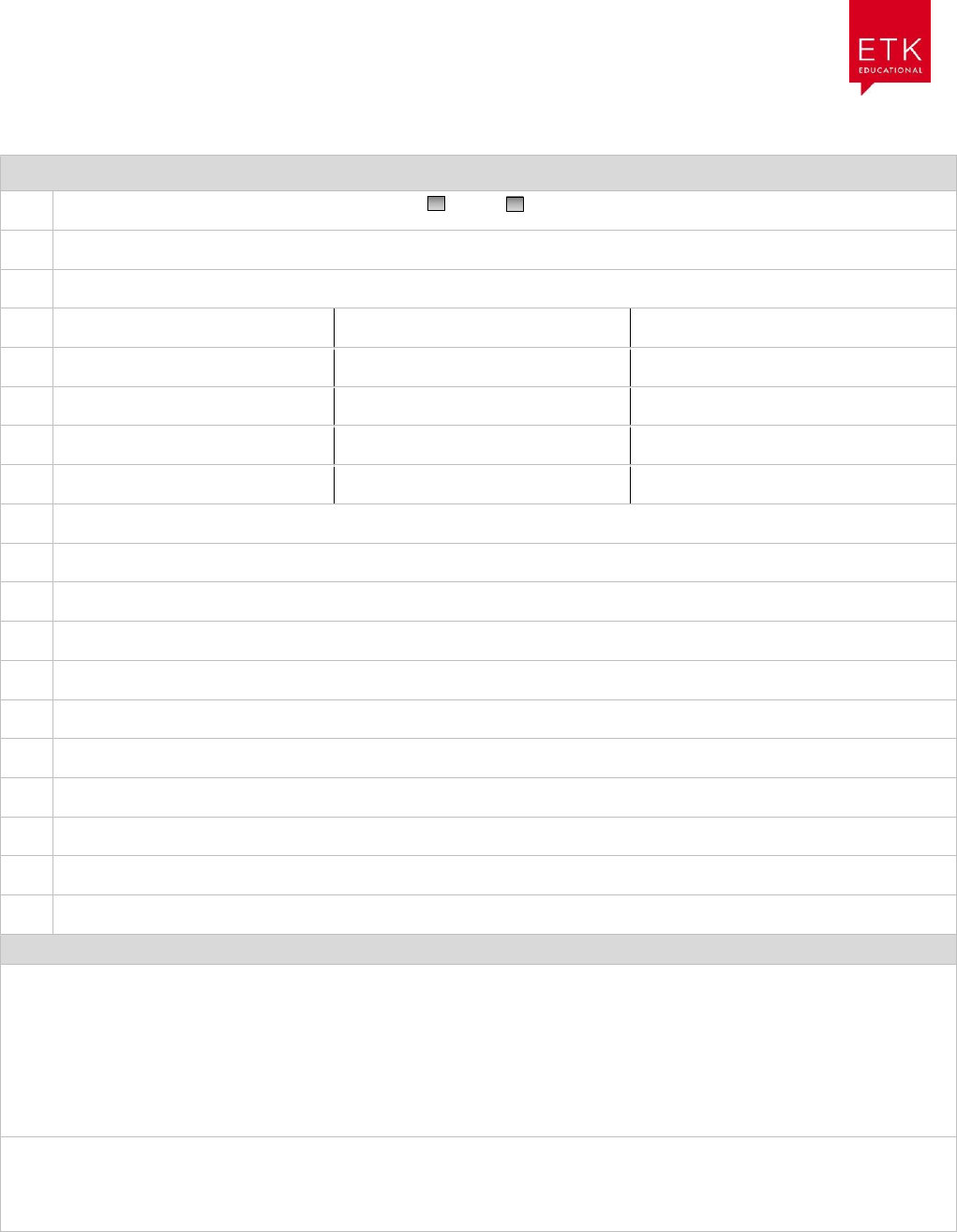 ABM EYE013 APPLICATION FORM OCT 2014
SECTION C: SCHOLARSHIP APPLICATION
Have you received scholarship funding before? Yes No
SCHOLARSHIP OR PRIXE NAME
In the 12 months immediately preceding the start of this programme, have you worked full-time or part-time?
What is your gross annual income?
Do you have any other sources of income (e.g. savings, savings returns, trust fund, relatives, dividends, or rented property? Please
state the total annual value?
Explain why you believe you will need financial support?

I have provided all details required and I confirm that the information provided in this application is, to the best of my knowledge,
true and correct. I undertake to notify ETK of any changes in my circumstances without delay.

I understand that false information will invalidate this application.

I give my permission for the information provided in this form (and the supporting documentation) to be shared with scholarship
donors if they request it.

I have read the criteria of the scholarships for which I wish to be considered and the relevant Guidance Notes. I confirm that I
have enclosed or have arranged to send all required supporting documentation.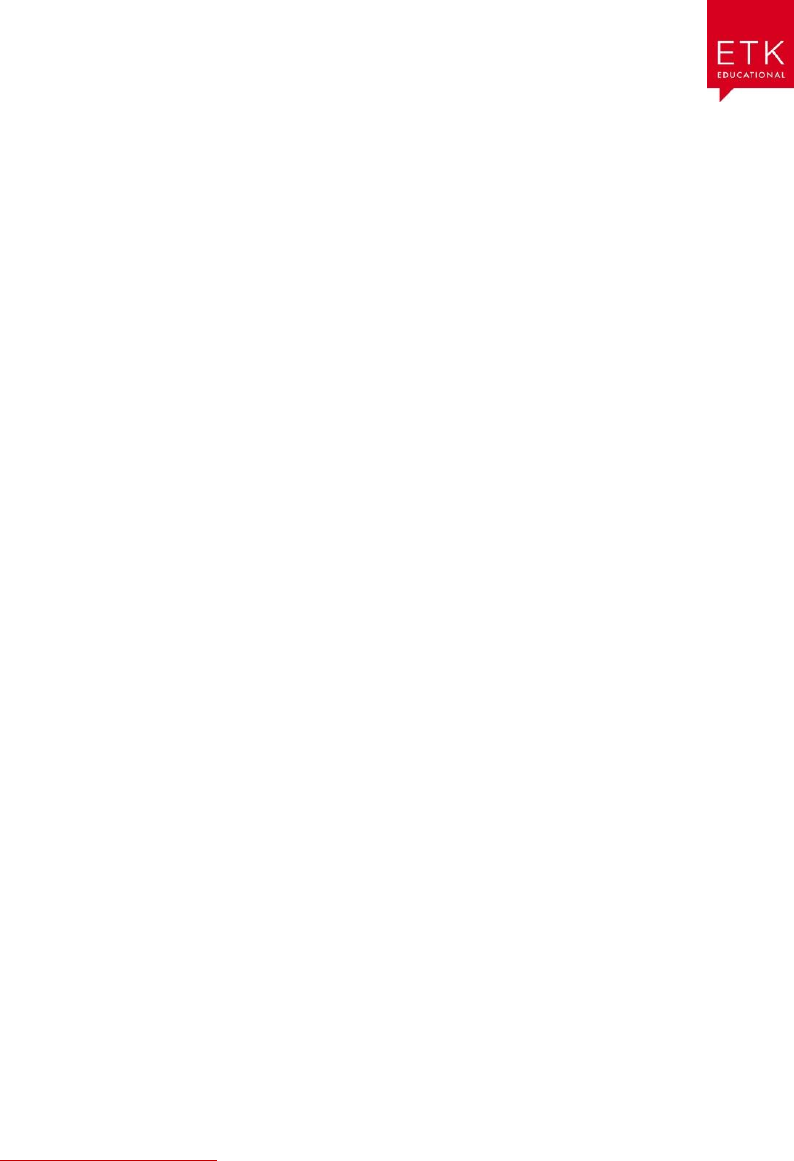 ABM EYE013 APPLICATION FORM OCT 2014
SECTION D:
Guidelines to Completing your Forms
Admission Criteria

Must be in a Management position at an Early Years' Education Centre or relevant Management
Experience

Must be able to provide evidence that you are in the process of

establishing an Early Years' Education
Centre with relevant Management Experience

Must have the ability to work at Level 6 (equivalent to a foundation degree)*

General knowledge of the Early Education sector

If admitted, will be required to provide evidence of the ability to sponsor yourself or partially fund
yourself if you are awarded a scholarship for the programme

Willing to provide a character reference for the application and particularly, the Management Experience
placement

Must have no prior criminal convictions
Question 1
Surname: This is the name under which your application form will be registered and the name you should use on
any future correspondence with us. Make sure that this is the name on all your paperwork and references to avoid
confusion. If you have a previous surname please enter it as well e.g. if you have married/divorced and especially
if
the
name
on
your
transcript
is
different
from
your
current
name.
If

you

will

need

a

visa

to

attend

the
management experience placement, this should also be your passport name.
Use the box to indicate the title you usually use.
Ms.

,
Mr., Miss, Mrs. Etc. Please do not leave this field blank.
Please ensure you enter your address in the correct format in order to receive post from the UK. Please check with
your local post office if you are unsure of the format. You should keep your address up to date throughout the
application cycle
Please enter the date that you were born in the format shown here: Day/Month/Year.
Include a valid email address that you check
on a regular basis

, as this is the way we will communicate with you
regarding your application.
Past experience has
shown that free email accounts are sometimes unreliable. It
is
essential that you add the ETK domain name, etkgroup.co.uk, either to your safe list or your contact list. From this
point on all email contact will be database driven and as such emails may be directed to your junk mail folder if
you do not amend your email settings. If
you change your email
address, please inform the ETK Office
immediately
, using course[email protected]. Enter your nationality. If you have dual nationality, enter this as
well. Sex: Select from the options shown.
Question 2: Qualifications
Please give details of current university level qualifications you already hold. The information you provide here will
need to be able to be backed up with official or certified copies of degree certificates and transcript.
When choosing the principal subject, you should choose the closest match to your degree. For example, if you
studied Engineering and no other subjects then use "single subject" If you studied Engineering as the main subject,

ABM EYE013 APPLICATION FORM OCT 2014
but also did one more other "minor" subjects (for example a few modules/subjects in French or Law) then you
should choose "main subject"
Question 3: Course details and reasons for applying
Please enter the name of the ABM you want to attend and the location. There are two options to complete the ABM
in Nigeria or the UK, state your preference. We will take your preference into consideration but we have the right
to carry out the training in the most suitable location depending on circumstances such as number of applicants
etc. Enter the dates that you wish to take the course
.
Ex
plain in a few lines why you are taking this course, this paragraph we will also use to assess the level of your
writing skills and what you want to get out of the course.
Question 4: Employment history
and a reference
Please include details of your current or most recent employer. You should also submit a full CV/ including your
full employment history, including other internships. Clearly outline your management responsibilities as this will
be information for the facilitator to present relevant case studies.
Name your referee and allow them to submit a reference online. You will not be able to read this reference but it
will be recorded as soon as it has been submitted. Please contact your referee to remind them to expect to write
and submit the reference as soon as possible when requested. If your referee does not have access to email or
is having technical issues with the online system you can send a PDF or Word copy of the reference to us
.
Please sign and date the form.
UK Data Protection laws require you to tell us who else you would like to be able to access your application
information. Your information will not be passed on to anyone (this includes parents and partners) unless you
specifically ask us to do so.
Signature box: Please sign and date the form and submit to ETK Educational as instructed.
To be considered for the work experience/mentor programme also complete SECTION B.
Please give us all the relevant information that answer the questions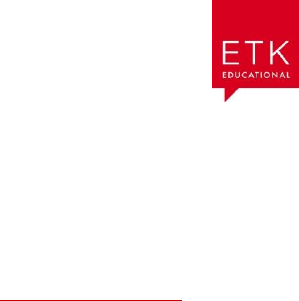 ABM EYE013 APPLICATION FORM OCT 2014
SECTION C SCHOLARSHIP APPLICATION
Scholarship for this programme is competitive as there are limited places on both admissions.
Please do not
apply for a scholarship if you are able to support yourself financially
, as this may take the chance away
from someone who genuinely needs it.
You will be required to do an interview and presentation to qualify for the scholarship separately if you are
shortlisted. Candidates will be notified by email and published on our website
www.etkgroup.co.uk
and national
newspapers.
Supporting Documents

Proof of Qualifications (if any)

Proof of Identity (copy of International Passport or Driver's License)

Proof of Payment for NGN15,950 application fee to ETK Consulting & Services Ltd account
If you are successful with your application, we will expect you to send all the original documentation to:
Mr Ken Okolo
205 A Corporation
Dolphin Estate
Ikoyi
Lagos
******PLEASE NOTE THAT WE WILL NOT BE LIABLE FOR PAYMENTS MADE TO ANY OTHER
ACCOUNT. CASH PAYMENTS WILL
NOT
BE ACCEPTED AND WE DO NOT EXPECT YOU TO PAY CASH
TO ANYONE EVEN IF THEY REPRESENT THE COMPANY*****