Fillable Printable Charity Letter for Mentally Ill Patients Sample
Fillable Printable Charity Letter for Mentally Ill Patients Sample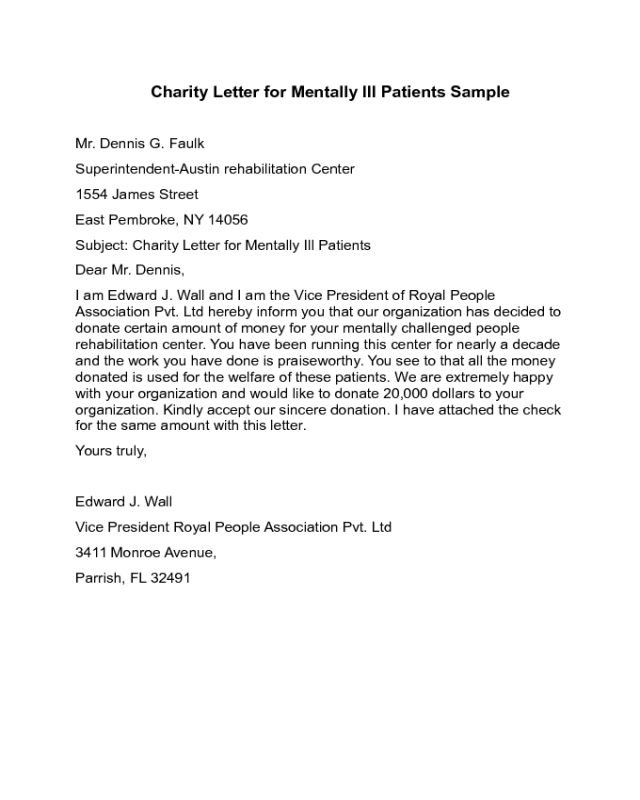 Charity Letter for Mentally Ill Patients Sample
Charity Letter for Mentally Ill Patients Sample
Mr. Dennis G. Faulk
Superintendent-Austin rehabilitation Center
1554 James Street
East Pembroke, NY 14056
Subject: Charity Letter for Mentally Ill Patients
Dear Mr. Dennis,
I am Edward J. Wall and I am the Vice President of Royal People
Association Pvt. Ltd hereby inform you that our organization has decided to
donate certain amount of money for your mentally challenged people
rehabilitation center. You have been running this center for nearly a decade
and the work you have done is praiseworthy. You see to that all the money
donated is used for the welfare of these patients. We are extremely happy
with your organization and would like to donate 20,000 dollars to your
organization. Kindly accept our sincere donation. I have attached the check
for the same amount with this letter.
Yours truly,
Edward J. Wall
Vice President Royal People Association Pvt. Ltd
3411 Monroe Avenue,
Parrish, FL 32491