Fillable Printable Charity Letter Sample
Fillable Printable Charity Letter Sample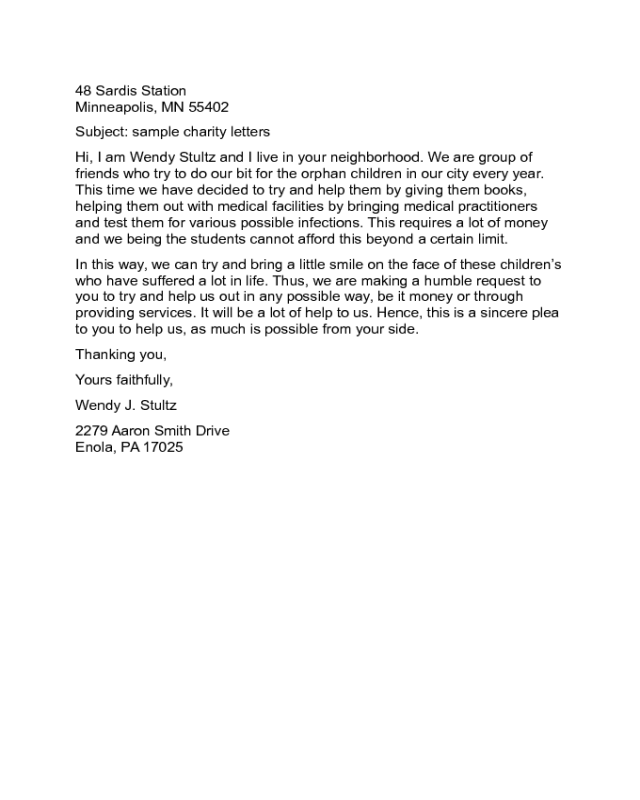 Charity Letter Sample
48 Sardis Station
Minneapolis, MN 55402
Subject: sample charity letters
Hi, I am Wendy Stultz and I live in your neighborhood. We are group of
friends who try to do our bit for the orphan children in our city every year.
This time we have decided to try and help them by giving them books,
helping them out with medical facilities by bringing medical practitioners
and test them for various possible infections. This requires a lot of money
and we being the students cannot afford this beyond a certain limit.
In this way, we can try and bring a little smile on the face of these children's
who have suffered a lot in life. Thus, we are making a humble request to
you to try and help us out in any possible way, be it money or through
providing services. It will be a lot of help to us. Hence, this is a sincere plea
to you to help us, as much is possible from your side.
Thanking you,
Yours faithfully,
Wendy J. Stultz
2279 Aaron Smith Drive
Enola, PA 17025