Fillable Printable Charity Letter Format
Fillable Printable Charity Letter Format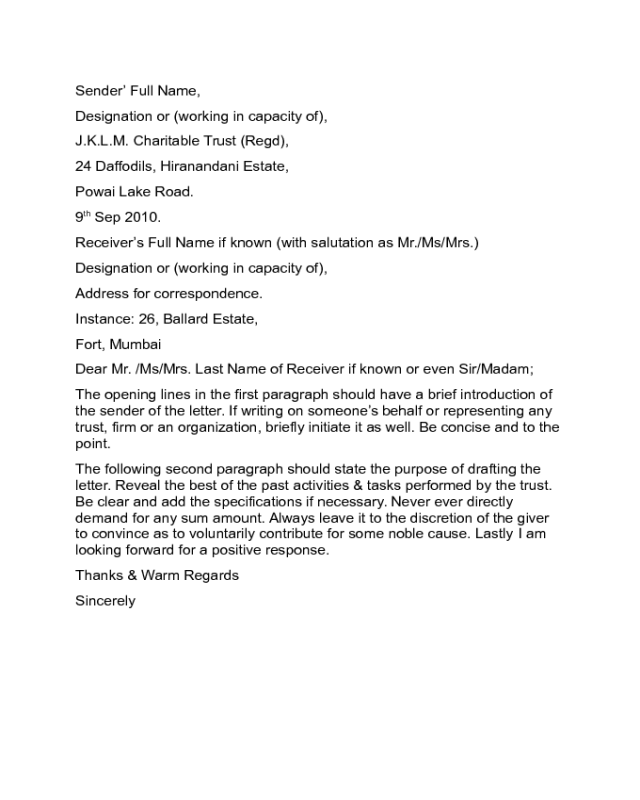 Charity Letter Format
Sender' Full Name,
Designation or (working in capacity of),
J.K.L.M. Charitable Trust (Regd),
24 Daffodils, Hiranandani Estate,
Powai Lake Road.
9
th
Sep 2010.
Receiver's Full Name if known (with salutation as Mr./Ms/Mrs.)
Designation or (working in capacity of),
Address for correspondence.
Instance: 26, Ballard Estate,
Fort, Mumbai
Dear Mr. /Ms/Mrs. Last Name of Receiver if known or even Sir/Madam;
The opening lines in the first paragraph should have a brief introduction of
the sender of the letter. If writing on someone's behalf or representing any
trust, firm or an organization, briefly initiate it as well. Be concise and to the
point.
The following second paragraph should state the purpose of drafting the
letter. Reveal the best of the past activities & tasks performed by the trust.
Be clear and add the specifications if necessary. Never ever directly
demand for any sum amount. Always leave it to the discretion of the giver
to convince as to voluntarily contribute for some noble cause. Lastly I am
looking forward for a positive response.
Thanks & Warm Regards
Sincerely