Fillable Printable Charity Letter for Old Age Home Center Sample
Fillable Printable Charity Letter for Old Age Home Center Sample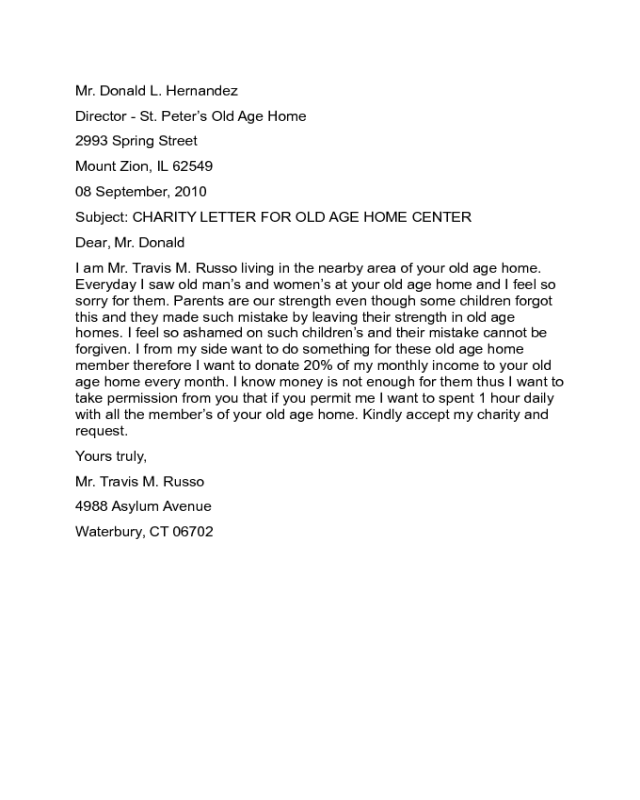 Charity Letter for Old Age Home Center Sample
Mr. Donald L. Hernandez
Director - St. Peter's Old Age Home
2993 Spring Street
Mount Zion, IL 62549
08 September, 2010
Subject: CHARITY LETTER FOR OLD AGE HOME CENTER
Dear, Mr. Donald
I am Mr. Travis M. Russo living in the nearby area of your old age home.
Everyday I saw old man's and women's at your old age home and I feel so
sorry for them. Parents are our strength even though some children forgot
this and they made such mistake by leaving their strength in old age
homes. I feel so ashamed on such children's and their mistake cannot be
forgiven. I from my side want to do something for these old age home
member therefore I want to donate 20% of my monthly income to your old
age home every month. I know money is not enough for them thus I want to
take permission from you that if you permit me I want to spent 1 hour daily
with all the member's of your old age home. Kindly accept my charity and
request.
Yours truly,
Mr. Travis M. Russo
4988 Asylum Avenue
Waterbury, CT 06702