Fillable Printable Charity Sponsorship Letter Sample
Fillable Printable Charity Sponsorship Letter Sample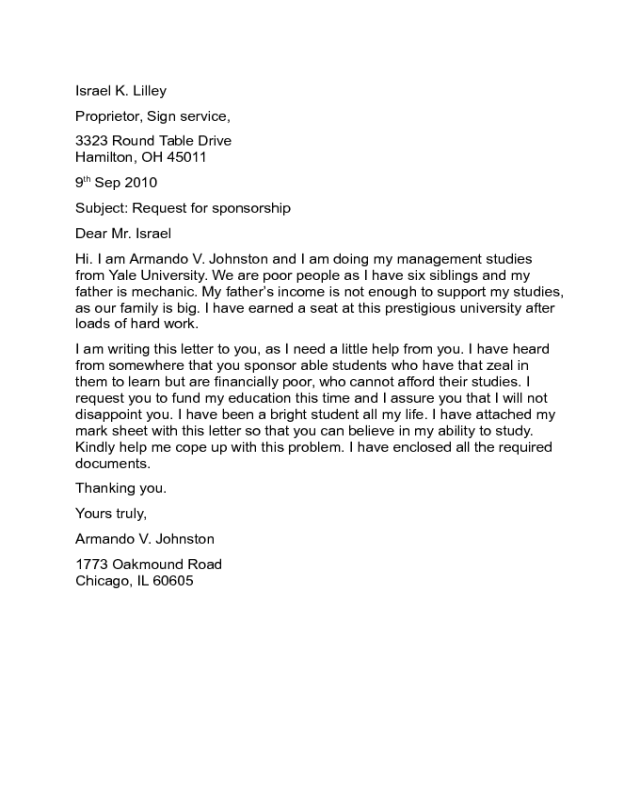 Charity Sponsorship Letter Sample
Israel K. Lilley
Proprietor, Sign service,
3323 Round Table Drive
Hamilton, OH 45011
9
th
Sep 2010
Subject: Request for sponsorship
Dear Mr. Israel
Hi. I am Armando V. Johnston and I am doing my management studies
from Yale University. We are poor people as I have six siblings and my
father is mechanic. My father's income is not enough to support my studies,
as our family is big. I have earned a seat at this prestigious university after
loads of hard work.
I am writing this letter to you, as I need a little help from you. I have heard
from somewhere that you sponsor able students who have that zeal in
them to learn but are financially poor, who cannot afford their studies. I
request you to fund my education this time and I assure you that I will not
disappoint you. I have been a bright student all my life. I have attached my
mark sheet with this letter so that you can believe in my ability to study.
Kindly help me cope up with this problem. I have enclosed all the required
documents.
Thanking you.
Yours truly,
Armando V. Johnston
1773 Oakmound Road
Chicago, IL 60605