Fillable Printable Corporate Charity Letter Sample
Fillable Printable Corporate Charity Letter Sample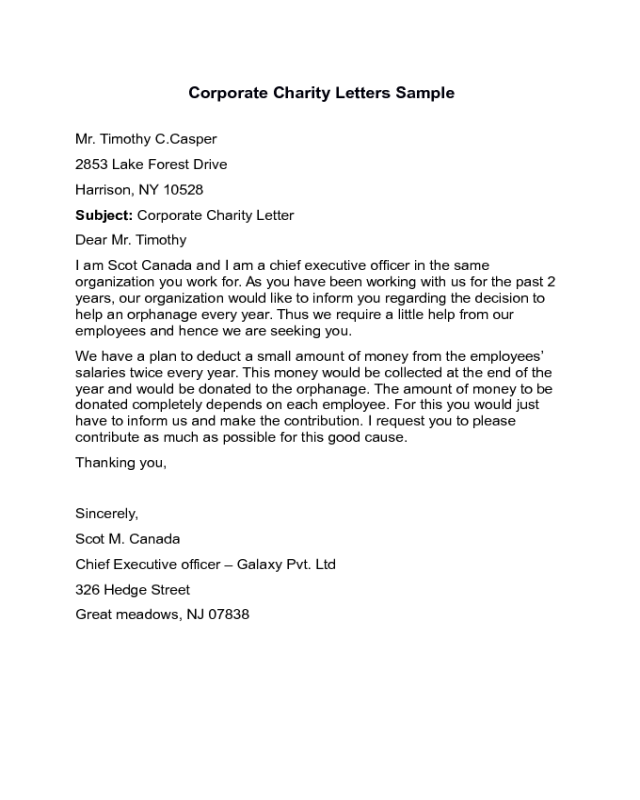 Corporate Charity Letter Sample
Corporate Charity Letters Sample
Mr. Timothy C.Casper
2853 Lake Forest Drive
Harrison, NY 10528
Subject:
Corporate Charity Letter
Dear Mr. Timothy
I am Scot Canada and I am a chief executive officer in the same
organization you work for. As you have been working with us for the past 2
years, our organization would like to inform you regarding the decision to
help an orphanage every year. Thus we require a little help from our
employees and hence we are seeking you.
We have a plan to deduct a small amount of money from the employees'
salaries twice every year. This money would be collected at the end of the
year and would be donated to the orphanage. The amount of money to be
donated completely depends on each employee. For this you would just
have to inform us and make the contribution. I request you to please
contribute as much as possible for this good cause.
Thanking you,
Sincerely,
Scot M. Canada
Chief Executive officer – Galaxy Pvt. Ltd
326 Hedge Street
Great meadows, NJ 07838