Fillable Printable Best Offer Letter Format
Fillable Printable Best Offer Letter Format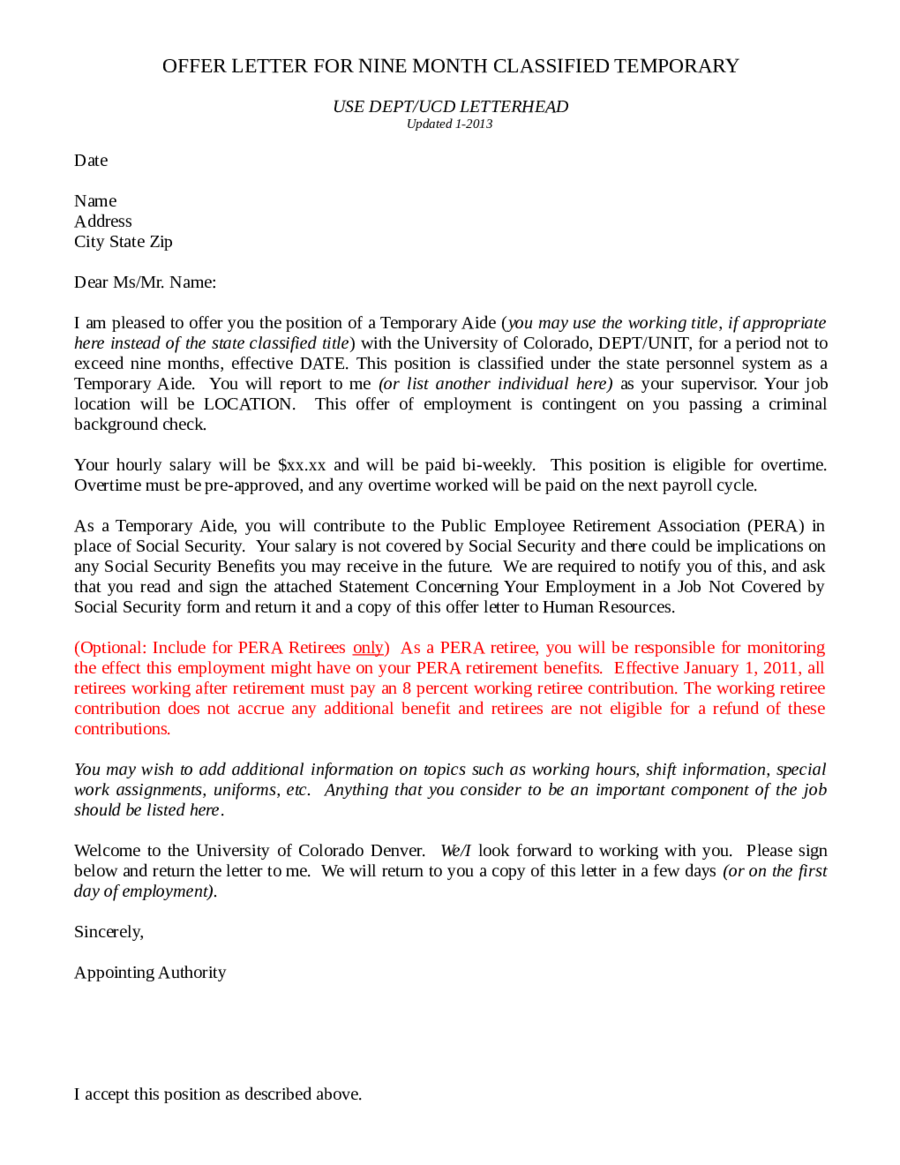 Best Offer Letter Format

OFFER LETTER FOR NINE MONTH CLASSIFIED TEMPORARY
USE DEPT/UCD LETTERHEAD
Updated 1-2013
Date
Name
Address
City State Zip
Dear Ms/Mr. Name:
I ampleasedtoofferyouthe positionofa TemporaryAide(
youmay use theworkingtitle,if appropriate
here insteadofthe state classifiedtitle
)with theUniversityofColorado, DEPT/UNIT,fora periodnotto
exceedninemonths,effectiveDATE.Thispositionisclassifiedunderthestatepersonnelsystemasa
TemporaryAide.Youwillreporttome
(orlistanotherindividualhere)

asyoursupervisor.Yourjob
locationwillbeLOCATION.Thisofferofemploymentiscontingentonyoupassingacriminal
Yourhourlysalarywillbe$xx.xxandwillbepaidbi-weekly.Thispositioniseligibleforovertime.
Overtime must be pre-approved, and any overtime worked will be paid on the next payroll cycle.
AsaTemporaryAide,youwillcontributetothePublicEmployeeRetirementAssociation(PERA)in
place of Social Security.Your salary is not covered by Social Security and there could be implications on
any Social Security Benefits you may receive in thefuture. We are required to notify you of this, and ask
thatyoureadandsigntheattachedStatementConcerningYourEmploymentinaJobNotCoveredby
Social Security form and return it and a copy of this offer letter to Human Resources.
(Optional:IncludeforPERA Retireesonly) AsaPERA retiree,youwillberesponsibleformonitoring
theeffectthisemploymentmighthaveonyourPERA retirementbenefits.EffectiveJanuary1,2011,all
retireesworking afterretirementmustpay an8percentworkingretireecontribution. Theworkingretiree
contributiondoesnotaccrueanyadditionalbenefitandretireesarenoteligibleforarefundofthese
contributions.
Youmaywishtoaddadditionalinformationontopicssuchasworkinghours,shiftinformation,special
workassignments,uniforms,etc.Anythingthatyouconsidertobeanimportantcomponentofthejob
WelcometotheUniversityofColoradoDenver.
We/I

lookforwardtoworkingwithyou.Pleasesign
below and return theletter to me. Wewill return toyoua copy of thisletter in a fewdays
(or onthe first
day of employment).
Sincerely,
Appointing Authority
I accept this position as described above.
Signature: ______________________________________ Date: ________________

Statement Concerning Your Employment in a Job
Not Covered by Social Security
Employee Name
Employee ID#
Employer Name
University of ColoradoEmployer ID#

84-6000555
Your earnings from this job are not covered under Social Security. When youretire, or if you become disabled, you
may receive a pension based on earnings from this job. If you do, and you are also entitled to a benefit from Social
Securitybasedoneitheryourownworkortheworkofyourhusbandorwife,orformerhusbandorwife,your
pension may affect the amount of the Social Security benefit you receive. Your Medicare benefits, however, will not
be affected. Under the Social Security law, there are two ways your Social Security benefit amount may be affected.
Windfall Elimination Provision
UndertheWindfallEliminationProvision,yourSocialSecurityretirementordisabilitybenefitisfiguredusinga
modified formula when you are also entitled to a pension from a job where you did not pay Social Security tax. As
a result, you will receive a lower Social Security benefit than if you were not entitled to a pension from this job. For
example,ifyouareage62in2005,themaximummonthlyreductioninyourSocialSecuritybenefitasaresultof
thisprovisionis$313.50. Thisamountisupdatedannually. Thisprovisionreduces,butdoesnottotallyeliminate,
yourSocialSecuritybenefit.Foradditionalinformation,pleaserefertoSocialSecurityPublication,"Windfall
Elimination Provision."
Government Pension Offset Provision
UndertheGovernmentPensionOffsetProvision,anySocialSecurityspouseorwidow(er)benefittowhichyou
become entitled will be offset if you also receive a Federal, State or local government pension based on work where
youdidnotpaySocialSecuritytax.TheoffsetreducestheamountofyourSocialSecurityspouseorwidow(er)
benefit by two-thirds of the amount of your pension.
Forexample,ifyougetamonthlypensionof$600basedonearningsthatarenotcoveredunderSocialSecurity,
two-thirdsofthatamount,$400,isusedtooffsetyourSocialSecurityspouseorwidow(er)benefit.Ifyouare
eligiblefora$500widow(er)benefit,youwillreceive $100permonthfrom SocialSecurity($500-$400=$100).
Even if your pension is high enough to totally offset your spouse or widow(er) Social Security benefit, youare still
eligibleforMedicareatage65.Foradditionalinformation,pleaserefertoSocialSecurityPublication,
"Government Pension Offset'
For More Information
SocialSecuritypublicationsandadditionalinformation,includinginformationaboutexceptionstoeachprovision,
areavailableat www.socialsecurity.gov.Youmayalsocalltollfree1-800-772-1213,orforthedeaforhardof
hearing call the TTY number 1-800-325-0778, or contact your local Social Security office.
IcertifythatIhavereceivedFormSSA-1945thatcontainsinformationaboutthepossibleeffectsofthe
Windfall EliminationProvision andtheGovernmentPensionOffset Provisiononmy potentialfuture Social
Security benefits.
Signature of Employee
Date

Information about Social Security Form SSA-1945
Statement Concerning Your Employment in a Job Not Covered by Social Security
New legislation[Section419(c) ofPublicLaw 108-203, theSocialSecurity Protection Act of2004]requires State
andlocalgovernmentemployerstoprovideastatementtoemployeeshiredJanuary1,2005orlaterinajobnot
coveredunderSocialSecurity.ThestatementexplainshowapensionfromthatjobcouldaffectfutureSocial
Security benefits to which they may become entitled.
FormSSA-1945,
StatementConcerningYourEmploymentinaJobNotCoveredbySocialSecurity

,isthe
documentthatemployersshouldusetomeettherequirementsofthelaw.TheSSA-1945explainsthepotential
effects of two provisions in the Social Security law for workers who also receive a pension based on their work in a
job notcovered by Social Security. The WindfallEliminationProvision can affectthe amount ofa worker'sSocial
Securityretirementordisabilitybenefit.TheGovernmentPensionOffsetProvisioncanaffectaSocialSecurity
benefit received as a spouse or an ex-spouse.
Employers must:

Give the statement to the employee prior to the start of employment;

Get the employee's signature on the form; and

Submit a copy of the signed form to the pension paying agency.
Social Security will not be setting any additional guidelines for the use of this form.
Copies of the SSA-1945 are available online at the Social Security website, www.socialsecurity.gov/form1945/.
Paper copies can be requested by email at oplm.oswm.rqct.orders@ssa.gov or by fax at 410-965-2037. The request
must include the name, complete address and telephone number of the employer. Forms will not be sent to a post
office box. Also, if appropriate, include the name of the person to whom the forms are to be delivered. The forms
are available in packages of 25. Please refer to Inventory Control Number (ICN) 276950 when ordering.