Fillable Printable Blank Professional Letter Template
Fillable Printable Blank Professional Letter Template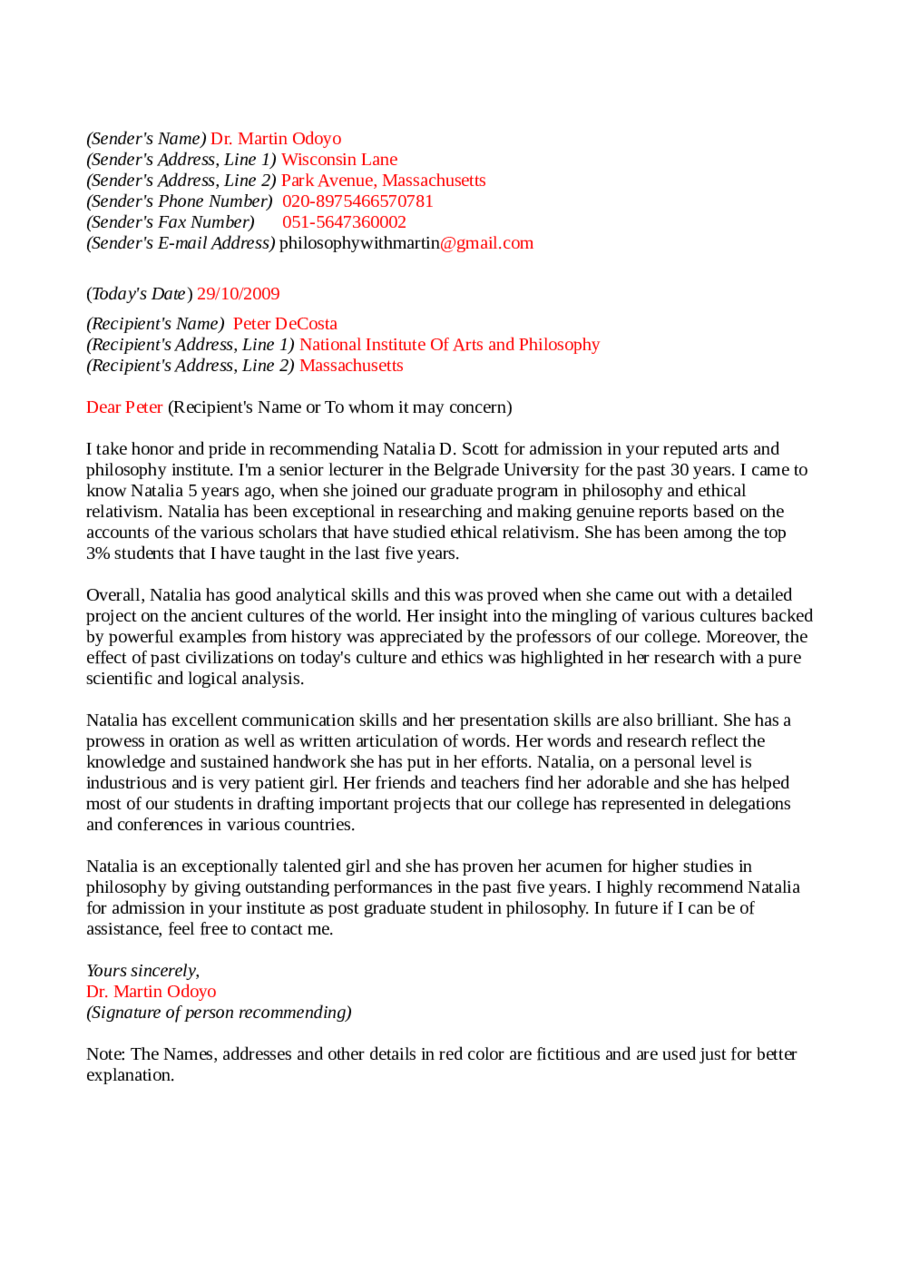 Blank Professional Letter Template
(Sender's Name)
Dr. Martin Odoyo
(Sender's Address, Line 1)
Wisconsin Lane
(Sender's Address, Line 2)
Park Avenue, Massachusetts
(Sender's Phone Number)
020-8975466570781
(Sender's Fax Number)
051-5647360002
(Sender's E-mail Address)
philosophywithmartin

@gmail.com
(
Today's Date)

29/10/2009
(Recipient's Name)
Peter DeCosta
(Recipient's Address, Line 1)
National Institute Of Arts and Philosophy
(Recipient's Address, Line 2)
Massachusetts
Dear Peter
(Recipient's Name or To whom it may concern)
I take honor and pride in recommending Natalia D. Scott for admission in your reputed arts and
philosophy institute. I'm a senior lecturer in the Belgrade University for the past 30 years. I came to
know Natalia 5 years ago, when she joined our graduate program in philosophy and ethical
relativism. Natalia has been exceptional in researching and making genuine reports based on the
accounts of the various scholars that have studied ethical relativism. She has been among the top
3% students that I have taught in the last five years.
Overall, Natalia has good analytical skills and this was proved when she came out with a detailed
project on the ancient cultures of the world. Her insight into the mingling of various cultures backed
by powerful examples from history was appreciated by the professors of our college. Moreover, the
effect of past civilizations on today's culture and ethics was highlighted in her research with a pure
scientific and logical analysis.
Natalia has excellent communication skills and her presentation skills are also brilliant. She has a
prowess in oration as well as written articulation of words. Her words and research reflect the
knowledge and sustained handwork she has put in her efforts. Natalia, on a personal level is
industrious and is very patient girl. Her friends and teachers find her adorable and she has helped
most of our students in drafting important projects that our college has represented in delegations
and conferences in various countries.
Natalia is an exceptionally talented girl and she has proven her acumen for higher studies in
philosophy by giving outstanding performances in the past five years. I highly recommend Natalia
for admission in your institute as post graduate student in philosophy. In future if I can be of
assistance, feel free to contact me.
Yours sincerely,
Dr. Martin Odoyo
(Signature of person recommending)
Note: The Names, addresses and other details in red color are fictitious and are used just for better
explanation.