Fillable Printable Sample Letter/Residencyrequesting Second Proof Ofresidencyrevised 7/10
Fillable Printable Sample Letter/Residencyrequesting Second Proof Ofresidencyrevised 7/10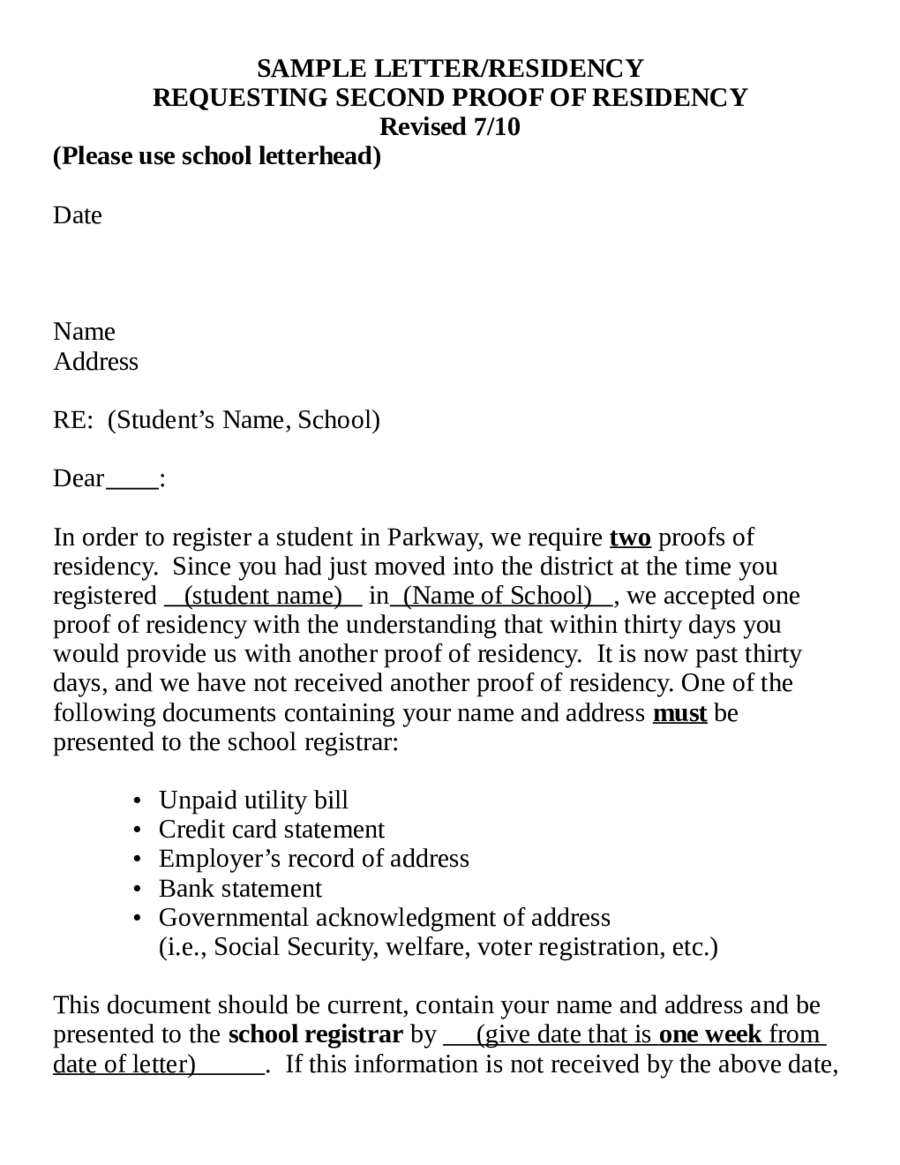 Sample Letter/Residencyrequesting Second Proof Ofresidencyrevised 7/10

SAMPLE LETTER/RESIDENCY
REQUESTING SECOND PROOF OF RESIDENCY
Revised 7/10
(Please use school letterhead)
Date
Name
Address
RE: (Student's Name, School)
Dear :
In order to register a student in Parkway, we require
two
proofs of
residency. Since you had just moved into the district at the time you
registered (student name) in (Name of School) , we accepted one
proof of residency with the understanding that within thirty days you
would provide us with another proof of residency. It is now past thirty
days, and we have not received another proof of residency. One of the
following documents containing your name and address
must

be
presented to the school registrar:
•
Employer's record of address
•
Governmental acknowledgment of address
(i.e., Social Security, welfare, voter registration, etc.)
This document should be current, contain your name and address and be
presented to the
school registrar by

(give date that is

one week

from
date of letter)
. If this information is not received by the above date,

Student's Name
will be withdrawn from the Parkway School District
on
(day after deadline given) .
If the students' residency changes without notification, upon discovery, the student may be immediately
withdrawn, and the parties may be responsible for tuition from the time the student no longer resided in the
district to the time s/he withdrew. A student will be immediately withdrawn if false information is given.
"Any person who knowingly submits false information to satisfy any requirement of this section is
guilty of a class A misdemeanor. In addition to any other penalties authorized by law, a district
board may file a civil action to recover, from the parent/legal guardian of the pupil, the costs of
school
attendance
for
any
pupil
who
was
enrolled
at
a
school
in
the
district
and
whose
parent/legal guardian filed false information to
satisfy any requirement of this section (RSMO
167.151)."
Enclosed is a document explaining Parkway School District residency
criteria. According to Policy JFAA, residency verification is required for
all students who attend schools in the Parkway District. If you have any
questions, contact my office (give phone number of person sending
letter ). I look forward to hearing from you in regard to this issue. Thank
you for your cooperation in following this district policy.
Sincerely,
(name of person requesting letter to be sent)
(title)
cc:Charlotte Ijei, Director of Pupil Personnel and Diversity
(Principal involved)
(Registrar)