Fillable Printable Customer Service For Resume only
Fillable Printable Customer Service For Resume only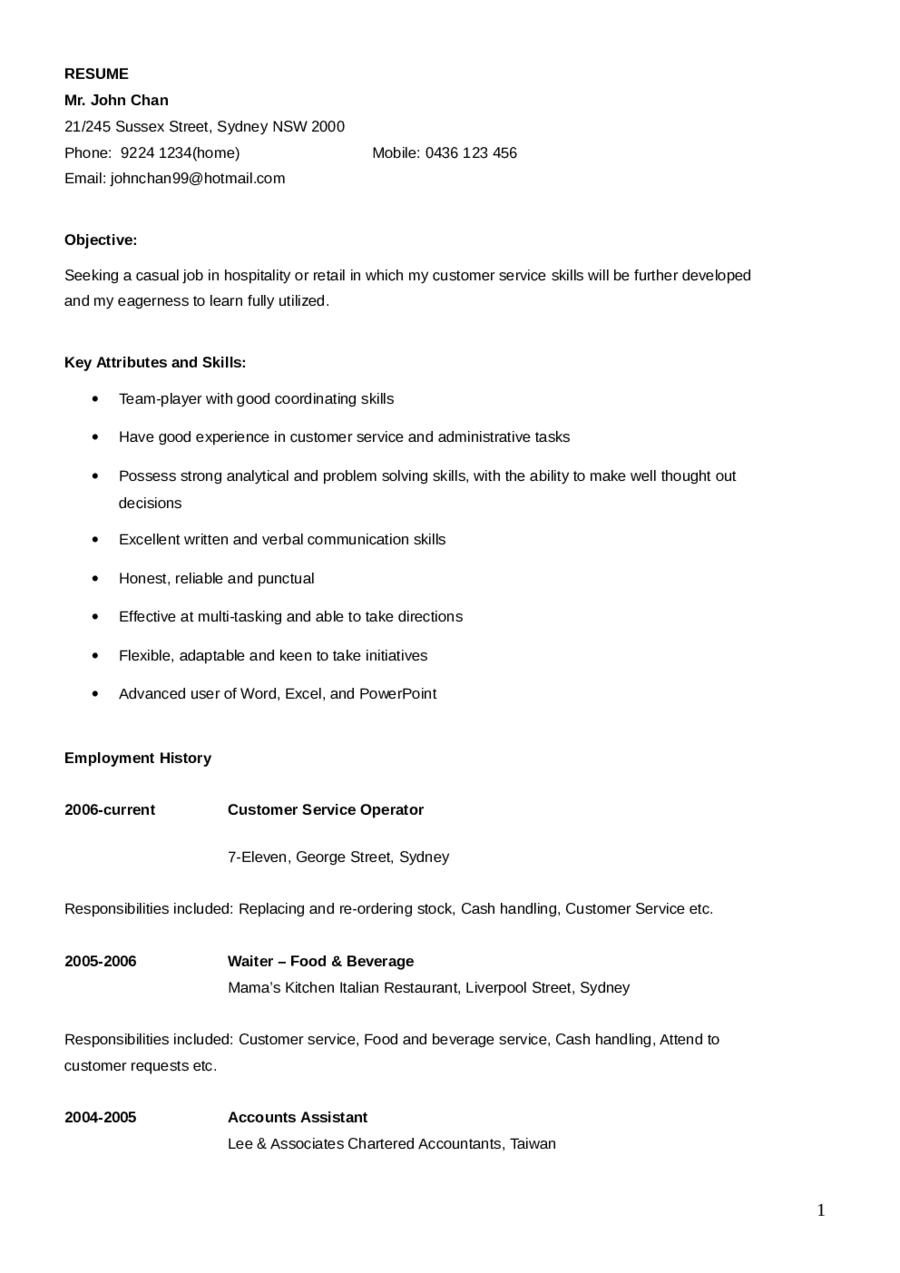 Customer Service For Resume only
RESUME
Mr. John Chan
21/245 Sussex Street, Sydney NSW 2000
Phone: 9224 1234(home)Mobile: 0436 123 456
Email: johnchan99@hotmail.com
Objective:
Seeking a casual job in hospitality or retail in which my customer service skills will be further developed
and my eagerness to learn fully utilized.
Key Attributes and Skills:

Team-player with good coordinating skills

Have good experience in customer service and administrative tasks

Possess strong analytical and problem solving skills, with the ability to make well thought out
decisions

Excellent written and verbal communication skills

Honest, reliable and punctual

Effective at multi-tasking and able to take directions

Flexible, adaptable and keen to take initiatives

Advanced user of Word, Excel, and PowerPoint
Employment History
2006-currentCustomer Service Operator
7-Eleven, George Street, Sydney
Responsibilities included: Replacing and re-ordering stock, Cash handling, Customer Service etc.
2005-2006 Waiter – Food & Beverage
Mama's Kitchen Italian Restaurant, Liverpool Street, Sydney
Responsibilities included: Customer service, Food and beverage service, Cash handling, Attend to
customer requests etc.
2004-2005 Accounts Assistant
Lee & Associates Chartered Accountants, Taiwan
1
Responsibilities included: Issuing invoices and receipts, Preparing Bank Reconciliation, Drafting Balance
Sheets, Book keeping, Filing tax returns etc.
Educational Qualifications
2005-current
Pursuing Bachelor of Business Studies at University of Technology, Sydney
Professional Training and Development
2006
Responsible Service of Alcohol, Hostec Training, Sydney
Hobbies:
Enjoy playing tennis, Cinema, reading novels, bike riding
Availability:
Monday to Friday: after 4:00PM till late, Saturday & Sunday: all day
Limited to 20 hours per week
Referees:
Supplied upon request
2