Home

>

Customer service resume
Customer service resume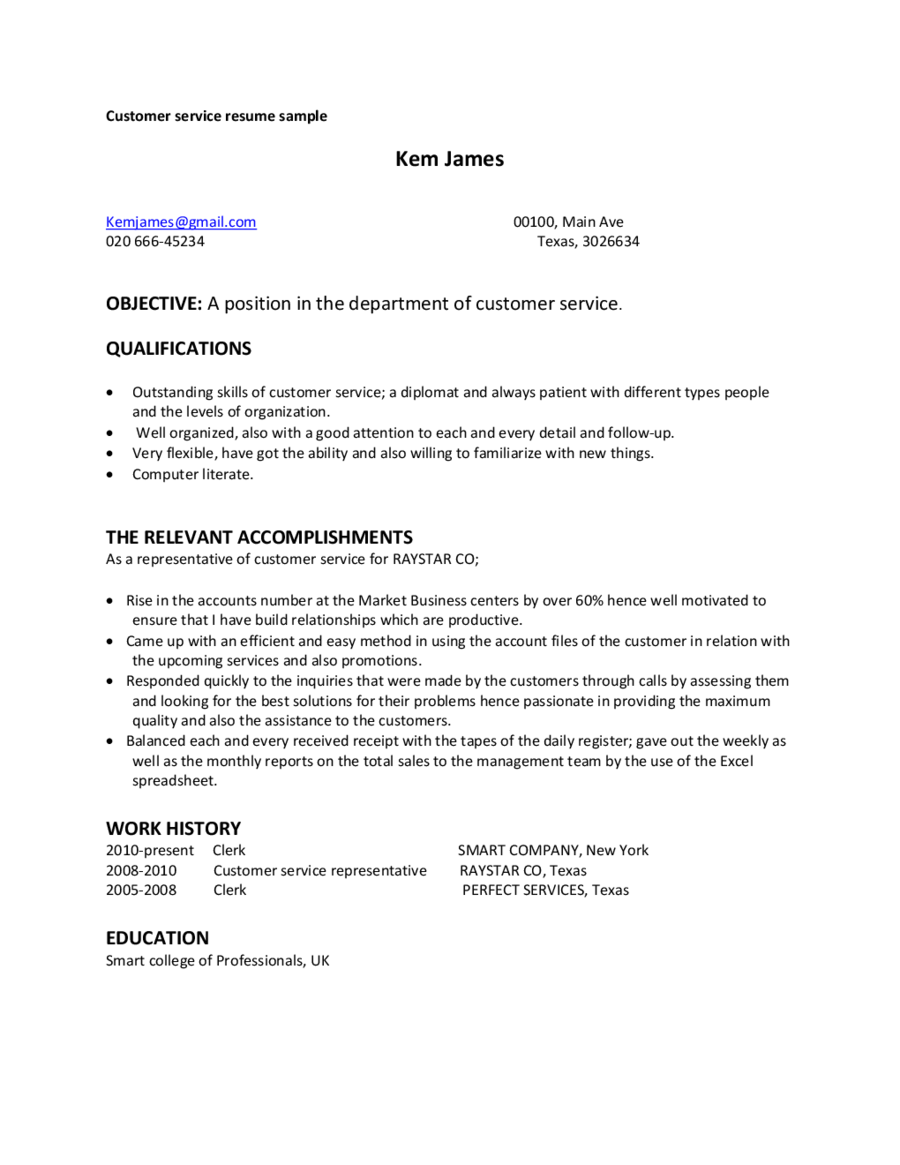 Introduction
Do you want to have a career in the service sector? Does the customer service department interest you? In that case, it is important that you should have a proper resume to support your credentials. This leads to the next important query as to what is the specialty of a customer service resume?Speaking on a general note, this resume has no such exquisite factor apart from certain changes in its format. Unlike any general resume, factors such as meeting of target details, customer feedback and positive reports are to be included within this domain. Thus, in comparison to general resumes, this one has to specifically highlight your achievements in the field of customer service!So, are you applying for a customer service position? Get a resume written with help from an online customer service resume template! Rather than framing them by hand, these templates provide you with the ideal backdrop that can be used in these resumes! So, all you have to do is to simply fill in the details and place an ideal resume. Most importantly, these templates allow the person to customize it as per their choice! So, you have a bevy of options before you!
What Is a Customer Service Resume?
Technically speaking, a resume defining customer service experience of a person involves a number of professional details regarding that candidate's past work experience, his or her ability to fulfill targets, his records at serving customers and his or her behavior with management.Unlike general resume, in this customer service resume, in fair comparison to educational qualification, it is the credentials that matters more in this resume. This CV is a reflection of the way in which a particular candidate has already served in a previous company, and what he or she would bring on board in this organisational domain.
Various Aspects of Customer Service Resume?
There is a certain minimal layer of difference in regards to presentation of a customer service resume against any other type of resume. Unlike other resumes, where stating a person's qualifications is of prime importance, this resume not only believes in stating credentials, but also outlining certain thoughts and ideas that are specific to that individual.Also, another important factor is that this resume is taken as a standard word for defining the concerned job seeker's outlook towards the job as well as his or her future plans in the service industry. Clearly, this is a resume that targets the long run duration of an individual.
How to Write a Customer Service Resume?
Have you finally set up your mind to write a customer service manager resume? Well, time for you to follow some tips that would ensure that your resume would be better in comparison to others!
Initially, it is very important to decide on what to write in such a resume. For a novice, this can turn out to be quite difficult since the lack of prior experience would make him less competent in regards to another person.
In such a scenario, it is best that a brief outline of the candidate's objective be placed. This would enlist what the candidate's outlook in that particular field is and how that candidate would help in achieving those dreams.In case a candidate is from the experienced zone, his or her skills are to be well highlighted, thereby showing what he or she is ready to bring!
Noting special skills and specific credit is very important. Customer service is a domain that is strictly dependent on communication skills of the service provider, hence, it is very important that any such skill that a candidate may have should be highlighted.
Also, in case a job seeker has attended any type of public speaking classes, or holds any such credit, it should be well highlighted in the resume. A proper highlighting of this serves to be beneficial. Confused about how to state them? Take help from customer service resume template most of which are available online!
This document should be a base for portraying your success stories and stating your objective. This is especially suitable for a person who is within the experienced zone! While framing this resume, it is important that these aspects should be well stated.
Also, this document should act as a base for stating the future prospects of that individual.
Finally, coming to the format. The letter should begin with specific salutations to the concerned person. After this, the usual format of stating the contact information is to be followed. It is then followed by work related positives on a priority basis.
The conclusion comes with usual salutations, and finally it ends on a note of anticipation and grace.In case you need some help while framing this resume, there are a number of customer service manager resume templates available online that can be consulted for your benefit!
Highlighting of Customer Service Resume Skills of Professionals
This is a very important factor in regards to framing such a resume. In such a scenario, one needs to check out what makes a resume framed by a professional different from an unprofessional one. The main aim in a customer service resume object is to find out what the primary skills of a person is, and highlight those.While a resume is written by professionals, they ensure that this factor is well highlighted in comparison to those written by novices. The professionals ensure that while writing down the resume, they highlight the major factors that would ensure in glorifying that particular resume.In case you cannot afford a professional, templates are always there! With help of customer service resume template you can surely frame an ideal resume that would help recruiters in understanding your specialties!
Why Are Templates So Important?
Writing an official document as a resume requires a high amount of concentration and detailing. Since it is a proforma of all your personal and professional credentials as well as a singular chance to officially highlight your skills in that specific field, it is imperative on your part to ensure that it is detailed in the best manner.In such a scenario, these templates can be of great help! These are ready-made formats to help individuals in ensuring that their resumes are ideally framed and hence, putting up an ideal impression before the recruiters. Thus, with the help of customer service resume template, you can be rest assured about the structure of the resume!
Saves Both Time and Energy
Wondering how these online templates could actually save your day? Well, setting up an ideal format, framing your letter according to it, and finally submitting it according to that format is something that is surely time consuming. How about following a standard format as per the templates? This is both time and energy saving!
Presence of a Number of Formats
Templates as this are of great help and a person can use it at their disposal while framing a resume. In most cases, resumes are framed on the internet in the form of a soft copy, while some require the hard copy format. These templates are available in MS Word, MS Excel and PDF format.Hence, the person who is looking to take help from this has a variety of options before him or her. So, one can choose as per one's requirement, either by online modes or through downloading them.
Correct Structure and Presentation
As mentioned before, in comparison to general resumes, that is in most cases forwarded to the recruiters, a customer service resume is the one that has a special format. This format is to be followed while noting down this resume, and it is templates that can surely help in framing the correct structure.Unlike the whole issue of framing a structure, these templates provide an ideal structure that is simply to be followed in the correct manner. Also, post their presentation they can also be customized as per one's choice!
Notation of Important Details
This resume is a formal document to portray the important prospects that have been handled by a prospective job seeker in an ideal manner! Hence, it is to be taken into consideration that there should be no glitch regarding any type of detail. Each and every detail is to be shared in a proper manner, and any special feature or skill is to be highlighted.With a format as this, such qualities are placed in a standard manner, thereby highlighting some of the most important aspects in the most ideal way. Thus, a template can be said to be a great option while framing resume.
Reducing Unprecedented Mistakes
Mistakes are often unprecedented, and one such glitch could cause a person to lose out on an important opportunity. Hence, it is best to use templates in such a situation. A template can help in ensuring that people have an ideal back up option while framing a resume.Not just that, in case of people who would directly want to use the templates, there almost remains no chance of a mistake for them since every minute detail is clearly asked for!
Provides a Professional Touch
There is a major difference between putting up a resume simply, and providing it on the base of a style and structure. With templates as this, one can be rest assured that there will be a professional way of presenting the resume.There are a number of template samples available online! With each of these samples, people can either take idea and frame their own resume. Or it may so happen that these templates can be downloaded and directly used by people, as far as framing the resume is concerned. In both cases, there is a certain professional touch that is associated with this resume.
Customized Templates Are Available
Are you not satisfied with the type of template that is available online? Why not customize it as per your choice? There are options of downloading these templates and customizing them as per one's choice.Thus, in this manner, every resume, though of the same category will have a different touch. Not just that, they can act as a base for framing specialized customized templates.
Passing thoughts
In case you wish to get yourself some templates, all you have to do is to check their availability online! In most cases, they are available and most importantly can be customized as per your wish!Clearly, with these customer service resume templates, you can get yourself some of the best options in regards to framing your resumes! What are you now waiting for? Get yourself a template, customize it as per your choice and impress your recruiters with an ideal resume!