Fillable Printable Sample Resume - Customer Help Desk
Fillable Printable Sample Resume - Customer Help Desk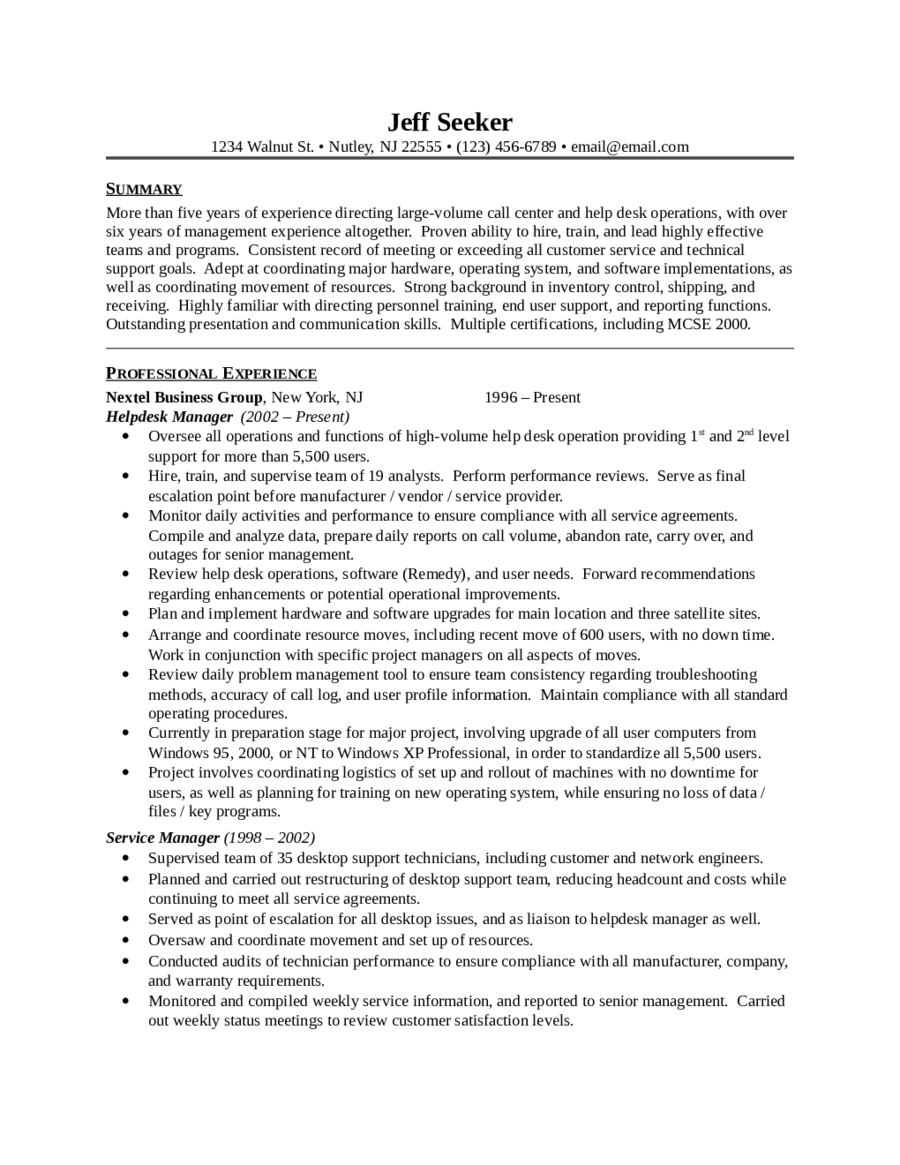 Sample Resume - Customer Help Desk

Jeff Seeker
1234 Walnut St. • Nutley, NJ 22555 • (123) 456-6789 • email@email.com
More than five yearsof experience directing large-volume call center and help desk operations, with over
six years of management experience altogether. Proven ability to hire, train, and lead highly effective
teams and programs. Consistent record of meeting or exceeding all customer service and technical
support goals. Adept at coordinating major hardware, operating system,and software implementations, as
well as coordinating movement of resources. Strong background in inventory control, shipping, and
receiving. Highly familiar with directing personnel training, end user support, and reporting functions.
Outstanding presentation and communicationskills. Multiple certifications, including MCSE 2000.
Nextel Business Group
, New York, NJ 1996 – Present
Helpdesk Manager
(2002 – Present)

Oversee all operations and functions of high-volume help desk operation providing 1
st
and 2
nd
level
support for more than 5,500 users.

Hire, train, and supervise team of 19 analysts. Perform performance reviews. Serve as final
escalation point before manufacturer / vendor / service provider.

Monitor daily activities and performance to ensure compliance with all service agreements.
Compile and analyze data, prepare daily reports on call volume, abandon rate, carry over, and
outages for senior management.

Review help desk operations, software (Remedy), and user needs. Forward recommendations
regarding enhancements or potential operational improvements.

Plan and implement hardware and software upgrades for main location and three satellite sites.

Arrange and coordinate resource moves, including recent move of 600 users, with no down time.
Workin conjunction with specific project managers on all aspects of moves.

Review daily problem management tool to ensure team consistency regarding troubleshooting
methods, accuracy of call log, and user profile information. Maintain compliance with all standard
operating procedures.

Currently in preparation stage for major project, involving upgrade of all user computers from
Windows 95, 2000, or NT to Windows XP Professional, in order to standardize all 5,500 users.

Project involves coordinating logistics of set up and rollout of machines with no downtime for
users, as well as planning for training on new operating system, while ensuring no loss of data /
files / key programs.
Service Manager
(1998 – 2002)

Supervised team of 35 desktop support technicians, including customer and network engineers.

Planned and carried out restructuring of desktop support team, reducing headcount and costs while
continuing to meet all service agreements.

Served as point of escalation for all desktop issues, and as liaison to helpdesk manager as well.

Oversaw and coordinate movement and set up of resources.

Conducted audits of technician performance to ensure compliance with all manufacturer, company,
and warranty requirements.

Monitored and compiled weekly service information, and reported to senior management. Carried
out weekly status meetings to review customer satisfaction levels.


Maintained and updated standard operating procedures, employee training program, and Remedy
administration program. Performed annual reviews of all personnel.
Jeff SeekerPage 2
(Nextel Business Group, continued)
Call Coordinator / Service Support Specialist
(1997 – 1998)

Provided technical support to end users for PC-related issues. Reviewed calls, performed
troubleshooting, routed calls to appropriate service group as necessary.

Maintained call and problem management logs, followed up with all users to ensure resolution of
problems.

Monitored and maintained desk side queue, dispatched technical service personnel to user
locations.

Coordinated efforts with help desk and desktop support manager to ensure proper escalation and
arrange resource relocations.

Oversaw equipment and user set up for all new users.
Shipping and Receiving Coordinato
(1996 – 1997)

Managed receiving and deployment of all computer equipment for large financial services
company.

Ensured all new equipment entered into system, and that all equipment functional upon receipt.

Supervised logistics of allocating equipment to appropriate groups. Prepared equipment for
installation prior to forwarding.

Maintained inventory records of all equipment purchased, and provided managementwith reports
to match received goods with purchase orders.
Certificate of Completion, Two-week Microsoft Systems Engineer Bootcamp (1999)
Course work in Business Administration,Nordel County College, Caldwell, NJ
L
ICENSES
AND
C
ERTIFICATIONS
MCSE XP (in progress)
MCSE 2000
A+
Certificate of Excellence, 1999
Excellent Spirit Award, 2001
Outstanding Customer Service Award,2001
Fluent in Spanish
P
ROFESSIONAL
O
RGANIZATIONS
Microsoft System Engineers Club

Keywords: Help Desk Manager, technical Support Manager,Technical Services Manager, Senior Manager, IT
Support Manager, MIS Manager, Computer Services Manager,Technology Services Manager, Supervisor