Fillable Printable Customer Service Resume
Fillable Printable Customer Service Resume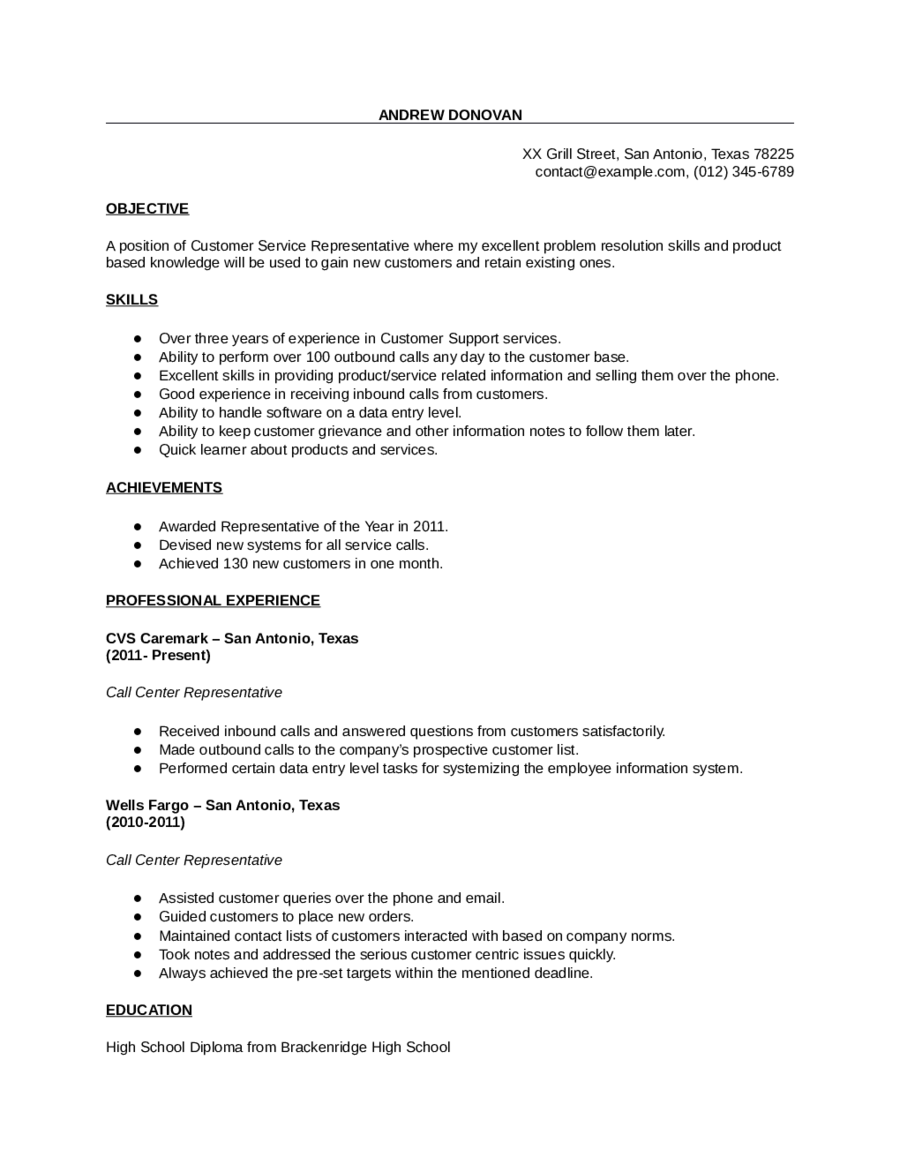 Customer Service Resume

ANDREW DONOVAN
XX Grill Street, San Antonio, Texas 78225
contact@example.com, (012) 345-6789
OBJECTIVE
A position of Customer Service Representative where my excellent problem resolution skills and product
based knowledge will be used to gain new customers and retain existing ones.
SKILLS
●
Over three years of experience in Customer Support services.
●
Ability to perform over 100 outbound calls any day to the customer base.
●
Excellent skills in providing product/service related information and selling them over the phone.
●
Good experience in receiving inbound calls from customers.
●
Ability to handle software on a data entry level.
●
Ability to keep customer grievance and other information notes to follow them later.
●
Quick learner about products and services.
ACHIEVEMENTS
●
Awarded Representative of the Year in 2011.
●
Devised new systems for all service calls.
●
Achieved 130 new customers in one month.
PROFESSIONAL EXPERIENCE
CVS Caremark – San Antonio, Texas
(2011- Present)
Call Center Representative
●
Received inbound calls and answered questions from customers satisfactorily.
●
Made outbound calls to the company's prospective customer list.
●
Performed certain data entry level tasks for systemizing the employee information system.
Wells Fargo – San Antonio, Texas
(2010-2011)
Call Center Representative
●
Assisted customer queries over the phone and email.
●
Guided customers to place new orders.
●
Maintained contact lists of customers interacted with based on company norms.
●
Took notes and addressed the serious customer centric issues quickly.
●
Always achieved the pre-set targets within the mentioned deadline.
EDUCATION
High School Diploma from Brackenridge High School
DATE:
_________________________
Signature of Andrew Donovan