Fillable Printable Job Description Template
Fillable Printable Job Description Template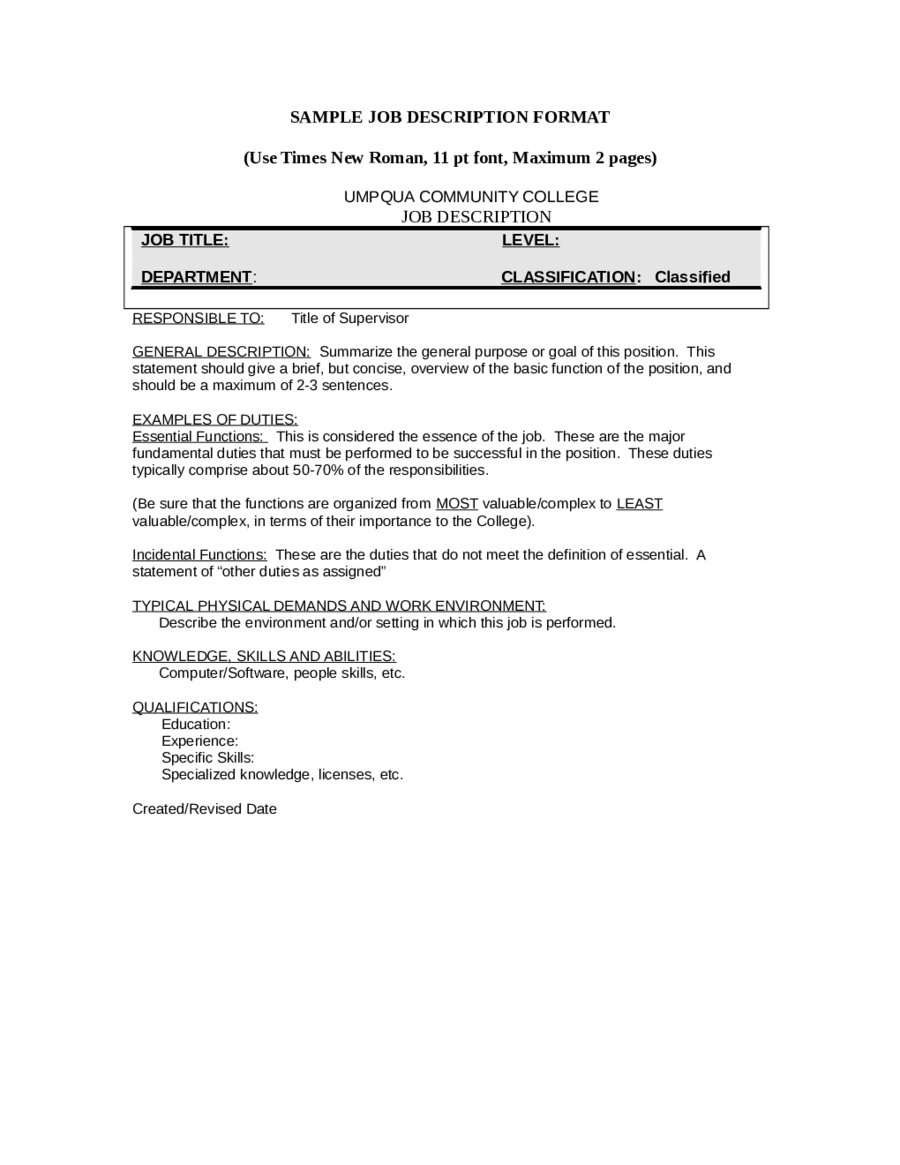 Job Description Template

SAMPLE JOB DESCRIPTION FORMAT
(Use Times New Roman, 11 pt font, Maximum 2 pages)
UMPQUA COMMUNITY COLLEGE
JOB DESCRIPTION
DEPARTMENT
:
CLASSIFICATION: Classified
RESPONSIBLE TO:
Title of Supervisor
GENERAL DESCRIPTION: Summarize the general purpose or goal of this position. This
statement should give a brief, but concise, overview of the basic function of the position, and
should be a maximum of 2-3 sentences.
EXAMPLES OF DUTIES:
Essential Functions: This is considered the essence of the job. These are the major
fundamental duties that must be performed to be successful in the position. These duties
typically comprise about 50-70% of the responsibilities.
(Be sure that the functions are organized from MOST valuable/complex to LEAST
valuable/complex, in terms of their importance to the College).
Incidental Functions: These are the duties that do not meet the definition of essential. A
statement of "other duties as assigned"
TYPICAL PHYSICAL DEMANDS AND WORK ENVIRONMENT:
Describe the environment and/or setting in which this job is performed.
KNOWLEDGE, SKILLS AND ABILITIES:
Computer/Software, people skills, etc.
QUALIFICATIONS:
Education:
Experience:
Specific Skills:
Specialized knowledge, licenses, etc.
Created/Revised Date