Fillable Printable Sample Job Description Template
Fillable Printable Sample Job Description Template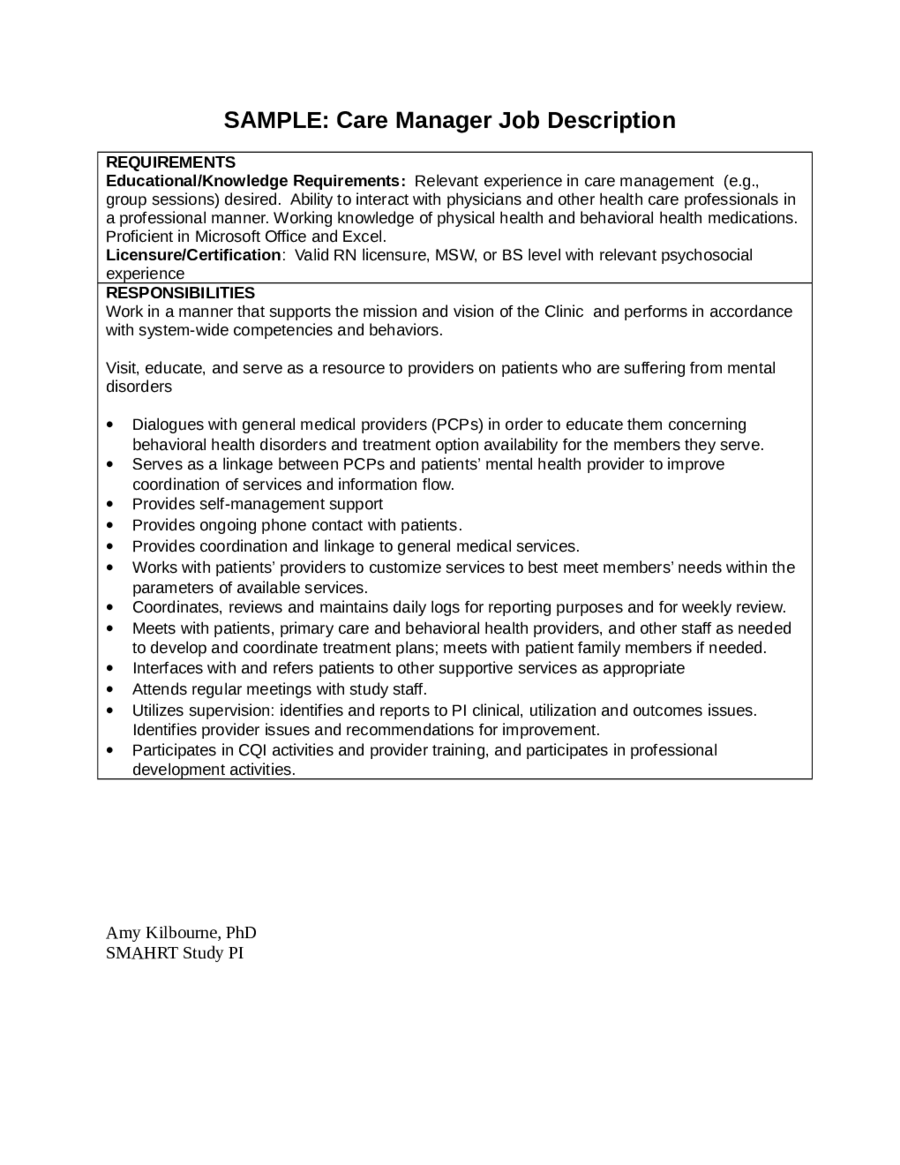 Sample Job Description Template

SAMPLE: Care Manager Job Description
REQUIREMENTS
Educational/Knowledge Requirements:
Relevant experience in care management (e.g.,
group sessions) desired. Ability to interact with physicians and other health care professionals in
a professional manner. Working knowledge of physical health and behavioral health medications.
Proficient in Microsoft Office and Excel.
Licensure/Certification
: Valid RN licensure, MSW, or BS level with relevant psychosocial
experience
RESPONSIBILITIES
Work in a manner that supports the mission and vision of the Clinic and performs in accordance
with system-wide competencies and behaviors.
Visit, educate, and serve as a resource to providers on patients who are suffering from mental
disorders

Dialogues with general medical providers (PCPs) in order to educate them concerning
behavioral health disorders and treatment option availability for the members they serve.

Serves as a linkage between PCPs and patients' mental health provider to improve
coordination of services and information flow.

Provides self-management support

Provides ongoing phone contact with patients.

Provides coordination and linkage to general medical services.

Works with patients' providers to customize services to best meet members' needs within the
parameters of available services.

Coordinates, reviews and maintains daily logs for reporting purposes and for weekly review.

Meets with patients, primary care and behavioral health providers, and other staff as needed
to develop and coordinate treatment plans; meets with patient family members if needed.

Interfaces with and refers patients to other supportive services as appropriate

Attends regular meetings with study staff.

Utilizes supervision: identifies and reports to PI clinical, utilization and outcomes issues.
Identifies provider issues and recommendations for improvement.

Participates in CQI activities and provider training, and participates in professional
development activities.
Amy Kilbourne, PhD
SMAHRT Study PI